Mickelson reveals his intricate clubfitting process and how he test equipment
BY: SCOTT KRAMER
Phil Mickelson's knack for unique angles on golf topics has emerged again. In a recent Callaway Golf "Fitting Room" podcast, he revealed some of his personal secrets on clubfitting.
HOW HE FITS HIMSELF FOR NEW CLUBS
Mickelson: You want each club in your bag, except the putter, to have the same characteristics. So when you miss shots, you miss them the same way every time – regardless of the club. The best way to assure this is through a blind driving range test. Cover your eyes so you cannot see where the ball goes. That's important because once you see a ball hook, you instinctively make swing changes – like holding the face open through impact. But you don't want to adjust; you want all the swinging clubs to be the same. I use blind testing to dial in each club. I actually wear these goggles that block my vision. Somebody stands behind me charting where each shot goes. At impact, I'll say if it was a good swing or not. If a series of shots with one club consistently hooks or slices, we have to make an adjustment. If it's an iron, we adjust the lie. But if I start getting sporadic shot dispersion when I say it's a good shot, then we re-shaft and start new. Sometimes we just get a bad shaft with a different frequency, or one that doesn't flex right. I do this once a year. I'll hit five to 10 blind shots I deem feel good per club, and do the entire set.
WHEN TO FIT?
Mickelson: Only when I'm playing well. Also, I'm going to film my swing when I'm playing well, so I have a reference to compare when I'm playing bad.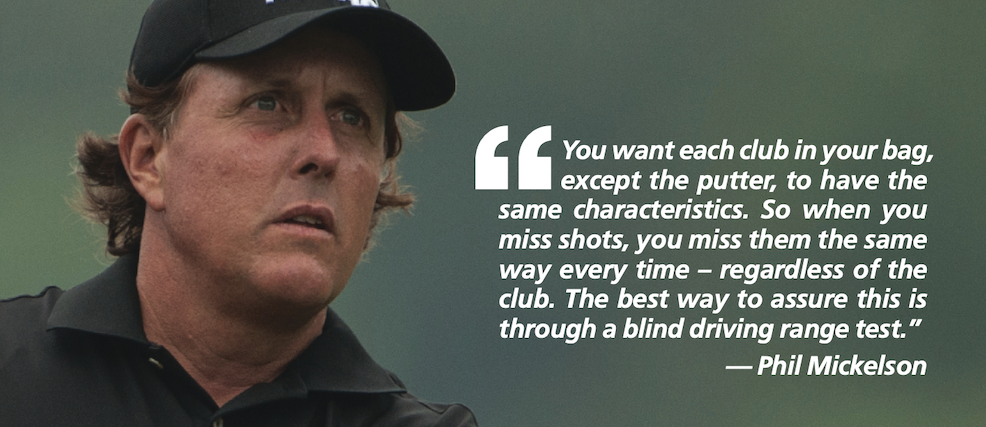 SPEC CONSISTENCY
Mickelson: As long as the lie angle's the same with all my clubs, I don't care if they're all two degrees upright or whatever. I just care that each individual club performs consistently with every other club in the bag. We want any misses to be the same all the way through. How many times do we go out and say "I drove the ball great, but hit my irons terrible" or vice-versa? That's the problem – we're not getting all our clubs matched up. Surprisingly, high-handicappers are as close to consistent as good players with their golf swing. They're not good swings, but they're consistent. And if they get clubs that can fit their consistently poor swing, they can actually hit reasonable shots. Problem is, if all 13 swinging clubs aren't consistent, that'll throw them off.
NON-TECHIE
Mickelson: I use launch monitors, but it's usually secondary. I'm using my eyes and feel first, and then technology more for validation of what I'm seeing. With a driver, variables such as temperature, altitude, tee height and a difference in golf balls all change those numbers on a machine. So I'd rather go out and test a club on a course, seeing if it does what I want it to. That's ultimately the test. On the range… after I hit it only two or three times, I know if I like it enough to test more.
ON FITTING OUTSIDE
Mickelson: It's probably better for a consumer to go to a fitting center and use technology as the primary source of discerning if a club is right, and then go outside for confirmation. A lot of times in the process, your swing gets faster and a little different. So you might get close to the right club indoors using technology, but not exact. The best way to tell is to go out and play.