PGA Professional Nathan Studtmann introduces a fast and efficient way for instructors to have their own teaching studio
BY TONY L. STARKS
The Studtmann family has owned and operated the First Galena Corporation since 1980. What began as a real estate firm, has evolved over the years into building custom affordable homes using modular and panelized construction. Deb is the architect; Paul is the company's president; and their son, Nathan, is a PGA Professional.
If you're unfamiliar, modular homes are houses that are built offsite and then assembled on property. It's like if Ikea went into the housing business. "In 1990 my dad visited a modular home factory in Dyersville, Ohio and was blown away. He came back thinking we can build and sell these ourselves," describes Nathan. "My mom, being the architect, was opposed to it at first. I remember her saying 'I'm a designer, I don't build shoebox homes.' But eventually they agreed on the idea, and it's become a very successful business for us."
Over the last 25-plus years First Galena has built more than 700 homes, some of which have sold for north of $2 million.
Nathan is now leaning on his experience as a PGA Professional to further expand the business with the introduction of modular and mobile golf instruction studios.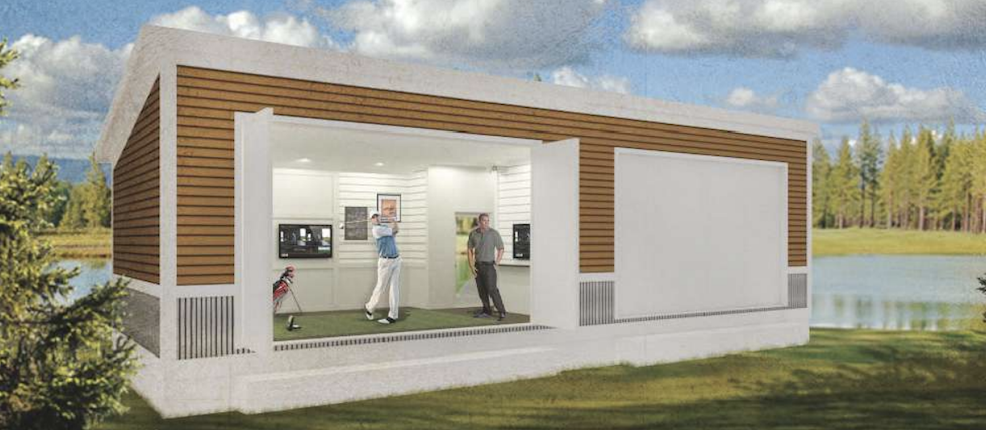 The genesis of Nathan's idea rest with recent changes to the golf-instruction landscape. Indoor lessons are a staple throughout the industry. For evidence, look no further than the strong numbers GOLFTEC has put up over the last several seasons: they've enjoyed a 98 percent increase in revenue since 2010. In fact, it was Nathan's own experience at GOLFTEC that really kick started things.
After graduating from the PGA Golf Management University program at Ferris State, Studtmann began working at GOLFTEC. There he learned the nuances of teaching indoors and utilizing technology to help his students improve. Upon returning to his hometown to take a job as a teaching pro at a nearby resort, he felt like he was providing his students with an inferior experience. Without the privacy of a teaching studio and the use of state-of-the-art tech, he saw his students wanting more.
While listening to other instructors voice similar opinions at a teaching summit in Chicago, he was struck with it. "What if I could somehow create a modular teaching studio that was movable?" he says. "One of the things I heard from a lot of teaching pros is that they would love to have a studio, but facility management or their club's owner wouldn't fund it. The financial and logistical barriers were too much to overcome. I thought, what if I could give them an affordable way to build it themselves and not have to fix it to the real estate – it would be considered personal property. It could come with them wherever they go in their careers."
It took Studtmann almost three years to build the first working prototype. Mobility was a challenge, but he was able utilize a patented design from the family company that allows the trailer to be inconspicuously integrated into the floor. He now designs the structures himself, crediting the family business with providing the foundation for him to do so.
"I've watched my mom over the years, and saw firsthand how she takes modular construction and still creates these beautiful, creative designs," he says. "I've learned everything from her, and now I'm applying that to the design of our golf studios."
The company now offers a dozen stock models (six double-bay and six single-bay options), all of which Studtmann designed himself. In addition, he has the ability to custom build a studio to fit the aesthetics of any facility. It would take approximately a month for a custom design to be built, which, in most cases, is a fraction of the time it would take to build an onsite studio from the ground up.
The largest custom project he's completed thus far belongs to Northwestern University's golf teams. "When you hit indoors it's a double bay," Studtmann describes. "But the wall opens up and allows up to six members of the team to hit outdoors all at once."
First Galena has garnered attention from a few other universities looking to offer first-class indoor practice conditions for their golf teams. They have also caught the eye of several high-end private clubs. However, Studtmann believes the model can appeal to every type of golf facility.
"I see some of these smaller facilities as the ones who could benefit the most from it. It's a place to grow their connection with current golfers and also begin to attract new players who want to learn the game," he adds.
The units come with hitting mats and nets already included, as well as the infrastructure to house technology such as launch monitors, TV screens or simulators.
"For the future, we're looking to include an educational package with the units when they're sold. So we can help instructors better utilize the studio and the technology it can house," describes Studtmann. "We want to make it turnkey. Not only would we give them the necessary tools, but also train them on what they need to know to be successful."