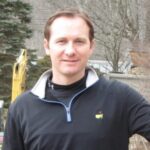 Erik Sorensen, a 2020 GRAA Top 100 Growth of the Game Teaching Professional, is the Owner of Newbury Golf Center in Newbury, Massachusetts, a 2020 GRAA Top 50 Stand Alone Facility.
Erik Sorensen on the importance of finding a proven formula when growing women's programming:
As I write this article, we are celebrating our one-year anniversary on August 29th. Through those twelve months, we have experienced the influx of new golfers that so many other facilities have seen. With limited options for entertainment during the early months of COVID-19 in 2020, and the pandemic lingering through this year, as well, the industry has welcomed over 6 million new golfers, many of them women. We facilitate women's clinics that gather small groups of no more than eight participants, and meet twice weekly for three weeks. These six 1-hour sessions enable us to introduce all technical aspects of the game – irons, drivers, pitching & chipping, hybrids & fairways woods, bunkers and putting. In each session we cover the fundamentals of each topic – grip, stance, posture – the proper setup – and the basics of the swing. Due to the structure of our clinics and the frequency of which they are held, women's programming has become a leading program at our young facility. In fact, with each new clinic announcement, the sessions fill up within 24 hours – validation that our existing students are talking to their friends and recommending our golf instruction services as a means to learn the game and have more fun playing. The social aspect of the clinics is also very important, as people have longed for things to do with others during a time when those options were few. Even inclement weather doesn't stunt our growth, as we simply move our engagement under our covered and heated bays, allowing us to facilitate player development programming on a year-round basis. Participants appreciate the structure and organization, as all dates are prescribed when they register.

Erik Sorensen on the business impact of finding a proven formula when growing women's programming:
Through our twelve months in business, we have grown to over 500 women in our program and host between eight and 12 clinics each month, year-round. The growth we've recognized comes from women practicing between clinics and frequenting our facility with family and friends when their clinics have concluded. Women are now gathering their own groups and forming their own clinics, either repeating the beginner course for reinforcement or delving into some more advanced topics in our secondary clinics – rough, side-hill lies, distance control (using our Mike Bender wedge range). This is how you grow your programming. Attract a clientele, serve them well and give them next-step opportunities for continued progress in the game. Our golfers think back to when they signed up for the beginner sessions and can see the development and achievements they have made. We recently started a women's golf Facebook group and have more than 120 members in the group. I post information on pertinent golf topics and share information that further piques their interest in the game, often gaining more than 100 views in 24 hours. In addition, with so many new golfers needing clubs, we emphasize the importance of custom fitting and have experienced substantial sales success with Titleist, our neighbors down the road. Growth in women's programming means increased revenues facility-wide – range revenues, private lessons, hard and soft goods and even junior programming, as many of our women golfers have young ones at home who are eager to learn as well.

If you would like to email the author of this Best Practice directly, please email erik@newburygolfcenter.com.