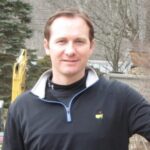 Erik Sorensen, a 2020 GRAA Top 100 Growth of the Game Teaching Professional, is the Owner of Newbury Golf Center in Newbury, Massachusetts, a 2020 GRAA Top 50 Stand Alone Facility.
Erik Sorensen on the importance of engaging junior golfers year-round:
We celebrated our one-year anniversary this past August. Through those twelve months, we have experienced the influx of new golfers that so many other facilities have seen. With limited options for entertainment during the early months of COVID-19 in 2020, and the pandemic lingering through this year as well, the industry has welcomed over 6 million new golfers, many of them juniors. After a summer filled with more than a dozen junior golf schools and camps, we turn our attention back to our after-school engagement. From September to June, we offer monthly programs that offer clinics either Monday and Wednesday or Tuesday and Thursday of each week, a similar two-day-per-week format to our women's clinics. Kids come out from 4:00-5:00, so they can get their lessons in and head home for dinner, homework and a good night sleep before school the next day. Clinics are limited to eight juniors and are split between 5–8-year-olds and 9–12-year-olds. We cover all pertinent full swing, short game and putting topics and techniques. Kids come back on the weekends to practice and look forward to school holidays so they can come play even more. We run this same structure every month, so if they get shut out one month, they can sign up the next.

Erik Sorensen on the business impact of engaging junior golfers year-round:
After one year in business, we have taught more than 300 junior golfers at Newbury Golf Center, which includes heated and covered bays, as well as a Mike Bender wedge range and practice putting green. The participants are exposed to a wide range of topics that gets them started in the game. We elevate the level of instruction in later programs and encourage one-on-one instruction as age, skill, maturity level and goals dictate. We use our after-school programming to buoy participation in our 2-4-day summer golf schools, and vice versa. We also welcome several high school and college teams that practice at our facility. Finally, we offer free junior clinics periodically throughout the year. This is an effective method of getting kids (and their families) onsite for a clinic when they might have doubts about signing up for an official paid program. Participants in our free clinics very often realize the fun that golf provides and register for one of our other junior programs. Growing your junior program is also an effective way to increase participation in your women's program, as moms come to the range with their kids and consider if the game of golf is for them, as well – and at Newbury Golf Center, it very often is.

If you would like to email the author of this Best Practice directly, please email erik@newburygolfcenter.com.