Teaching professionals have long sought a way to sell their services more widely. For some of them, a proprietary mobile app turns out to be the answer
BY: DAVID GOULD
Click the App Store symbol on your iPhone, type "Spearman" into the search box and you'll find the "Mitchell Spearman Golf Shot Fixes" app. It's available for the modest sum of $4.99 (or lower if there happens to be a special on it). Consumers browsing golf apps in general can also encounter the Spearman app. It's adapted for Android devices, too—again for just $4.99.
We inhabit a multi-media world—that much is certain. Short-duration video—the golf instructor's friend and natural outlet—is the most desirable form of digital content now available. Therefore the mobile-device app is a logical product for any ambitious golf coach or instructor to create and distribute. But producing and distributing one can be a heavy lift.
Vikki Vanderpool, who probably has as much app-building experience as any golf pro, encourages colleagues to bring realistic projections and planning to any app-building effort they undertake. Through her work in the SwingPal organization— including its partnership with Golf Channel and its SwingFix franchise—Vanderpool has been in the trenches helping produce four different mobile apps. Of the four, she is most enthusiastic about one called SwingPal Event Driver, which took all of two weeks to build and is a free download, rather than a for-sale revenue generator.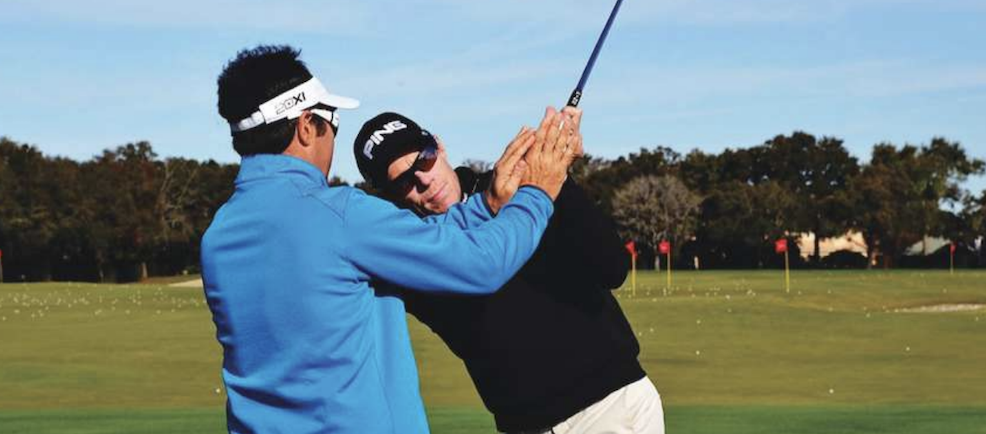 "Event Driver is an app that supports the work we do at big events recording dozens or even hundreds of individual golf swings, which are then used to generate online lessons paid for by Fidelity Investments or by some other sponsor," says the Nashville-based Vanderpool. "The app solved a major problem. We were wearing ourselves out trying to match attendees' names and correct contact info with the short videos of their swings," she admits. "A process that used to be a real mess is now seamless and basically problem-free."
As someone who confesses to being "terrible with computers," Vanderpool has come far up a learning curve in her years of assisting with app development. However she now notices that learning curve becoming steeper, as consumers and the two major operating systems get more demanding.
"There is so much free content out there these days," she says. "It really should discourage anyone from creating a golf app just to have an app." There is also the increased challenge of getting approved for distribution through the App Store, given how Apple has instituted tougher testing that helps force a longer wait to get your app into circulation.
"Apple's approval process is longer and more complicated now," says Vanderpool. "That can be especially true if you are trying to distribute an app that is ecommerce-enabled, in order to sell online lessons or some other product." Only on the iOS platform can you do that—Android doesn't even offer the functionality. "And of course Apple is taking 30 percent of your sales revenue off the top on every transaction," she adds. Little-known fact: If your potential customer has an iPhone equipped with wi-fi (or is in a wi-fi hotspot) and exits your app, then goes to your website to place the order for your product directly, Apple has technology that blocks that purchase from their mobile device. "They don't miss much," comments Vanderpool.
Mitchell Spearman's mobile app is a menudriven content trove of faults-and-fixes video. It allows the curious amateur to select titles from various sub-sections of the app that correspond to various golf skills. Thus, in the Putting Faults section of the app you would find Spearman tossing such life preservers as "Pulled Putt: Decelerating Stroke" and "Pushed Putt: Face Open at Impact." Each topic is addressed with a short video that gets directly to the cause-effect relationship and demonstrates correct form. Spearman and his developers created a highly user-friendly menu strip at the bottom of the screen, all done with symbols and single "fault" terms such as "Topped," "Thin," "Fat," "Hook" and several others.
Of course, Spearman's potential to reach an audience and generate buzz is bolstered by extremely high-profile testimonials—from the likes of Nick Faldo, Jim Nantz, Arnold Palmer, Nick O'Hern and Daniel Chopra. He ended up being one of the first professionals to produce an app for the golf instruction market in part because he set himself that goal. "I took it as a challenge," Spearman says. "I was realistic about the time and effort and cost it would require," he says of his production adventure, which took place in the winter of 2009-10.
Mitchell spent a total of $20,000 to produce "Golf Shot Fixes," hiring a co-writer and a production crew, later incurring studio costs for video editing plus the cost of building the finished product as an app. "It ended up being a good investment in every way," Spearman says. "My ROI financially is probably close to 300 percent. Plus, it opened up other opportunities." He felt pretty confident that the decision to dive in would pay dividends, but remained aware of the risk. He knew that a weak final product would create a bad impression and weaken his brand, so Spearman stayed on top of the details throughout his planning and production effort.
Nick Kumpis, like Spearman, also set out to achieve a "first." Kumpis, based at Santa Ana Country Club in California's Orange County, created an app that addresses the scenario of the busy parent who is at the golf facility with their young and suddenly golf-enthused son or daughter, in need of information to help guide the child along. "We give parents a game plan when it comes to helping their kids," Kumpis explains. The value of the iJuniorGolf app, he says, is in "putting over 100 video lessons in the palm of the parent's hand." These are short, manageable lessons that allow the parent to be consistent and not overload the youngster with ideas and reminders. "Each lesson provides the parent with specific focus, so the junior can work on one thing at a time," Kumpis says.