By Vinnie Manginelli, PGA
Imagine you're a golf professional, eager to welcome back members and start a new season after a long, cold winter – and you're suddenly dealing with a global pandemic. COVID-19 has certainly defined 2020 as a period we will not soon forget. For Landon Decker, this year was supposed to be memorable for another reason – he just took on his first head golf professional position.
Red Hook Golf Club is located a little more than an hour north of New York City, the epicenter of the coronavirus. The beautiful 18-hole layout offers memberships, welcomes public play, and supports several local high schools, hosting practices and matches. When the club opened in March, it was for members only, and as the peak of the pandemic struck the area, the clubhouse, golf shop, practice range, and instruction were all closed. The course remained open, but for a few days around Easter, however, no carts were allowed, and no public play – and of course, those eager high school golfers would have to wait until next year to represent their schools on the links.


Much has been made of the measures golf facilities are required to take to ensure the health and wellness of their golfers, students, and employees. With new rules and regulations regarding social distancing, limited range play, restrictions on cart usage, and a whole lot more, communication during this time is of the utmost importance, and when Red Hook Golf Club sent an email distribution to those individuals on its mailing list, announcing that public play would open on May 26, they covered all their bases and then some.
Collaborating with the facility's business manager, Carlo Alvarez, as well as members of the club's Board, the brain trust of this semi-private club provided every bit of information that public golfers would need before they even drive down the driveway and into the facility's parking lot.
"This whole process has been a collective effort," Decker commented. With many Zoom meetings, emails, and phone calls, this first-year head professional seems to have fit right in at Red Hook. With members welcomed initially, then allowed to bring guests, and now public play kicking in, Decker says, "It's been an evolving situation here at the club."


On May 24th, an email went out announcing "2020 Season Public Opening – Tuesday, May 26th". With a positive and welcoming message, the email set the tone for the state of golf in 2020 – we're glad to have you back, but there are some rules we all have to follow.
From there the correspondence was a plethora of pertinent information that has become our new normal. Ten-minute tee time intervals rather than the usual eight – hours of operation (which differ slightly for the public to allow member-only play on weekend mornings) – the "best way" to book tee times…online rather than phone – and a clear declaration of the single-rider cart rule.
With face to face contact and even phone communication (golf shop is closed) not guaranteed, the club's email to public golfers went on to highlight driving range rules and where to check in upon arrival. Payment is by credit card only and the club requests one person pay for the group to lessen the number of individuals congregating in any one area.
They even made sure that potential players knew the clubhouse restrooms were closed (portable toilets on the course) and that the grill room is operating under limited hours and take-out only. This information gives golfers the option to take care of these issues prior to arriving at the golf course.

Taking the communication process even further, Decker and his colleagues at Red Hook presented the Golf Cart Cleaning Process and Social Distancing and Play Requirements in a point by point format to ensure proper knowledge by their golfers, as well as to put anyone's mind at ease who may be coming out with some hesitation or doubt. In an area of the country suffering as much as the New York tri-state area, getting out to play some golf is a much-needed endeavor for many individuals – doing so comfortably and with the proper information makes the experience more special and valuable.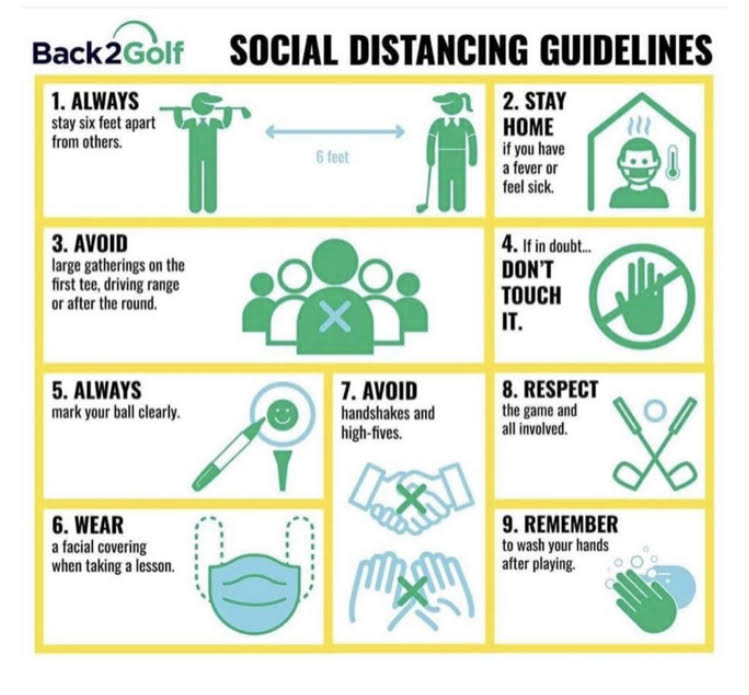 "We've definitely been active. I think a lot more people are able to play golf right now because there isn't a lot they can do," Decker explained when asked how play has been overall this spring.
To piggyback off this whole idea of communication, Decker says they have been in frequent contact with their outing organizers who were slated to bring their events and fundraisers to Red Hook. The state of outings remains in limbo due to limitations on cart usage and social gathering restrictions of course.
The email communication concludes with the golf industry's Back2Golf Social Distancing Guidelines chart so there is no question as to what is expected of the players, as well as Decker and his staff.
They say we're all in this together. With this welcoming email that so many local golfers were excited to receive, Red Hook Golf Club is a shining example of what to do in a crisis, communicate and inform – they did that and beyond, exuding positivity and professionalism.