Utilizing the range as a place to serve and instruct military veterans
BY: TONY L. STARKS
As PGA Professional Chad Evans so eloquently states: "Golf can really help people move forward in life in a positive way. When you hit a bad shot, it symbolizes things not always going the way you planned them. But you have to find it and hit it again, and hit it in a way that's going to help you get in the hole—always finding a way to move forward," he says. "For many veterans, especially those with severe injuries, it's about moving forward in life and finding some enjoyment." Evans is one of many golf professionals who are finding ways to use the game to create enjoyment in the lives of veterans. Specifically, utilizing the practice range as a place to serve and instruct the men and women who chose to serve and protect.
The Tee of Triumph
For several years, Treetops Resort in Gaylord, Michigan has been a top 10 contributor to Patriot Golf Day – which supports the Folds of Honor Foundation, founded by PGA Professional and F-16 fighter pilot Major Dan Rooney to provide scholarships to the children of wounded or fallen soldiers. Since 2011, the 81-hole resort has never dipped below $30,000 in annual donations to the Folds of Honor. For PGA Director of Golf Kevin McKinley, supporting the troops goes beyond simply handing over a check. It's about taking action. To honor veterans over Labor Day weekend, historically the time of year which Patriot Golf Day events are held, McKinley turned the upper tier of Treetops' practice range into the "Tee of Triumph."
"The crew made gridlines that would fit a total of 220 names," describes McKinley. "I had a list of 209 fallen soldiers from Michigan and added six more individuals (from out of state) whose families would be attending our event. Several folks saw the display and teed up golf balls next to names of those they knew, others gave donations, and someone else underlined their fallen's name with an eagle's feather. Others even knelt to pray right there in front of the display. It was special to offer that moment to them."
The list of names can be attributed to McKinley's assistant professional, Steve Joslin, who retired from the National Guard after suffering an injury. Joslin and McKinley first met after he participated in one of the resort's Patriot Golf Day events several years ago. After expressing interest in becoming a golf professional, McKinley hired him onto his staff. "Through Steve's connections with the National Guard, we were able to acquire the list of soldiers from Michigan who'd been killed in either Iraq or Afghanistan," says McKinley. Joslin has contributed to Treetops in many other ways since joining the staff. For instance, he teaches a weekly clinic that is highly attended by residents of The Patriot Place – a homeless shelter in Gaylord that only serves veterans.
"Steve has become a very good instructor in his own right. It's kind of cool that he can do our weekly clinics, he can related to many of the participants being a military guy himself," says McKinley. "It's great to see how he's blossomed and the strides he's made toward becoming a PGA member." Another assistant professional at Treetops, Navy (ret.) Robert Kersting, joined the staff in a similar manner and is also on his way to becoming a PGA member. The combined efforts of McKinley and his staff have resulted in more than $250,000 being raised to support veterans and their families over the years. However, as much as he's given, McKinley finds that veterans have given him so much more.
"This year, our guest speaker during Patriot Golf Day weekend was the wife of a local fallen solider whose children received scholarships," he says. "When she and her three kids arrived, we gave them all kinds of gifts to show our appreciation and gratitude.
Little did I know, they had something even more special for me. She presented me with her husband's dog tags. I was speechless—an unbelievable gift. I can't believe after all they've lost, they still want to give to others."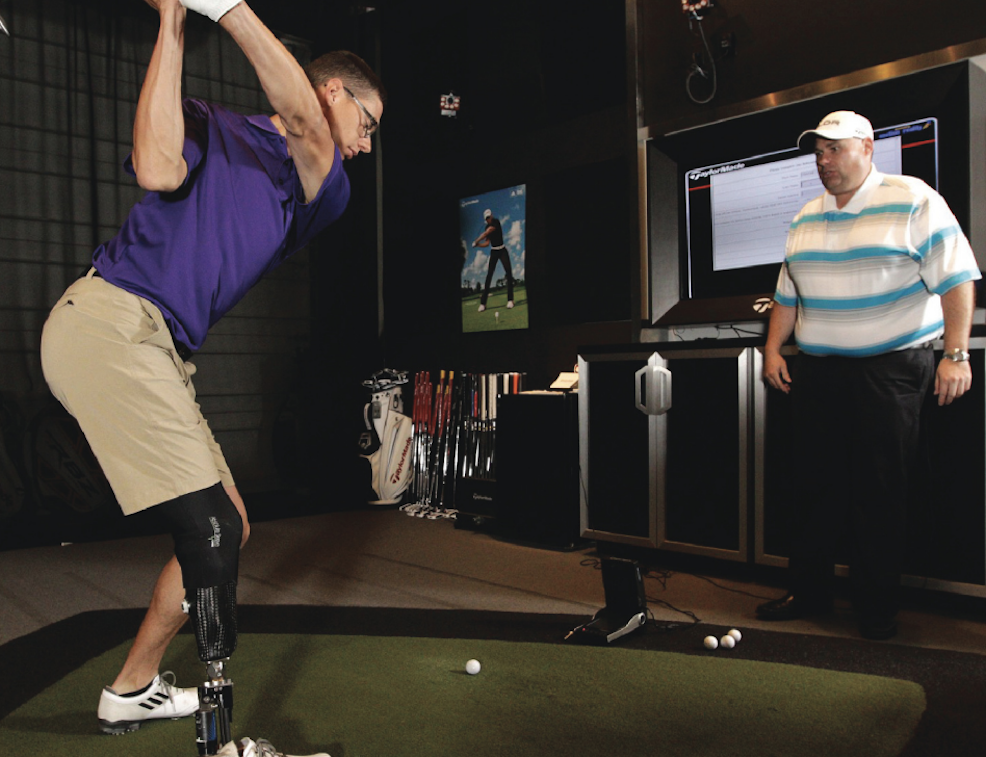 Preparing PGA Professionals to Teach Adaptive Golf
PGA Professional David Windsor, the 2015 PGA Patriot Award winner, is the director of instruction for the Adaptive Golf Association based in Sarasota, Florida. Rather than showing people how to play, Windsor spends the majority of his time educating teachers on how to teach a very special segment of the golfing population. "Our goal with the Adaptive Golf Association is to train PGA and LPGA Professionals across the country as adaptive coaches," he describes.
Windsor takes a hands on approach, as he travels from PGA Section to PGA Section conducting seminars for his peers on the nuances of instructing and working with adaptive golfers. He outfits his fellow professionals in a device that simulates swinging a golf club while wearing a prosthetic leg. He asks them to hit shots with one arm or to hit shots sitting down in a modified golf car. "In order to instruct someone who has these limitations, you have to experience them for yourself," describes Windsor. "Secondly, our training gives teaching professional the confidence to work with adaptive golfers and the sensitivity to work with their special needs."
Clubfitting Veterans with Serious Injuries
Chad Evans has been a PGA Professional for 19 years, the last five of which have been spent as a master clubfitter at the TaylorMade Performance Lab at New Albany (Ohio) Country Club. In 2014, he worked with Operation Game On – which provides returning combat-injured troops suffering from physical and mental disabilities a very special intro-togolf package that includes a clubfitting.
Evans worked with USMC SSgt. (ret.) Charlie Linville of Boise, Idaho and USMC Sgt. (ret.) Derek Goodridge of Coon Rapids, Minnesota. Linville lost his leg in 2010 in an IED blast in Afghanistan, and Goodridge lost his right arm in 2011 while also serving in Afghanistan.
"In my time as clubfitter, I've learned to accept that each golfer is totally different from the next. From their strength to their stature, to how long their arms are relative to their torso or lower body. Does someone have back problems, or tendinitis, or another injury that affects their range of motion? Different hand sizes, all of these things," says Evans. "The complexities of fitting people in general are extremely important. So when fitting someone without an arm, or a leg, or who doesn't have feeling in their hands, it's exponentially more important to pay attention to the close details. You have to dive deep and worry about the length, grip, weight, flex, kick point and more. Nothing will be standard in their equipment. Nothing in their lives is standard."
One of the biggest challenges for Goodridge was learning to do everything left handed after loosing his dominant right arm. Among the first things Evans addressed with him were exercises to strengthen the golf muscles in his left arm. "We wanted him to be able to maintain his swing throughout a full round, so we talked about strengthening that off arm," says Evans. "You can have the best equipment in the world, but you also have to be equipped to swing it. It's not just about the clubs and how specialized they need to be, but also helping them realize how to use their bodies, sometimes their new bodies, to swing the club.
"I hope that he left here more equipped to do other things in life after building up strength and coordination in his left arm," he adds. "Here we are talking about golf, but he has life and personal circumstances that he works with every day. This is helping him with those." Evans fit Goodridge into a lightweight L-flex driver with ultra-high loft that allowed him to maintain a faster club head speed, launch the ball in the air, and swing repeatedly without getting tired. He also used a specialized grip that helped him better control the club. Linville was an extremely rare case; he didn't start playing golf until after he lost his leg. Through the use of a technologically advanced prosthetic and the some quality golf instruction, he was able to develop a repeatable golf swing with a fair amount of speed. However, because of the prosthetic, balance remains a key focus in Linville's swing.
"Finding the proper swing weight was critical for fitting SSgt. Linville," says Evans. "If his equipment was too heavy or too light at any point in his swing, it could throw him off balance and make it very difficult to produce consistent speed and contact. "My best advice for fitting injured veterans is to think outside the box and really pay attention to the details. You might have to fit someone who's 6-foot3 and 220 pounds into a senior flex driver, because their injuries limit the amount of speed they can generate. So stay open minded, creative and always consider what's best for their performance and enjoyment of the game."