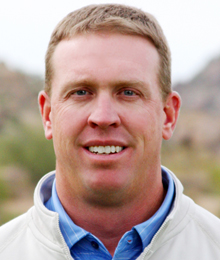 Doug Hammer, a two-time GRAA Top 50 Growth of the Game Teaching Professional, is the PGA director of instruction at Troon North Golf Club in Scottsdale, Arizona.
Doug Hammer on the importance of the monthly wedge clinic/fitting:
Throughout the year, I run a wedge clinic and fitting once per month on any given Saturday here at Troon North. I like to schedule these sessions in the early- to mid-morning. During the clinic I create three different stations: a low shot, high shot and bunker shot. Throughout the 90 minutes I provide basic instruction on each technique, and really look to concentrate on bounce and divot patterns to determine each participant's needs in terms of bounce as well as sole/grind configuration. At the conclusion of the event, each participant walks away with a fitted wedge and a few new techniques to help improve their shot-making ability.
Doug Hammer on the business impact of the monthly wedge clinic/fitting:
I look to run this event once per-month, but demand has pushed it to twice per month on occasion in our busy season (October- May). I charge $125 per-participant and limit the event to 12 students, and 100 percent of the time we reach and surpass capacity. For the $125, students receive 90 minutes of fitting and instruction, and walk away with their fitted wedge. Every 3-4 months I order 48 wedges from Callaway, and through the course of the year I will sell 150-200 wedges through this program. Additionally, I use this event as a feeder program for my private instruction book, and I typically gain 20-25 new students per season from our wedge fitting clinics.
If you would like to email the author of this Best Practice directly, please email dhammer@troongolf.com