Advanced training in biomechanics and kinesiology set Dr. Jim Suttie apart from other golf instructors, although his breezy Midwestern manner made him an easy colleague to learn from
INTERVIEW BY: STEVE DONAHUE
Dr. Jim "Doc" Suttie, a fixture on the top-teacher rankings of Golf Digest and GOLF Magazine alike, has always been ahead of the teaching curve. Not satisfied with the profession's homespun wisdom, he was intent on applying scientific and physiological approaches to the improvement of his students' performance. This way of thinking is becoming standard in golf coaching, but it was foreign to the industry when Dr. Suttie was earning his doctorate in biomechanics from Middle Tennessee University and his master's degree in kinesiology. He's still the only person to hold a PGA of America card and a Ph.D. in biomechanics.
Dr. Suttie's experience as Eastern Kentucky University's golf coach and years of studying biomechanics as it relates to the golf swing allowed him to create a teaching framework that optimizes the relationship between different body types and matching it with swing elements. He has written two books on the subject — "Your Perfect Swing" and "The LAWs of the Golf Swing," co-authored with Mike Adams and T.J. Tomasi, Ph.D.
Dr. Suttie, whose work earned him the 2000 National PGA Teacher of the Year award—teaches at TwinEagles golf community in Naples, Fla., from mid-September to mid-May and at Mistwood Golf Club in Romeoville, Ill., from mid-May to mid-September. When reporters ask to interrupt his work for an interview session he is usually glad to oblige, as he did recently for Golf Range Magazine.
GRM: Are you a scientist who got into golf or a golfer who got into science?
Jim Suttie: I'm a golfer who got into science. I was always a golfer. I went back to school to try to improve myself and to try and add something to golf instruction. I received my doctorate from Middle Tennessee State University. I had to do my research at the University of Kentucky because, at that time, Middle Tennessee did not have a biomechanics lab. I was interested in biomechanics and wanted to do my research on the golf swing. So, at the University of Kentucky, I put together the "Model Swing."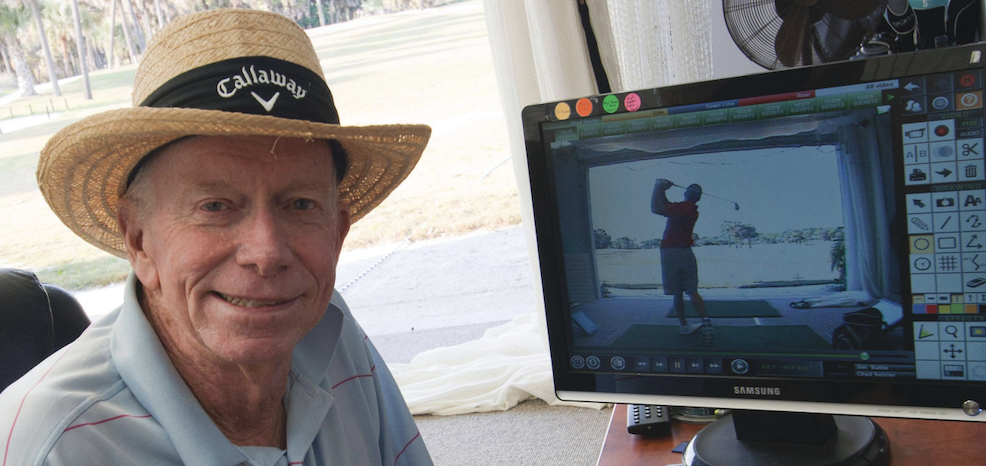 GRM: Sounds like something we'd all love to have. What were the building blocks?
Suttie: The "Model" was developed by filming a number of PGA Tour professionals. I took 4,500 measurements on every joint in the body, including some points on the club and the head. Those highspeed cameras filmed at 200 frames per second. I took body-parts measurements every 10 frames. At that time we didn't have automatic digitizing and it took one day to take measurements on one golfer. The end result was film of all these professionals in 10 different positions while swinging the club. I looked at the angular and linear displacement and accelerations of all these body parts. I hoped once this model was developed, I could put this stick-figure perfect swing and overlay it over the average golfer's video. If there was a difference in the movement of the average golfer and the model I would define it as an error the average golfer should work on.
GRM: That sounds like a process a person would only stick with if they were really curious about the answers.
Suttie: Probably so, but It didn't take me long to figure out this model perfect swing would not work after seeing that all body types, swing patterns, and physical attributes and weaknesses were different from individual to individual. Instead, I used my knowledge of biomechanics and the human body to individualize and customize instruction.
GRM: How did you go about that?
Suttie: I developed a teaching framework that optimizes the relationship between different body types and matching up those fundamentals that fit each individual's particular swing pattern, their physical strengths and weaknesses. In this way, I guess science had a great deal to do with the improvement of instruction.
GRM:You were clearly ahead of your time. What made you think applying scientific and physiological approaches to teaching would help golfers?
Suttie: I always thought most golf instructors were more into methods and systems for one reason or another. Maybe it's because it's all they knew or it was how they learned how to play. I suppose I was tired of the quick-fix "try-this-and-try-that" method, and that I thought science had a place in golf instruction. It seems all sports but golf are based on sound scientific principles, so I just tried to apply a little objectivity to a complicated motor skill. As we can see now, science does have a place in golf instruction.
GRM: What did your fellow golf instructors think of your novel approach when you started out?
Suttie: Well, I didn't ask anyone but I suppose a lot of them felt I was too technical and scientific. I suppose a lot of them thought I spent too much time looking at angles and positions, etc. But, it is no different than a quarterback going over a game plan. I started looking at swings in 1970 when portable video systems were just coming out. I guess I was one of the pioneers in the use of video and golf-swing analysis. I must have over 20,000 swings saved on video discs, VHS and mini DV tapes. It even boggles my mind right now. As time has passed, I have become a better teacher because of the knowledge I have. Understanding the cause and effect of the swing, short game and putting stroke has enabled me to simplify my instructions to my students.
GRM: Did you feel validated when the PGA of America named you 2000 National PGA Teacher of the Year?
Suttie: Yes, it was a great honor. My only goal was to try to contribute to the field of instruction and I think I accomplished that. The use of technology was becoming more accepted at that time and I was one of the first to get into this area strongly. I suppose the PGA noticed what I was doing and I was lucky enough to win the award.
GRM: Talk a little about your experience teaching summers at Cog Hill Golf & Country Club with the Jemsek family and Director of Instruction Kevin Weeks, etc., and when did you move to Mistwood for the summers?
Suttie: I moved over to Mistwood in 2013 because I felt Jim McWethy, the owner, made great investments in not only the golf course there but also in the golf training facility, which is fantastic. The Jemseks [facility owners] are a wonderful family and were quite good to me at Cog Hill, especially Joe [founder] when he was alive. He was quite an innovator. I also enjoyed working with Frank [Joe's son] and Kevin. The Jemseks got all these professional tournaments to play at Cog Hill, which is a tremendous public facility, and they've been wonderful for golf in general. Cog Hill is a tremendous facility and they are a credit to the PGA.
GRM:Why are the LAWS in your golf swing book so important and why don't most instructors factor body type into their lessons?
Suttie: It goes right down to what a person can do. Since 1968 I've collected some 20,000 swing videos, and people differ in body types and motion patterns, what they were taught, what they observed when they were younger, what they were told, etc. Big guys can't put their elbows together at the top, but we keep telling people what they can't do with their bodies and they get frustrated. I think in one hour's time you can tell someone what their body can do, improve their swing and game, and give them hope.
GRM: Is custom fitting and custom-fit equipment as important as the LAWS?
Suttie: The pattern is somewhat dictated by the club in your hand. You accommodate your motion to fit the club. For instance, if you don't have enough loft on your driver you'll hang back on your swing. The flex and weight of a shaft also has an effect on how you swing. We know a lot about the swing but not a lot about the pattern and getting golfers to make the change.
GRM: Is there more satisfaction teaching a professional golfer who improves his or her game or a weekend/beginner golfer who improves his or her game?
Suttie: There's obviously satisfaction in both, but for me I'd rather have fun and teach the weekend golfer. You don't get any press attention for that, but I find it a lot of fun to take a guy who can't get the ball off the ground and have him hitting draws in one hour. But teaching tour players is also rewarding, it's just on a different level.
GRM: Is there a particular PGA Tour player whose game you helped more than any other Tour player?
Suttie: Yes, there were several guys I have worked with who were on the cusp of winning [over 100 on the PGA Tour] but just didn't get it done. Loren Roberts comes to mind as someone who I think I helped more than anyone else. When Loren came to me in 1992 he hadn't won a tournament. After two years he finished second in the 1994 U.S. Open and was on his way to winning several tournaments in the coming year. I didn't really remodel his swing but just worked on those things that would get him over the hump. Loren is a great guy and a credit to his profession. In addition to winning several tournaments on the PGA Tour [eight] he has won at least 10 [13] tournaments on the Champions Tour, including the Schwab Cup twice [2007 and 2009].
GRM: Obviously golf instruction has changed in the past 40 years. How do you think golf instruction will change over the next 40 years?
Suttie: Yes, golf instruction has changed immensely over the last 40 years and it will continue to change in various ways going forward. We'll get more involved in the learning aspect rather than involved in the "this-is-what-you're-doing-wrong" aspect. Practice techniques, nutrition, the mental part, on-course lessons, etc., will all continue to improve and evolve. You'll start seeing facilities building multiple practice holes, or even nine-hole courses, specifically for playing lessons. We don't teach the game, just the golf swing. We have to start teaching how to play the game more, and that's where playing lessons come into play. We'll continue to see more specialization with instructors. The short game, putting and wedge play are already specialized, and we'll see more specialization, or niches, developing with teachers. Now we have teams of instructors doing different things. It will be very interesting to see how golf instruction evolves.