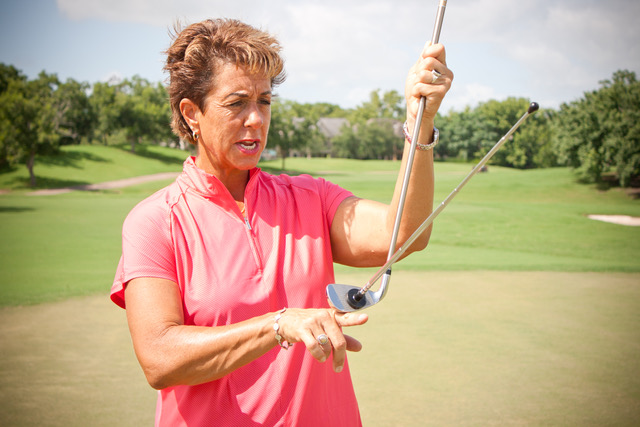 DAYTONA BEACH, Fla., Aug. 24, 2021 – Deb Vangellow, a LPGA Master Professional and Director of Golf Instruction at Riverbend Country Club in Houston, Texas, joins an elite group of her peers as the recipient of the 2021 Ellen Griffin Rolex Award.
The Ellen Griffin Rolex Award, instituted by the LPGA Professionals membership in 1989 to honor the late teaching professional Ellen Griffin, recognizes an individual, male or female, who made a major contribution to the teaching of golf and emulates Griffin's spirit, love and dedication to students, teachers, teaching skills and the game of golf.
"I am so thrilled to be the 2021 LPGA Ellen Griffin Award recipient. I did not know Ellen personally, but have numerous friends who did and shared her inspiring story about the terrific Golf Education Programming she led on 'The Farm' in Greensboro, North Carolina," said Vangellow. "Golf was her subject matter, but she taught people. For Ellen, the frustrations of golf were always overcome by fun. This very thing has been so very instrumental with the wonderful peer group I am so lucky to have who nominated me for this award. These special LPGA Members, many of whom are on this grand list of award recipients, are dear friends I had the fantastic fortune to work with in our LPGA Education Program. I am so grateful for their guidance and support and cherish the 30+ years we had together. Forever friends, for sure! Thank you so much for this award. I will appreciate it forever and will fondly remember Ellen Griffin's outstanding teaching of golf."
LPGA Master Professional/PGA Honorary Director Vangellow holds a Bachelor of Arts and Master of Science in Health/Physical Education/Coaching and Educational Leadership/Psychology from the University of Northern Iowa and Miami (Ohio) University, respectively. A multi-sport athlete who was a scholarship recipient, captain and letter winner in soccer and track & field, Vangellow elected to devote her career path to develop into a top golf educator. Her experiences reflect this endeavor.
After holding various positions in higher education, Vangellow coached Division I collegiate golf at the University of Northern Iowa and led the American Junior Team that traveled to Europe in 1996 as part of the International Sport for Understanding Program. In 1997, Vangellow was honored as a recipient of the Young Alumni Award at the University of Northern Iowa and was a 3-time LPGA Central Section Teacher of the Year in 2002, 2009, and 2012. She was also named the 2012 LPGA National Teacher of the Year. Vangellow was recently inducted into the UNI Athletics Hall of Fame, the UNI School of HPELS Hall of Excellence, and the Fairport High School Hall of Fame.
In addition to teaching men, women, senior and junior golfers of all skill levels individually and in groups at Riverbend Country Club, Vangellow was the first ever National Vice President for the LPGA Professionals membership and served as the elected National President. She was a longtime lead instructor in the LPGA Global Education Program, the industry leading teacher training program for golf professionals in the U.S. and Korea, and is a U.S. Kids Golf Master Teacher. In 2016, she joined the team at Callaway Golf Company as a Master Staff Professional promoting their Women's Equipment Line.
"Receiving this award is an unbelievable honor, especially to be among so many past recipients I call friends and mentors," added Vangellow. "I stand on the shoulders of these folks, without a doubt, and feel fortunate to do what I get to do and for the people I have met along the way. I am so grateful for this recognition. Lastly, many thanks to Rolex and the LPGA."
Past recipients of the Ellen Griffin Rolex Award include: Peggy Kirk Bell, 1989; Linda Craft, 1990; Shirley Englehorn, 1991; Harvey Penick, 1992; Goldie Bateson, 1993; Carol Clark Johnson, 1994; Joanne Winter, 1995; Ann Casey Johnstone, 1996; Dr. DeDe Owens, 1997; Shirley Spork, 1998; Betty Hicks, 1999; Gary Wiren, 2000; Penny Zavichas, 2001; Annette Thompson, 2002; Dr. Barbara B. Smith, 2003; Marjorie Burns, 2004; Pat Lange, 2005; Donna White, 2006; Betsy Cullen, 2007; Lynn Marriott, 2008; Kay McMahon, 2009; Mary Beth McGirr, 2010; Dr. Debbie Crews, 2011; Dr. Betsy Clark, 2012; Kathy Murphy, 2013; Kerry Graham, 2014; Dana Rader, 2015; Pia Nilsson, 2016; Sandy LaBauve, 2017; Jane Frost, 2018; Nancy Quarcelino, 2019; and Renee Powell, 2020.
ABOUT ROLEX
Rolex is the official timepiece of the LPGA and sponsors many of the LPGA's annual awards, including the Ellen Griffin Rolex Award, Rolex Player of the Year, Louise Suggs Rolex Rookie of the Year and the Rolex ANNIKA Major Award.  Rolex honors the LPGA Tour's Rolex First-Time Winners and is a supporting sponsor of the annual LPGA Professionals National Championship. At tournament sites, Rolex has a presence by providing the official time at selected tournaments and advertises in many event programs. In addition, Rolex is a Global Partner of Solheim Cup and the presenting sponsor of the World Golf Rankings.
ABOUT THE LPGA
The LPGA is the world's leading professional golf organization for women, with a goal to change the face of golf by making the sport more accessible and inclusive.
Created in 1950 by 13 Founders, the Association celebrates a diverse and storied history. The LPGA Tour competes across the globe, reaching television audiences in more than 220 countries. The Symetra Tour, the LPGA's official qualifying tour, consistently produces a pipeline of talent ready for the world stage. The LPGA also holds a joint-venture collaboration with the Ladies European Tour (LET), increasing playing opportunities for female golfers in Europe. Across the three Tours, the LPGA represents players in more than 60 countries.
Additionally, the LPGA Foundation has empowered and supported girls and women since 1991, most notably through LPGA*USGA Girls Golf, the only national program of its kind, which annually engages with nearly 100,000 girls. The LPGA Amateur Golf Association and LPGA Women's Network provide virtual and in-person connections to female golfers around the world, while LPGA Professionals are educators, business leaders and gamechangers dedicated to growing the game of golf for everyone.
Follow the LPGA on its U.S. television home, Golf Channel, online at www.LPGA.com and on its mobile apps. Join the social conversation on Facebook, Twitter, Instagram and YouTube.
MEDIA CONTACT
Leia Schwartz, Manager of Integrated Content