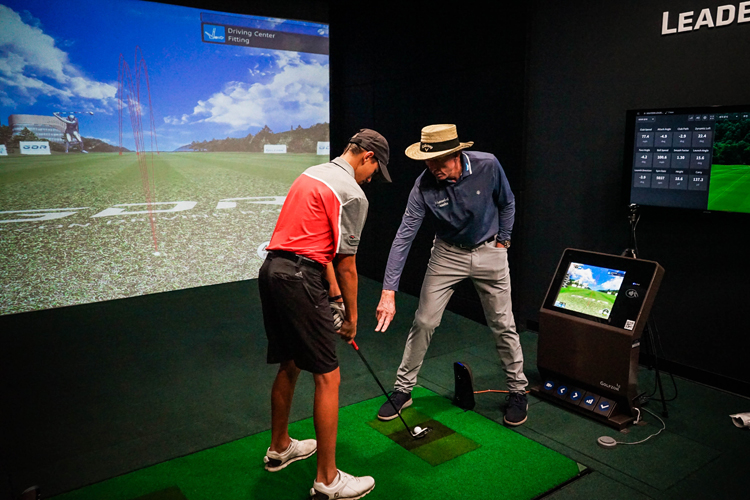 By John Torsiello
Acclaimed golf instructor David Leadbetter said "it was time for a freshening up" of his flagship academy located near Orlando, Florida – and with that, a two-month, half-million-dollar renovation of his facility's interior was launched. The end result is a state-of-the-art complex now known as the "The GOLFZON David Leadbetter Golf Academy – ChampionsGate".
"A lot has happened over the years and we are moving into another era, an age of technology with the unveiling of our renovated academy," said Leadbetter, who opened his first golf academy in 1983. Today, there are over 40 Leadbetter academies around the world.

"The integration of GOLFZON into the refurbished Orlando academy was a crucial step forward," said Leadbetter. Claiming the largest industry market share (more than 57 million rounds played on GOLFZON simulators in 46 countries annually across 5,000 global sites), GOLFZON officials say the company's cutting-edge sensor technology is internationally recognized as the official training system of the national golf teams of China, Korea, and Taiwan.
GOLFZON is "state-of-the-art," said Leadbetter. "The simulators provide so much valuable information about what is happening to the golf ball when it is hit and about the golfer's swing. The cool thing is that you can play so many courses with all kinds of lies that represent what really happens during a round."

Leadbetter's goal remains clear and focused – to grow the game. "I'm really excited about what we have done here at our headquarters. The outside is unchanged, but the inside is totally renovated. We want to grow the game at all levels and our junior academy, where we get youngsters from all over the world, remains vital to that goal." He added that it's "a thrill" to help young players and pass along knowledge to the next generation of golfers. "They love the new headquarters and I hope to be around in 20 years to see how much we have done to help the game grow."
As mentioned, the new headquarters includes an indoor GOLFZON simulator room. In addition, there is an outdoor practice range with covered hitting bay and a four-acre short game area with two 16,000 square-foot putting greens and two 8,000 square-foot chipping greens. Students also have access to two 18-hole courses and a 9-hole practice course, as well as a biomechanics and golf performance studio with equipment from Technologym. Finally, the facility offers an in-range precision golf ball tracking system, an Odyssey putting studio, SAM PuttLab analysis and training software, a pro shop, sitting areas, meeting spaces, and offices.

"It really is a spacious interior," said Leadbetter. "We have a reception area and a leisure area where people can wait in comfort for their lessons or parents with children who are using the academy can relax. It's just a great atmosphere to be in."
Leadbetter Golf University has also been unveiled as the first online platform to cover virtually every aspect of golf instruction. The digital offering provides coaches with a pathway to further their education and development through micro and specialized courses recognized by the PGA of America. Segmented into four categories (mental, physical, technical, juniors), featured courses include: My Evolution of the Golf Swing by David Leadbetter, Applied Biomechanics by JJ Rivet, The Only Way to Win by Jim Loehr, Els for Autism Coaching Program by Ernie Els, and Youth Development–A Champions Athlete by the Leadbetter Golf Academy staff.
The Leadbetter golf academies offer what is termed "a holistic approach" to golf instruction that incorporates swing analysis, course management, mental preparation, and physical conditioning.
For more information on David Leadbetter Golf, log on to https://davidleadbetter.com/.