David Graf is a PGA Master Professional and the co-founder/director of golf at the Golf Performance Institute of Toledo at McDivots Golf Center in Holland, Ohio.
David Graf on the importance of utilizing wedge boards on the range:
At the Golf Performance Institute of Toledo (PIT), we feel strongly about people learning how to control their wedge distance. To help golfers improve their wedge distance and to add a unique spin, we devised two sets of four-by-four colored plywood wedge boards. We got the idea from 2009 PGA Teacher of the Year Mike Bender, who worked with Zach Johnson on a similar setup prior to his 2007 Masters win. Unlike Mike Bender's wedge boards, which were cement, ours were wooden and make a satisfactory thud when hit. Our two sets of boards are set up in a staggered step shape. The boards go every 10 yards, starting at 20 yards from the tee and going up to 100 yards. In order to make the boards easier for golfers to see and to tell what yardage it is, we use four bright colors (red, royal blue, yellow, and light green).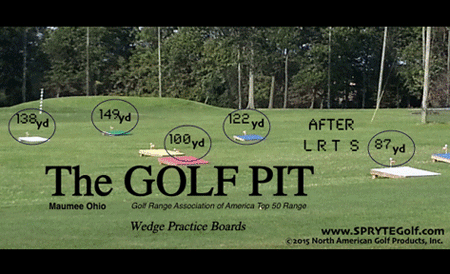 David Graf on the business impact of utilizing wedge boards on the range:
We offer teaching and fitting – where the boards have been a help –, though our main goal from a business perspective is to sell range balls. Customers love this setup we've arranged, which results in the customer improving their wedge skills (distance control, timing, tempo, muscles, etc.), and the use of many more golf balls. We can even attribute it to a 10-to-20 percent increase in range ball sales. The targets are visually and audibly stimulating, and are a great place to start youth practices. Our greatest compliment has been that other ranges in the area have started using their own wedge boards.

If you would like to email the author of this Best Practice directly, please email dgraf@thegolfpit.com