Dave McQuade, a PGA Master Professional, is the PGA director of golf at Collier's Reserve Country Club in Naples, Florida.
Dave McQuade on the importance of making your practice range accessories look brand new:
Here in Naples, the subtropical weather conditions can be rough on our recycled bag racks and club washers that we use on the range. After long exposure to the sun and the elements, these accessories can begin looking tired and faded. I experimented last year with spray paint that bonds to plastic, and the results were amazing! For very little cost to the club, compared to buying new club cleaners and bag racks, we "refurbished" our accessories and they look brand new.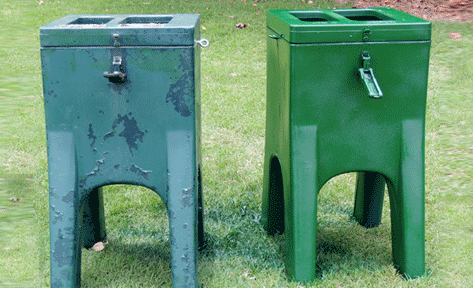 Dave McQuade on the business impact of making your practice range accessories look brand new:
For the five club washers we have on both our practice tees, the entire process took less than one hour with great results. But more importantly, it was a huge money saver. The club washers cost $200-$250 apiece, and we were purchasing new ones every two years. However with just 10 cans of spray paint at $3 each, we were able to get them looking almost brand new! We first used fine sandpaper to get the previous paint layer off prior to applying the new coat, thus saving more than $1,000 in the process. We then used the spray paint on our recycled bag racks; we have 21 of them on the range, costing $225 apiece. We purchased them seven years ago and they looked beautiful for the first couple of years, but lately had taken on a worn, tired look due to the heat and sun, fading from a hunter green color to light green. The special spray paint worked great on them as well, although it took a bit longer because of the square footage of each bag stand, but only necessitating less than two cans each. All told I bought 30 cans for less than $100, and now have more money I can pour back into my budget and use elsewhere to allow our members and guests an excellent experience. We want everyone's first impression of our golf operation to be second to none!
If you would like to email the author of this Best Practice directly, please email DMcQuade@colliersreserve.com