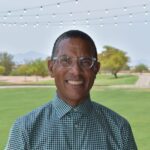 Daryl Crawford is the General Manager at Papago Golf Club in Phoenix, Arizona.
Daryl Crawford on the importance of taking advantage of the assets you have to expand the reach of your facility:
Papago has been a valley favorite since opening in 1963. Very little had changed with the facility – and what surrounds it – until an extensive renovation in 2007. Papago's design had always provided a championship experience for the golfer for nearly 60 years. We wondered what would happen if we gave the residents more than one reason to visit our unique setting. Especially needed was a new clubhouse. Through a public-private partnership between Arizona State University and the city of Phoenix, along with management from OB Sports and Troon, our vision of what Papago could be has been realized.

Daryl Crawford on the business impact of taking advantage of the assets you have to expand the reach of your facility:
Through funding from the Lou Grubb Foundation, a new clubhouse and event space were constructed that opened for business in 2018. The open-air main dining space, inside-outside bar and patio have provided a reason for our golfers and guests to "hang out" before and after a round. Locals and especially our out-of-town visitors have been surprised by the non-traditional amenities provided by a municipal golf course. Patrons can relax and enjoy the views of the golf course, iconic Papago Buttes and downtown Phoenix. The Lou Grubb Clubhouse and Evie's Pavilion provide opportunities to host anything from corporate functions and weddings while still accommodating the needs of our daily golfers. Visitors now see Papago as a gathering place, an event space for meetings and happy hour after work, and where to bring their kids on a Monday holiday when school's out. The new norm is a full dining room, a graduation celebration at Lou's Lookout Patio, 40 people enjoying a special birthday meal at the Turn Patio and Evie's hosting a function for the Thunderbirds featuring 100 guests… all at the same time! The city has seen their asset grow and get better, which enhances our stature in the community. ASU, meanwhile, has their own private learning center on property, allowing their men's and women's golf teams to train and practice away from all the busy activity. "WOW it's beautiful. The level of service and the quality of golf is top notch" is a common refrain. That never gets old, and we got there by taking advantage of the assets we had to expand our reach.

If you would like to email the author of this Best Practice directly, please email dcrawford@golfpapago.com.