Foresight Sports' GCQuad technology allows facilities to fit, teach, train and entertain
By: Al Petersen
The Foresight GCQuad uses quadrascopic technology to capture 200 pictures from four perspectives as the golf club impacts the ball – allowing the club and ball to be pinpointed for accurate strike and shot data within seconds and millimeters. As well as ball data, the GCQuad provides information on club path, lie angle, angle of attack and strike location.
Quite literally, it covers the golf swing from all angles. Beyond that, the GCQuad allows facility operators to deliver an all-encompassing experience to golfers regardless of what they're seeking. It covers clubfitting, instruction, training, coaching and comes with a built-in entertainment component to boot.
The device, which follows on the success of Foresight Sports' GC2, has been programmed to deliver more accurate ball and club data than before because ofthe four enhanced cameras that give immediate feedback.
Instructors can also transfer the unit to the range, where students can hit balls knowing that the data is being stored in a cloud for analysis, and the GCQuad brings an entertainment option into play that gives students and customers more reasons to use it.
Add a hitting area that's six times larger than the GC2, and the GCQuad is quickly becoming a product that many teachers, fitters and golf locations are touting.
"The simulator gives us a very realistic view for the player when they're hitting the shot," says Duane Anderson, a clubfitter at The Kingdom, the golf laboratory in Carlsbad, California, used by TaylorMade when working with professional and amateur golfers. "[When used indoors as a simulator] they can actually look up into the screen and see the ball fly, which is a big advantage for us, because previously we didn't have much of a visual at all for people to look at."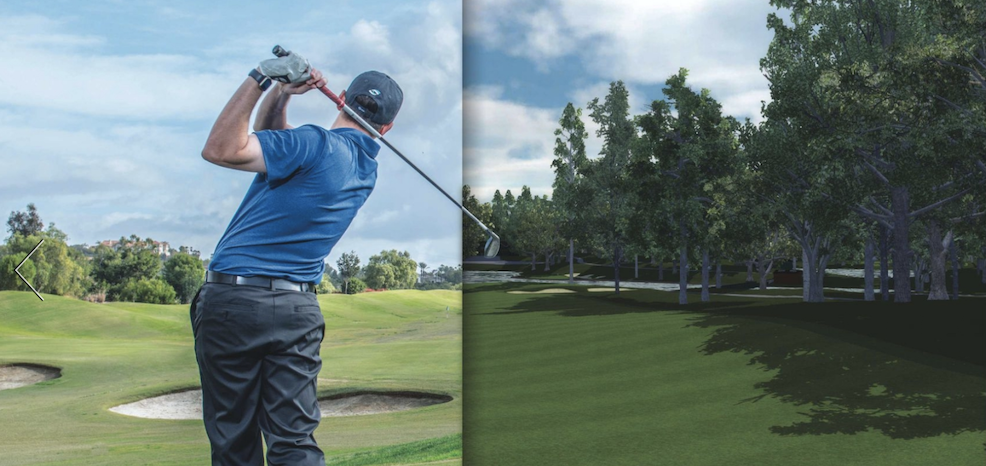 TaylorMade is among several of the industry's top manufacturers that use the GCQuad for testing and fitting, and Rick Cuellar, Foresight's Director of Sales, says more fittings have been conducted on the company's GC technologies in the past nine years than on all other launch monitors combined.
Anderson says the device's accurate measurements between ball and club, which includes tracking the precise position where the ball impacts the clubface, are crucial to proper fitting and getting the right clubs in a player's hands.
"It's really powerful to have these visuals to explain it numerically but also to show it visually to help people understand," he says. "As a fitter, I'm not here to teach, but if I can at least have them understand why their golf ball does what it does, now I can set up the golf clubs to help out, and they'll have the confidence to take it to the course."
The GCQuad is also used as a simulator and an indoor/outdoor entertainment device at many shops, stores, golf courses and homes. The device's accuracy and reliability are well suited for those environments because, when integrated with Foresight Sports' FSX 2018 platform, it provides the ultimate experience in 3D simulated practice, play and gaming.
"The feedback we've been getting from our customers has been fantastic," says Jaime Slocum, the owner of Club 14, an indoor golf practice, fitting, teaching and entertainment facility in Windham, New Hampshire. "This is a top-of-the-line product that's ideal for what we do."
Slocum says Club 14, which has six simulators and three PGA Professionals on staff, does the bulk of its business through the entertainment angle, with 80 percent of customers using the simulators for that purpose. Even though only 20 percent use it for lessons and fittings, Slocum says the GCQuad's technology enables users to learn even while just having fun.
"The fact that it's camera-based instead of radar-based makes it ideal for our use because the ball flight is so much longer," she says. "Players can actually get a feel for what the ball is doing, as compared to some other launch monitors and simulators. Our instructors love it, too. I don't think you can beat it."
The GCQuad was introduced at the 2017 PGA Show as an advanced launch monitor with the highest level of capability and resolution. Cuellar says it works in all golf company research and development environments, with many manufacturers using the GCQuad to conduct performance research on golf clubs and balls.
"They also utilize the Quad in their fitting applications in a golf simulator environment for high-level fittings," he says.
Putting capability was added to the system in 2018 to improve that area of fitting and research and to make it more attractive to users.
"The Quad is the only launch monitor product in the market capable of accurately capturing the ball launch condition off of a putter, measuring all putter delivery characteristics and doing it seamlessly in both indoor and outdoor environments with the same repeatable data," Cuellar says.
PGA Tour players use the Quad to dial in their carry distances on all shot types, especially from 100 yards and in, Cuellar added.
"What most people don't understand is that by accurately capturing the launch condition and then applying that data to our highest quality ball flight algorithm, a player is able to isolate their variability in ball striking, which eliminates all other variables associated with weather elements," he says.
The company's Total Range solutions also deliver everything a range operator might need when it comes to pay-per-play gaming and analytics, Cuellar says.
"The Total Range experience is comprised of our GCQuad unit embedded into a proprietary practice range bay divider with FSX software presented on a touchscreen monitor to navigate the software and a flat panel monitor for viewing," he says. "The Total Range system is designed to integrate with traditional practice ranges looking to add advanced technology features to upgrade to an entertainment range style capability."
The Total Range product is starting to gain momentum among stand-alone facilities that aim to use technology in order to gamify the range experience.