With Golfsmith no more, green-grass partnerships could be a potential solution for GolfTEC
BY: TONY L. STARK
Suzanne LaTour owns three GolfTEC locations in the San Diego, California area. Two are stand-alone brick-and-mortar stores: located in the affluent communities of La Jolla and Rancho Bernardo, respectively. The third, however, is unique. It's one of only three GolfTEC locations to sit onsite at a green-grass facility. The noticeable building sits adjacent to the practice range at Encinitas Ranch Golf Course – a bustling city-owned public facility that's operated by management company JC Resorts.
"We were scheduled to be the first GolfTEC located on a range, but it took us a while to get it built because of all the extra moving parts involved when working with a city-owned facility. We opened for business back in 2014," says LaTour. "There was one built on a range before ours was complete and one built right around the same time. I think we were the third."
Currently, there are still just three GolfTEC locations on a practice range: LaTour's Southern California site; Stonebrook Golf Academy & Driving Range in Middleburg Heights, Ohio, and Centennial (Colorado) Family Sports Center.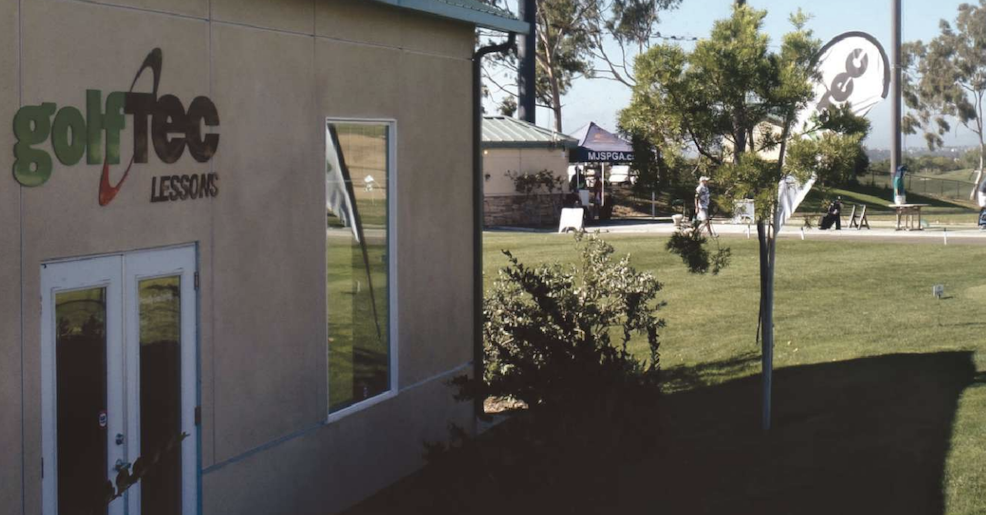 GolfTEC had a beneficial relationship with Golfsmith stores for years. In fact, more than 60 GolfTECs were located inside the golf retail stores. With the well-documented bankruptcy of Golfsmith and the completed sale of the franchise to Dick's Sporting Goods in late 2016 (who has rebranded the stores as Golf Galaxy, a franchise also owned by Dick's), you have to wonder what that means for GolfTEC; especially considering that Dick's has said it only plans to keep approximately 30 of the stores formerlyknown-as Golfsmith.
Officials from GolfTEC headquarters in Englewood, Colorado contend that opening more outdoor centers like the one at Encinitas Ranch is not a primary company goal. Instead, they're predicting more stand-alone training centers, of which the vast majority will continue to be indoor locations near high-density commercial/retail developments (strip malls, shopping centers, etc.). GolfTEC is working to build 30-40 stand-alone locations in 2017 to replace those that were in closed-down Golfsmiths.
"GolfTEC is coming off our most successful fiscal year in our 21-year history," says PGA Professional Joe Assell, Co-Founder and CEO of GolfTEC. "The Golfsmith/Dick's Sporting Goods opportunity isn't slowing our growth, as we are in a great financial position with the mobility and capital to deploy more stand-alone locations which continues to be our primary goal."
While stand-alone stores are the company's primary goal, we still have to wonder whether we'll see more facilities like the one owned by LaTour?
"As time goes on, I think facilities like ours could be a trend," says LaTour, who was first a GolfTEC customer before deciding to become the San Diego franchise owner in 2010. "The original GolfTEC model, like what we have in La Jolla and Rancho Bernardo, will continue to be strong. Additionally, locations on the range are beneficial for both us and for the golf course."
The relationship between GolfTEC and Encinitas Ranch over the last two-plus years has indeed been a good one. In 2015, the first full year of GolfTEC being onsite, Encinitas Ranch enjoyed a 5 percent increase in range ball sales and an uptick of 3,000 rounds. In that same year, the facility's leading GolfTEC instructor, Scott Engelland, gave nearly 2,000 lessons.
"There's also a loyalty factor. Since they come here for their lessons, they're coming back to play the course and practice here, too," says Engelland. "That's how we've helped the course to sell more range balls and rounds."
Like at every GolfTEC location, the instructors, management and corporate office are tasked with generating lessons. "Sometimes they (Encinitas) might send somebody over, but they have their own teaching staff here and they've been here far longer than we have. We respect that," says Engelland, himself a PGA Professional. "What I think helps us is that we have opportunities for walk-ins coming off the course, range or putting green. That happens quite often. There's a level of curiosity, especially among golfers who are used to seeing GolfTEC at a brick-and-mortar and they see us out here."
GolfTEC Encinitas gives nearly 500 lessons a month on average, compared to the company's national average of about 110 lessons a month. However, the green-grass setting may only partly attribute to those numbers, as LaTour's other two San Diego locations also do close to 500 monthly lessons. It may more so be the golf-heavy market, and the Southern California weather that lets golfers play year around, rather than the range location.
How the current partnership is structured, GolfTEC teachers are not allowed to take students onto the Encinitas range. They can, however, work with them on the putting green and short game areas – and if a student is testing equipment for clubfitting, they're permitted to hit balls on the range with that club on their own. The partnership also gives GolfTEC instructors the opportunity to take their students out for on-course lessons.
"It's nice for us to be here because after a lesson our students can go out and practice on the range or on the course to work on what they've learned. Matching feel with what's real is easier with this setup," say Engelland.
"We have a good relationship with Encinitas. They've done a nice job of being supportive and a good neighbor. We try to do the same," adds LaTour. "There are so many mutually beneficial components to having our facility on the range here. It's a situation that's good for all parties. Of our three San Diego locations, this has grown to become our flagship site."