Many courses in the vicinity of entertainment-based ranges do just fine
BY: SCOTT KRAMER
The thumping music, laughter and loud talking can be heard outside the Topgolf facility in Scottsdale, Arizona. Yet somehow the noise never really carries around the corner, to the serene Talking Stick Golf Club.
In no way are these neighbors at odds with one another. In fact, they each rely on the other's success. This particular Topgolf is 65,000-square-feet, has three levels, 102-hitting-bays, replete with a rooftop bar, 250 high-definition TV sets, 346 parking spaces, and constant activity. Each hitting bay is climate controlled, has comfy couches, free Wi-Fi, daily drink specials, waitress service, room for six people, free rental clubs, and a touchscreen launch monitor. Balls are micro-chipped to let golfers know exactly how far they're hit and how close to the target they land. It's a very fun, teched-out, social environment.
It is not, however, the more conventional, 360-yard-deep and 150-yard-wide double-sided range at Talking Stick. "Many of our clients have tried Topgolf, but see it as a completely different product," says Steve Leonard, Talking Stick's PGA general manager. "They see it more as entertainment than a place to practice. In fact, Topgolf has not affected us in any negative way. We see it is a complement to our traditional facility. I believe Topgolf is a great way to introduce people to the game of golf in a fun, unpressured environment. Our greatest advantage is that our practice facility is a natural golf experience. You hit from natural grass, you get to see the full flight of the ball and can use every club in the bag."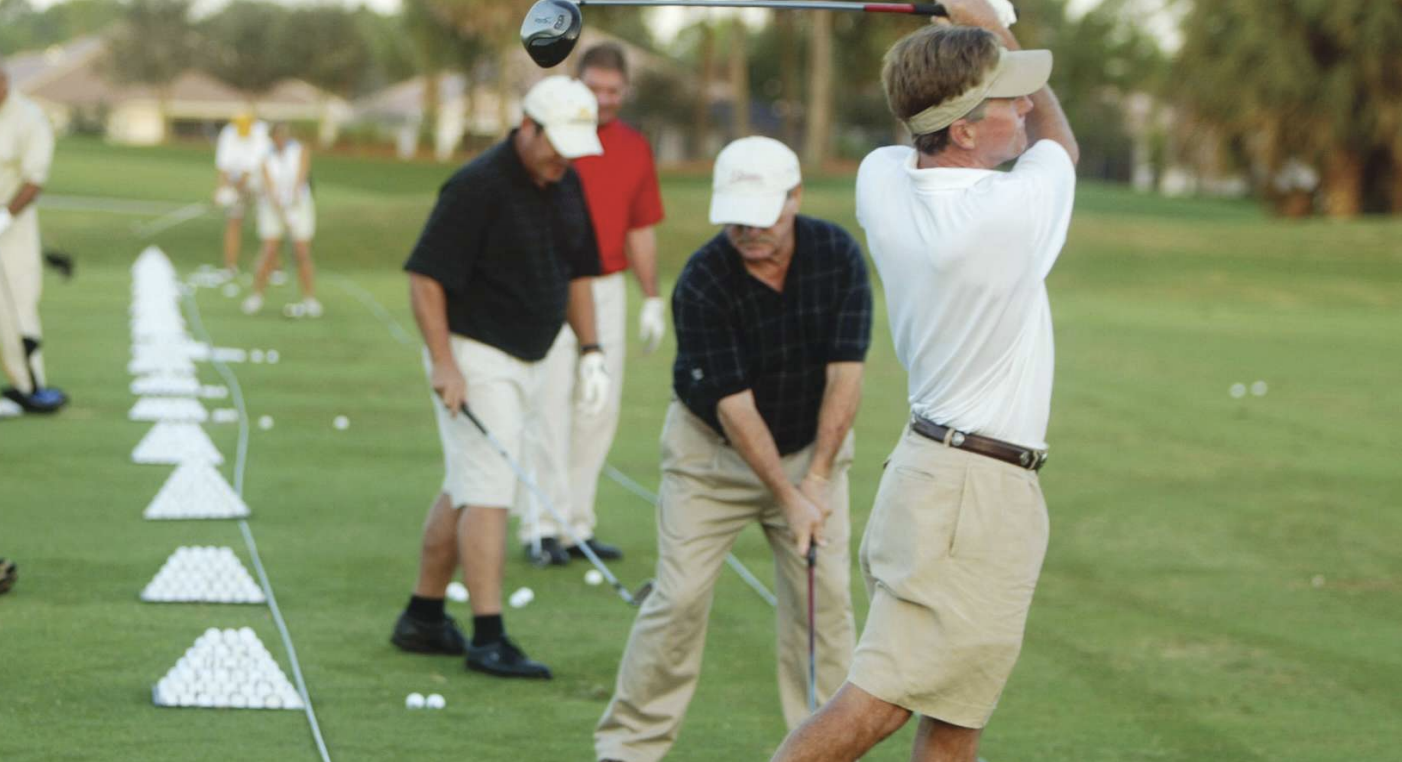 Also, the range experience at Talking Stick is obviously more conservative, as well. Customers on average practice for about 45 minutes per session, according to Leonard. "Naturally, it varies," he says. "We have the golfer grinding on a swing change and we have the person just wanting to try something that he just learned or heard on the Golf Channel."
By contrast, you'd be hard pressed to find that serious golfer at Topgolf, where the average patron is 18-to-34 years old, single, doesn't bring his own clubs, and doesn't even play once a month on a real golf course.
So while both of these places lure golfers, they do so in a far different manner, and this situation isn't unique. Topgolf has 16 locations worldwide, including 13 in America, with plans to open 30 more sites over the next three years. And if your course is nearby, be ready to embrace your new neighbor.
But Topgolf isn't the only entertainment-based range in the country. For instance, in Branson, Missouri, Top of the Rock Golf Course features a new Arnold Palmer-designed driving range with 16 target greens, recessed lighting and three teeing decks. Aside from one of the tee levels being real grass, everything else on the range is synthetic turf. Even the bunkers, which are painted in. It's the ultimate all-weather golf experience that can even be easily used at night.
This place is an over-the-top, mega-golf destination all on its own. If that weren't enough, the facility also includes top-notch golf courses and the Tom Watson-designed, one-acre "Himalayan" putting course, with a 20-foot elevation change and putts of up to 200 feet long. So how's a local range even to compete? Apparently by just being themselves. "My customers don't really go over there to practice," says Jason Short, owner of Valley View Driving Range just north of Branson. "What I sell for $5 they sell for a lot more. Take nothing away from them, it's really a great facility for tourists. But if golfers really want to practice their golf game, they come here. Top of the Rock is a really nice place, but it's a lot about hitting targets. There isn't really the equivalent of fairways to hit down and practice into. We go over there sometimes, just to check it out and see what's new."
Bottom line is that many courses in the vicinity of entertainment-based ranges still do just fine. And in the case that you want to transform your range into something above average — but not to the Topgolf extreme — there are ways to do it that require neither liquor licenses nor nightclub-caliber stereos. One range – Vitense Golfland in Madison, Wisconsin – created a section of eight golf suites, which are essentially covered hitting bays revved up with couches, big-screen TV's and food service. Another – Miles of Golf in Ypsilanti, Michigan – is open 24 hours and has TrackMan launch monitors on some of its tees, so golfers can play TrackMan the Game, which combines hitting golf balls with video game-like features. Some courses and ranges have installed indoor hitting simulators, so even in the winter golfers can bring groups together to play the likes of Pebble Beach from the comfort of their home facility.