Small-footprint facilities allow "unstructured" and golf experiences as well as serious skill-building
A generation ago golf had a shortage of courses. Then came two decades of ambitious construction, which led to oversupply. Now comes an experimental phase – clubs and developers are hoping to create facilities that better address today's patterns of living. That means shorter, more catered golf experiences that fit modern time and financial limitations. An auxiliary impact: Golfers are provided an opportunity to sharpen their short game and have meaningful skill-building experiences that take less time.
This month's issue addresses this emerging trend with a two-part cover story that firstly describes the inspiration behind it and how it's impacting several high-profile facilities including the Tom Lehman-designed Trilogy Golf Club at Ocala Preserve and the Tiger Woods-designed Bluejack National. Secondly, we highlight some of the premier American golf properties that have supplemented their practice ranges with alternative short-game facilities.
Part Golf Course, Part Practice Ground
BY: DAVID GOULD
These unconventional projects can often be part golf course and part practice grounds, depending on need and preference, even switchable between the two functions. The design trend is seen in facilities like The Proving Grounds outside of Dallas, The Playgrounds in Houston and the 50-acre, walking-only Trilogy Golf Club at Ocala Preserve in central Florida.
They are meant to reward a time investment much shorter than the four-hour round, while moving the time-compressed golfer out of his or her hitting bay on the range into a free-form environment in which creativity – so vital to good golf from inside 150 yards – can blossom. And while such an environment is alluring to score-conscious low-handicappers, these compact hybrid golfscapes are particularly ideal for family golf experiences. And that's important for player development.
Course architect Tripp Davis has been an early exponent of this new approach, helping to convince leaders of Long Cove, an upscale golf community north of Dallas, to try something different. Davis was sure that golfers wouldn't miss having 7,000 yards of golf if they could hustle over to The Proving Grounds and either practice in a round-simulating manner or have a bit of fun playing the loop of short holes that zig-zag around this 17-acre property. The development has been highly successful with its homesites – nearly $40 million in sales in under two years – which is a bright sign for this alternative golf concept.
"At one end of the spectrum, we drew inspiration from professional practice facilities where players are able to re-create every shot they might encounter on a full course," comments Long Cove's developer, Don McNamara. "At the other end, we wanted a low-pressure environment where a father could actually enjoy teaching a daughter to play, or a whole family could enjoy the game on a summer evening in bare feet." And yes, we do recall that shoeless golf dates back to Sam Snead in his West Virginia boyhood.
Davis found the right balance of the two needs with The Proving Grounds, and probably inspired another Texas high-end development to the south. Bluejack National, 45 minutes northwest of Houston, does have a Tiger Woods-designed championship 18-hole course, but the heart of the Bluejack golf amenity its smaller-footprint facility called The Playgrounds, also designed by Woods. True to its whimsical name, The Playgrounds provides "an unstructured golf experience" that makes it easy for family and friends to get in the flow of some ball-striking fun – typically with a half-set of clubs that rests easy on the shoulder. On the same course at the same time, an improvement-minded core golfer could be creating his or her customized scoring-shot challenge. That's an approach to skill-building that dovetails perfectly with the "complete-game" philosophy of such leading golf academies as Arizona-based Vision54, home base of famed coaches Pia Nilsson and Lynn Marriott.
In tandem with design partner Tom Lehman, Davis took things a step further in conceptualizing the Trilogy facility at Ocala Preserve. That design includes an 18-hole par-3 routing, a "Short Loop" within it that provides a six-hole round playable in 60 minutes, plus a "Skills Course" concept within the Short Loop, complete with designated drop-your-ball-here locations about 100 yards out.
If someone wants to stretch their tee-to-green journeys toward a more traditional scale, there is a sixhole course with four par-4s that range from 320 to 440 yards, plus a par-3 with many tees that plays from 90 to 175 yards and a par-5 with a top yardage of 530 yards. Go around that once and you've covered 2,200 yards of golf in about an hour – three times around is an old-fashioned dose of golf, at 6,600 yards.
Facilities and experiences from this new playbook sweep aside the game's intimidation factor. The time issue is also elegantly solved, and meanwhile the latest data on skill acquisition tells us that practicing and experimenting on layouts like these offers the straightest road to improvement. More such projects, with extra twists and wrinkles to increase the appeal, are likely in golf's future.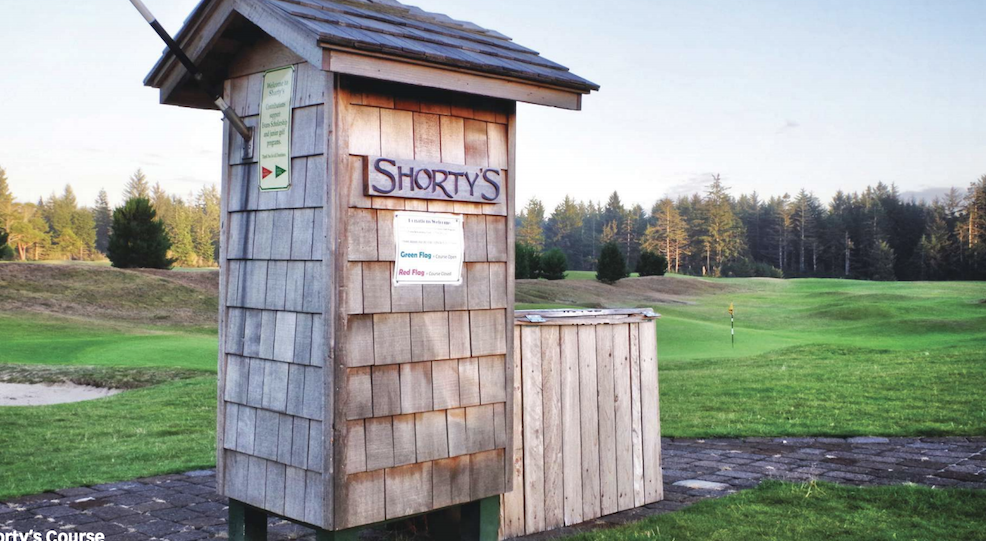 Short-sighted
Some of America's premier golf properties have supplemented the range with upgraded short-game facilities
BY: SCOTT KRAMER
Golf can be time-consuming – that's one of its benefits and downfalls, all at once. But when golfers can't spend several hours on the course, using a facility's short-game area is a wonderful abbreviated alternative. In fact, it's an increasingly popular option for anyone with a jam-packed schedule. Which is why more courses have been upgrading their short-game facilities and adding short courses, the past few years. And that includes several of America's top golf destinations, which have supplemented their ranges with pristine short game areas and unique short-course options. Some highlights:
Bandon Dunes Golf Resort – Shorty's Course Bandon, Oregon
This incredibly popular golf destination seemingly keeps adding courses. But Shorty's, a nine-hole par-3 practice course designed by Scottish architect David McLay Kidd, stands out. Open just four afternoons a week, its longest hole is 174 yards. The course – named after Shorty Dow, the property's former caretaker – is situated just off the "Big Putt" one-acre practice putting green. Guests can play Shorty's for free, but are welcome to put donations for Bandon's junior golf program into the honor box just off the first tee. Even when Shorty's is closed, the facility keeps at least three holes open for golfers to practice short-game shots. "Shorty's is a great place to give individual and group golf lessons," says Grant Rogers, PGA director of instruction at Bandon Dunes Golf Resort. "We can focus our golf instruction at Shorty's on links-specific golf shots, including putting, bunkers and a wide variety of short shots. We design instruction at Shorty's to be informative and fun. Really, the entire 50-acre practice center at the resort is amazing. Complimentary range balls are stacked in 91-ball pyramids on the practice tees. There's also a huge practice putting green."
The Prairie Club Valentine, Nebraska
Its 10-hole, par-3 Horse Course – designed by renowned architect Gil Hanse – was listed in 2012 by Golf Digest as the 10th Most-Fun Course in America. There are no tee boxes, as golfers call shots and see if their playing partners can match them – just like a game of HORSE in basketball. Golfers are limited only by their imagination in creating holes. For example, they can set a tee up on the rim of Snake River Canyon or from the rustic native grasses that border many of the greens. The course plays between 485 and 1,125 yards. Greens dramatically undulate, leading to many runaway putts. It gives golfers the chance to practice any shot from anywhere, while providing a fun competitive element.
Pinehurst Resort Pinehurst, North Carolina
The practice area is known as Maniac Hill. The 17,000-square-foot, 18-hole "Thistle Dhu" putting green by the clubhouse is sprawling and perpetually busy. Meanwhile, the expansive short-game area includes a target green that was designed in the style of the turtleback greens of course No. 2, so even if guests don't play the revered course, they can appreciate the difficulty of the greens while practicing.
Augusta National Golf Club Augusta, Georgia
PGA Tour professionals are always excited to return to Augusta each year. Amen Corner, the chance at a coveted Green Jacket, pimento cheese sandwiches and, since its 2010 renovation, even the tournament practice range has become a point of excitement. Two greens and five bunkers allow players to practice shots that they find on the course's challenging greens. Golfers can replicate the required finesse shots on the short-game area's chipping greens, as well. The latest putting green is maintained at the same slippery speed as Augusta's on-course greens, and is primarily used for more detailed practice sessions.
The Olympic Club San Francisco, California
The Olympic Club is home to the popular Cliffs Course, a fun nine-hole par-3 Tom Weiskopf-Jay Morrish design that opened in 1994. It stretches 1,800 yards from the tips. The private non-equity course bears an "Accompanied By Member" guest policy, and is walking only.
Top of the Rock Branson, Missouri
Top of the Rock is unique. First off, there's a Jack Nicklaus Signature par-3 course that's hilly and has panoramas of the Ozarks – and hosts a PGA Tour Champions event. Then there's the 335- yard-deep Arnold Palmer Driving Range that's all artificial turf (including the painted-on bunkers), with the exception of one grass tee level and three real bunkers for practicing sand shots. A massive putting course – designed by Tom Watson – lies beside the range tees. It features an 18-foot elevation change from top to bottom, dozens of mounds and roughly 20 cups. Golfers can actually take 200- foot putts, and balls falling off the lower end can roll right down into a lake. "It's a great place to practice," says Eric Smith, PGA director of golf at Top of the Rock, who adds that golfers commonly spend up to two hours on the putting green.
Boyne Mountain Resort Boyne Falls, Michigan
Its Wedge Range has eight cement slabs set in the ground, each painted in color and slanted slightly for visibility. Plus, they have black-and-white posts behind them. They're spaced out 10 yards apart in a baseball diamond fashion, from 30 to 100 yards from the tee. "We do quite a bit of coaching on the Wedge Range," says Mike Fay, PGA director of player performance at Boyne Golf Academy, and brainchild of the range. "It's enjoyed by all ages and in fact, it's quite addicting. This was an idea I had which was inspired by a clinic I attended hosted by Mike Bender. He built one at his facility." The entire project cost less than $1,000 to build, requiring fewer than 30 man-hours.