A Study of the Most Prevalent Practice Strategies and Habits Among Collegiate Golf Programs
BY: BRENDAN RYAN
What percentage of your scheduled practice time is devoted to block practice? What percent of your scheduled practice time is devoted to random practice?
40 percent responded that it was 50/50, half block and half random practice.

23 percent of respondents spend greater than 65 percent of practice time on random practice.

32 percent of respondents spend greater than 65 percent of practice time on block practice, 

3 coaches noted that they changed their team's practice habits based on the season, as well as upcoming event schedule.

Of the 94 respondents, 12 did not respond
If the NCAA mandates 20 hours per week of team practice, how many extra hours do you think a person needs to put on their own if they are serious about succeeding at the college level and going onto professional golf?
14 percent of coaches chose not to provide a number of hours, but instead suggested a variety of factors such as natural talent and opportunity play a large role.

For the other 86 percent of coaches, the average answer was 14 additional hours (on top of the mandated 20 hours a week). If a total of practicing 34 hours per week is the goal, it breaks down to approximately 5.7 hours per day for 6 days or 4.9 hours per day for 7 days.
What is the single most important skill needed to be a successful college golfer? Here are the categories as identified by the coaches:
39 percent – Controlling your emotions, a commitment to work and being coachable

22 percent – Short Game

10 percent – Ball Striking

9 percent – Course Management

8 percent – Time Management

8 percent – Driving the ball well

Being athletic, having a plan and scoring totaled the reaming 3percent.
Outside the golf course, what skill is most important for a student athlete to acquire in order to become a successful college golfer?
More than 65 percent of the coaches agreed that "Time Management" is the most important non-golf skillset needed to succeed at the college level.

The remaining third of coaches mentioned the words:
Coach-ability

Dedication

Discipline.
How important is team chemistry? Coaches were asked to respond using a scale from 1 (not important) to 10 (extremely important).
The average answer was 7.9, demonstrating that coaches believe team chemistry is very important.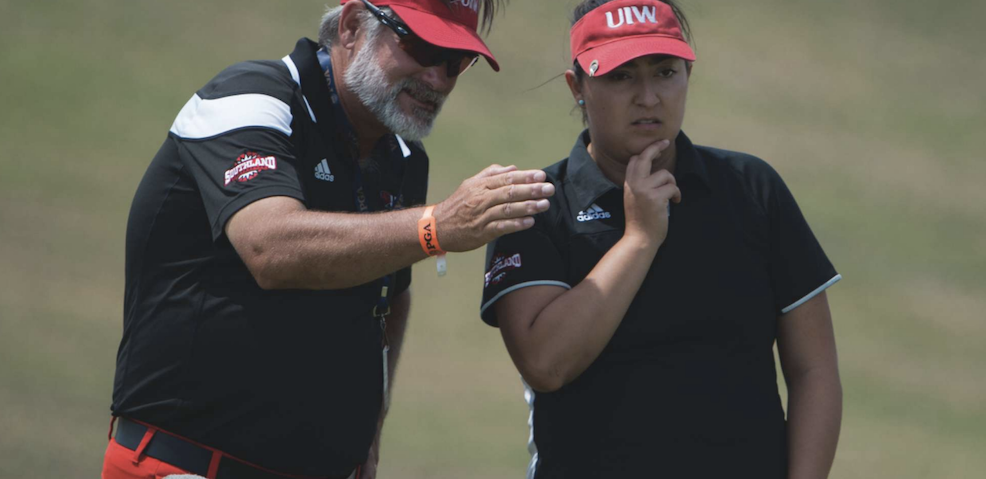 APPLYING THE DATA TO YOUR JOB
Now that we have seen the data from the survey, how do we apply it what you do as a golf instructor or facility operator? With junior golf being on the rise, the most successful golf operations are the ones with a buzzing junior program. Many of those young golfers you see each and everyday will either have aspirations or opportunities to play college golf. Here are some key points you can relay to junior golfers and their families in regards to playing college golf and selecting the right school:
The Right Practice Style
When a student athlete is considering a school, they should understand their own practice habits and their long-term goals, while also understanding the coach's preferences for block or random practice. For example, some players build confidence from hitting lots of balls on the range. Going to a school that does 70 percent of practice time on random practice would be a substantial change for this student. However, it would also allow them to build additional skills in the areas of transference, mental toughness and competitiveness.
How Much to Practice?
In a previous article, we asked some of high-level college players about their practice habits. The info suggested that on average they practiced 287 days per year for 3.7 hours a day. The data collected in this survey suggests that the majority coaches believe that students should practice more (about a total of 5 hours a day). For juniors from colder climates, these expectations can be fairly unfeasible. However, they should consider their practice habits leading up to college golf, especially if they plan to play at an elite level.
Time Management
It is not surprising that two questions in the survey (Nos. 3 and 5) highlight the importance of time management. Being an elite college athlete requires a student to seamlessly navigate a full day of workouts, school, practice and studying, which can quickly turn into a daily 6 a.m. to 10 p.m. routine. With such considerable time demands, it is critical that student athletes accept the personal responsibility to perform athletically but also handle a highly structured and demanding schedule.
Winning Isn't the Only Indication of Success
A major misconception in college golf is the idea everyone is out to win. Data collected in this survey, as well as previous surveys done by Golf Placement Services, suggest that while coaches want to do well, they are also very focused on developing team chemistry and local recruiting. In the fall, Golf Placement Services analyzed Division I signees and determined that almost 50 percent of recruits signed locally. It was the second consecutive year that this was the case. What does that mean? A high percentage of coaches and players are prioritizing loyalty and regional pride vs. soley selecting a school/players where they have a higher chance of winning. With this most recent survey, we learned that coaches also prioritize team chemistry, and would be unlikely to sacrifice a strong team environment for winning.
Finding the perfect fit is rare, and almost impossible. Instead it is your job to ask questions and make sure that your juniors who decide to play college golf have a full understanding of the nature of the program. Know things like the practice schedule, type of practice, qualifying rules, as well as the academic and athletic expectations of the coach. Furthermore, they should have a feel for the campus, academics and the other players on the team. By checking all these boxes, you will help potential college players have a good idea of what is expected from the beginning, preventing any surprises that could potentially derail a college experience.