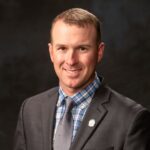 Cody Carter, the 2019 Georgia PGA Section East Chapter and 2017 Carolinas PGA Section Hilton Head Chapter Teacher of the Year, is the PGA Director of Instruction at The Club at Savannah Quarters in Pooler, Georgia.
Cody Carter on the importance of promoting your custom clubfitting services:
At The Club at Savannah Quarters, we touch members in a variety of ways, and the relationships we build serve as the foundation for the success of our facility. Whether it's individual instruction, group clinics or golf shop engagement, we strive to provide the utmost in customer service and demonstrate our vast knowledge and expertise in the game of golf. One such service we provide takes place on alternate Fridays. "Fitting Fridays" is a new program we implemented in 2021 that enables members to sign up for an hour-long session and receive a free custom club fitting on our range. Non-members are charged a nominal fee for the service. I'll email the members and provide an online registration link that they can use to secure their appointment. We're getting the word out to members through those emails, as well as our website and social media. Once they experience the service, they usually tell their friends and that's how the service has grown over these few months. I'll pitch my Club at Savannah Quarters tent and set up our fitting carts, some golf balls and my comfortable chair, of course, ready to spend the day fitting and engaging members. As a Ping staffer, I demonstrate the great products coming out of Phoenix, but we also work with a number of other leading manufacturers, including Titleist, TaylorMade, Callaway, Mizuno, Honma and PXG. Members appreciate the service, as well as the options available, and it's certainly reflected in our sales. Though we kicked off this program last spring, we plan on facilitating it on a permanent, year-round basis.

Cody Carter on the business impact of promoting your custom clubfitting services:
As we roll into fall, we are proud that every "Fitting Friday" has filled up with members not only recognizing the value of a free custom fitting, but appreciating the unique service being provided by their PGA Professionals. That's a half dozen fittings twice per month as part of this promotion. With word of mouth spreading across the club, we also offer custom fittings by appointment on other days, but the fee for the service does apply, just as time spent on the lesson tee would. Club sales have increased dramatically as a result of "Fitting Fridays", as we're doing upwards of $5,000 in club sales per "Fitting Friday". Supply issues and delivery delays remain a problem with most brands, though some are faster than others. I explain the situation to the members I fit to help them determine the best way to go when confirming their order. I keep in contact with my reps to get the most recent updates so I can provide members with accurate estimates. Sometimes, I'll conduct a fitting with a member and sell them nothing, because all they needed was an adjustment in their current equipment. This builds trust for future purchases and creates lesson opportunities.

If you would like to email the author of this Best Practice directly, please email ccarter1@pga.com.