Cameron McCormick, Jordan Spieth's coach, teams with fellow PGA Professionals Corey Lundberg and Andrew Lewis to open golf performance center
By: Art Stricklin
It takes a strong commitment to enhance the game for all levels of golfers – including PGA and LPGA Tour professionals, collegiate athletes, talented amateurs and youth players. But the new Altus Performance facility, which recently opened in Dallas at both the spectacular Trinity Forest Golf Club and Old American Golf Club, has a unique method.
Take America's fastest rising young golf superstar, Jordan Spieth, add his lifelong teacher, Cameron McCormick, plus fastrising golf teachers, Corey Lundberg and Andrew Lewis, add in a brand new modern facility, plus hard work and inspiration, and you see the seeds of growth for a new era of talented golfers practicing and training in North Texas.
"We can create a set of standards and do things that, frankly, have not necessarily been done in the United States," says McCormick, the 2015 PGA Teacher of the Year. "We will be able to provide a holistic development opportunity for athletes with coaches who have walked the walk."
This practice and training facility is the first of its kind in Texas. Spieth's frequent onsite presence serves as inspiration for an already strong client roster consisting of a who's who of youth, collegiate and professional golf. "We had a young boy whose parents brought him up from Houston the other day," Lundberg says. "He's won many junior tournaments and he is a young stud. He was working on the range and Jordan came out there to hit balls and he came over to say hello. The boy couldn't even talk, he couldn't even move. That's the impact it had."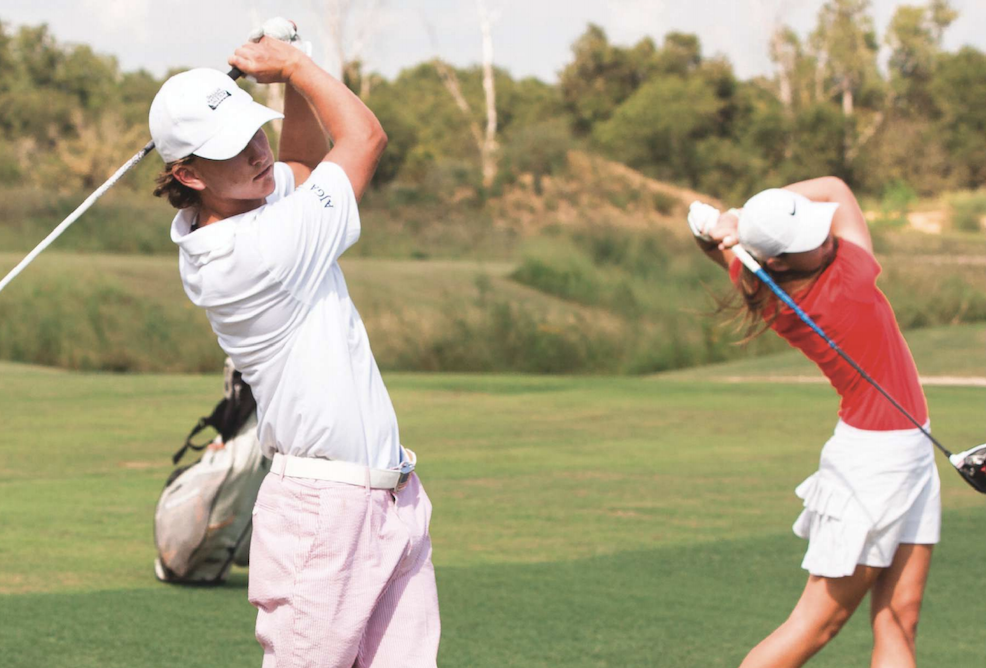 The facility is not only for elite players, but those who just want to learn the game – the "developmental group" as Lundberg calls them – and those who want to move up in the junior and amateur golf ranks. All players can apply for participation in one of the Altus programs by going to www.altusperformance.com or calling either the headquarters at Trinity Forest or the North Dallas location at Old American Golf Course, headed by Lewis. The young players in the development program start at ages 5-9, with the Aspire group – the more competition-ready players who aspire to play college golf – ranging up to 18 years old.
The Altus headquarters at Trinity Forest is a comprehensive 60-acre facility with a 360-yard double-ended range and an 8,000 square foot practice facility. The location is jointly shared with the club members and the Southern Methodist University golf program.
There will be chipping areas and multiple putting greens, as well as state-of-the-art coaching technology including multiple TrackMan units, Gears 3D Analysis, Swing Catalyst Pressure Plates and an indoor putting studio. "Who wouldn't want to design their own facilities to help players learn and grow the game?" asks McCormick, who is already spending dedicated time there with his most famous professional student and other members of the Altus institute.
"We're going to be able to hit every kind of shot you could think of and every kind of putt. It will be great for growing the game and developing strong players," Lundberg adds. There is also a separate First Tee facility at Trinity Forest and a 9-hole practice course designed by Ben Crenshaw and Bill Coore, who also did the par-72 championship course. "We have a lot of different players all with the same goal: Progressing and getting better in golf. Both Cameron and I enjoy working with the developmental players who are starting to catch fire for the game," Lundberg describes.
McCormick, who has been with Spieth more than a decade, continues to play an integral role in the development of the two-time major champion and former World No. 1 player. Spieth is a big believer in what Altus can mean for the next generation of great players. "I have complete trust in anything he (McCormick) says, he's my swing coach, putting coach, short game coach, mental coach, everything," says Spieth. "He's a very special teacher, somebody who I think is just going to get bigger and bigger, and you're going to see him with a lot of tour players in the future." That future begins now, as McCormick, Lundberg and Lewis grow the game in the fertile North Texas soil, one talented player at a time.