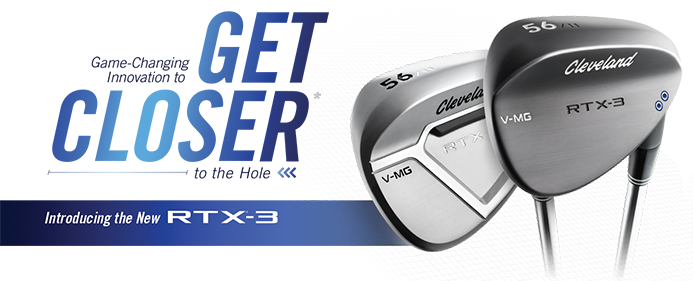 CLEVELAND GOLF INTRODUCES NEW RTX®-3 WEDGES:
"GET CLOSER"
HUNTINGTON BEACH, CA – July 25, 2016 – CLEVELAND GOLF®, focused on Where Scoring Matters™ and a global leader in wedge innovation since 1979, is proud to introduce new RTX®-3 wedges. This is the latest line of advanced, high-performance wedges from Cleveland, a brand which has sold more than 10 million wedges globally and garnered more than 350 Tour victories since 1988. RTX-3 wedges, available in a Blade (three finishes), Cavity Back, and Women's Cavity Back model to suit a wide range of golfers, feature three key technologies proven to help you get closer to the hole than any wedge Cleveland Golf has ever made.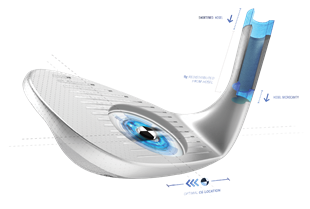 ·         NEW Feel Balancing™ Technology.This patent-pending technology shifts the center of gravity closer to the center of the wedge face – the impact zone – to decrease vibration and maximize head stability at impact. By adding a microcavity inside the hosel and shortening the hosel, nine grams of mass are optimally redistributed in the head for a more centered CG location. This improves feel and tightens shot dispersion, giving you maximum control.

·         NEW V Sole Grinds. Three tour-proven grinds feature a V shape with more leading edge bounce to help get the club head through the turf faster at impact. This promotes crisper feel and more consistent head speed for increased spin and control. The V-LG (•) is Cleveland's narrowest low bounce sole for maximum versatility, the V-MG (••) has mid bounce suitable for a wide range of players and turf conditions, and the V-FG (•••) is a forgiving full sole design with trailing edge relief.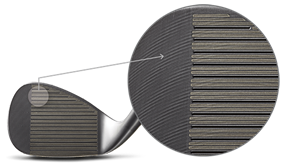 ·         NEW Rotex™ Face.Three innovations combine to maximize spin with more consistency. New Tour Zip Grooves™ have a deeper, narrower U shape with a sharp edge radius in all lofts to enhance contact across a wide variety of conditions. The advanced, 2-pass micro milling pattern increases friction and is directionally enhanced by loft: low lofts (46°- 52°) have a straighter pattern to accommodate full shots and high lofts (54°- 64°) have a more angled pattern to optimize open-face shots. Laser Milling precisely roughens the face surface to the conforming limit.
Cleveland Golf is globally recognized for industry-leading research & development put into every wedge. The extensive testing for RTX-3 compared to both the previous-generation 588 RTX 2.0, our older wedge models and select leading competitors proves that it has the tightest dispersion. It is more accurate than any wedge Cleveland Golf has ever tested*, showing the impressive performance gains when combining new Feel Balancing Technology, the new V Sole Grinds and the Rotex Face: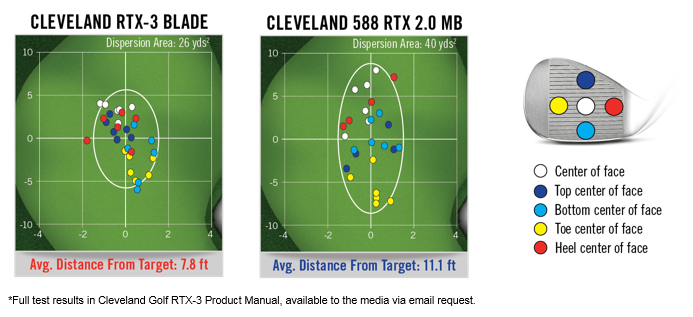 "After spending more than two years developing these wedges, Cleveland Golf is very proud with the finished product," said John Rae, Vice President of Research & Development for Srixon / Cleveland Golf / XXIO. "Our testing proves the three key technologies in RTX-3 can help golfers get the ball closer to the hole, a tremendous benefit for any player that supports Cleveland Golf's unmatched commitment to the short game."
 Scott Carlyle, Sr. Vice President – Global Marketing, added: "I'm privileged to have been involved in developing Cleveland Golf wedges for most of the past decade, and the RTX-3 represents some of the biggest steps we have taken in what we consider our three key wedge factors: shape, feel and spin performance."
The RTX-3 Blade, Cavity Back and Women's Cavity Back are all available in the Tour Satin finish. For the Blade, two additional finishes have been developed with significant enhancements:
 ·         Black Satin.This new finish has been enhanced through a proprietary process that not only gives it a sleek look, but makes it ultra-durable and longer lasting than previous black finishes.
 ·         Tour Raw.Back by popular demand, this new finish rusts over time for a distinctive look. The Tour Raw models available to consumers are the same models in the bags of Cleveland Golf tour staffers.
 The Cleveland Golf RTX-3 wedge line, which launches Friday, September 16, is available in lofts from 46° to 64° in both right-handed and left-handed options. There are key differences between the three models: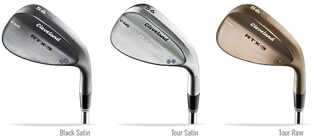 ·         RTX-3 Blade.The Blade provides the most versatility and is ideal for maximizing all-around wedge performance. Available in three different grinds – V-LG (•), V-MG (••) and V-FG (•••) – in three different finishes: Tour Satin, ultra-durable Black Satin, and Tour Raw. The standard shaft is True Temper Dynamic Gold steel (wedge flex) and the standard grip is the Cleveland Blue Cap by Lamkin. Minimum Advertised Price (MAP) is $129.99 each.

·         RTX-3 Cavity Back.The Cavity Back has a slightly larger shape that promotes confidence and increases forgiveness. Available in Tour Satin in three different grinds – V-LG (•), V-MG (••) and V-FG (•••). The standard steel shaft is True Temper Dynamic Gold (wedge flex); the Rotex Precision Graphite shaft (wedge flex) is also available. The standard grip is the Cleveland Blue Cap by Lamkin. MAP with steel shaft is $129.99 each, while each wedge with the graphite shaft is $139.99 MAP.

·         Women's RTX-3 Cavity Back.The Women's model features the same large cavity back shape with the lightweight Action Ultralite 50 graphite shaft, which promotes a high, easy launch. Available in V-MG (••) grind. The standard grip is the Cleveland Pink Cap by Lamkin. MAP with graphite shaft is $129.99 each.
Visit our microsite for more information prior to launch. Click here to access Cleveland Golf RTX-3 high-resolution images and marketing assets. To access the RTX-3 Product Manual, a comprehensive product summary that includes technical details, specifications and test results, please email us.
 *Full test results in Cleveland Golf RTX-3 Product Manual, available to the media via email request.
 ABOUT Cleveland Golf®:
Based in Huntington Beach, CA, Cleveland Golf is part of the DUNLOP SPORTS CO. LTD family and enjoys a strong presence on competitive tours worldwide. The professional staff includes Graeme McDowell, Keegan Bradley, Hideki Matsuyama, Inbee Park and many others. Cleveland Golf develops innovative short game solutions, producing advanced wedges and putters for a wide range of players that are designed to improve scoring from 125 yards and in. For more information, please contact Eli Miller (714) 889-6441 or visit clevelandgolf.com.