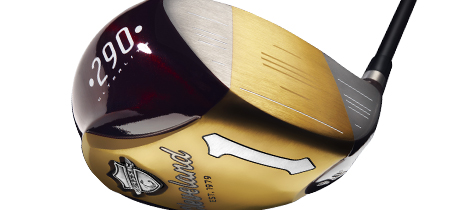 Cleveland® Golf, which launched the 588® Forged wedge and CG Black™ collection last fall, is pleased to introduce two new additions to its 2012 product line:
Cleveland® Golf's Classic™ Driver is the most advanced combination of style and performance in a titanium driver. With a unique sole design and color scheme inspired by persimmon drivers, the Classic™ Driver has a traditional pear-shaped profile with the largest, deepest club face ever produced by Cleveland® Golf. The face promotes a hot, penetrating ball flight, while MaxCOR2 technology provides maximum distance on off-center hits. Ultralite™ technology helps players generate increased head speed and distance with the same swing effort. Thanks to RightWeight™ fitting, there are three different Classic™ Driver models available, each at a different weight to maximize performance and feel for every player type. The Classic™ 270 has a club weight of 270 grams and a premium Miyazaki™ C. Kua™ 39 shaft for maximum head speed. The Classic™ 290 has a club weight of 290 grams and a premium Miyazaki™ C. Kua™ 43 shaft for a strong combination of distance and accuracy. The Classic™ Tour has a club weight of 310 grams and a premium Miyazaki™ Kusala™ Black 61 shaft for tour-caliber workability and precision. MAP prices: $299.99 (Classic™ 270, Classic™ 290); $379.99 (Classic™ Tour).
Click here for more on the Classic™ 270
Click here for more on the Classic™ 290
Click here for more on the Classic™ Tour
Cleveland® Golf's Mashie™ Hybrids, Fairway Woods and Irons are utility-inspired clubs engineered for distance and versatility. All Mashie™ clubs feature enhanced Gliderail technology on the sole that measurably decreases turf drag for more lift and speed at impact, meaning more distance and accuracy from any lie – rough, sand, tee or fairway. Mashie™ Hybrids and Fairway Woods incorporate Ultralite™ technology, with a shaft and grip combination that reduces total club weight by over 20 grams. They also include Miyazaki™ C. Kua™ 59 aftermarket graphite shafts, engineered specifically for either hybrids or fairway woods. Mashie™ Irons combine easy-to-hit hybrids (3-5) with large cavity-back irons (6-P), providing optimal playability throughout the set. MAP prices: $199.99 (Mashie™ Fairway Wood); $149.99 (new Mashie™ Hybrid); $599.99/$649.99 (Mashie™ Irons, steel 8 pc./graphite 8 pc.).
Click here for more on the new Mashie™ Hybrid
Click here for more on the Mashie™ Fairway Wood
Click here for more on the Mashie™ Irons
Cleveland® Golf's latest products are now available for pre-order and will be available for purchase at retail locations on February 17, 2012. For more information on Cleveland® Golf/Srixon® and their products, please visit www.clevelandgolf.com and www.srixon.com.
Cleveland® Golf, Srixon®, Never Compromise® and Cleveland Classics™ apparel are brands owned by SRI Sports Limited. With corporate headquarters based in Kobe, Japan, SRI Sports is the fourth largest golf company in the world, as well as one of the world's leading patent holders in golf ball technology. For more information, please contact Keith Patterson, PR/Media Relations Manager (714.889.5808) or visit us online at www.clevelandgolf.com, www.srixon.com, www.nevercompromise.com and www.clevelandclassicsapparel.com.
Media Contacts:
Keith Patterson
Media & Public Relations Manager
5601 Skylab Road
Huntington Beach, Ca 92647
714-889-5808
Keithpatterson@Clevelandgolf.Com