Chris Hanson is the PGA head professional at Fox Hollow Golf Course in Timonium, Md.
Chris Hanson on the importance of creating special lunch promotions to draw people:
Last spring, we came up with a $10 "Lunch and a Bucket" promotion in an effort to give golfers who are working the opportunity to get their golf fix during their lunch hour. (See images below)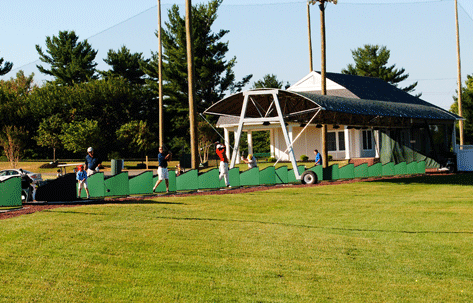 There's been tons of research on how golfers are time-starved and that cost is often a barrier to people taking part in golf-related activities. Our aim was to come up with something reasonably priced that allows customers to hit some golf balls quickly and inexpensively. Fox Hollow has an active food & beverage service located close to the practice facility, so the infrastructure was already in place. What we came up with was each weekday from 11 a.m., to 2 p.m., for $10, customers receive a package deal including, a ham, turkey or roast beef sandwich, chips, a drink and a bucket of balls. Within a five-mile radius of our facility there are lots of office parks with thousands of workers, many of whom play golf. Our goal was to get those people out here at lunchtime, when the range isn't as busy.
Chris Hanson on the business impact of creating special lunch promotions to draw people:
The goal of "Lunch and a Bucket" was to get people out doing something golf related on their lunch break, and second, to get people out to see our facility – maybe people who belong to a country club, play at other courses or are new to the game. The golf course underwent a multi-million-dollar renovation a few years ago and we're still introducing golfers to the updated facility. We wanted to bring more working-age golfers out here and introduce them to Fox Hollow so they might say, "Wow, I've got to play here." "Lunch and a Bucket" may not be a huge revenue generator, but it's indicative of the little things a golf facility has to do to continue to thrive. There has been roughly a 5% increase in overall range traffic during the lunch hours since we implemented this promotion. We have 60 hitting mats, and my goal is to fill up those 60 spots during all times of the day. It's a heavily populated area, so trying new promotions like this can stimulate business. We hope to keep finding untapped business in the area with ideas like this.