An in-depth conversation with LPGA Tour professional Cheyenne Woods about golf, practice, life and her greatest fear
By: Sydnee Mack
Cheyenne Woods is a professional golfer and the sixth African-American woman in history to earn status as a professional on the LPGA Tour. She won her first professional event, the Australian Ladies Masters in 2014 at the age of 23. Since earning her tour card in 2015, Cheyenne has had two LPGA Tour top 10's and has maintained full playing status.Woods also has a very famous uncle. You may have heard of him. His name is Tiger.
How did you get in to golf?
I started playing golf when I was around two years old. I can remember swinging a club in my grandfather, Earl Woods' (father of Tiger) garage. He saw me and recognized my potential. He ultimately got me started in the game. I started playing competitively when I was eight and was a member of the very first Tiger Woods Foundation Junior Golf Team, where I was able to play in my first Junior World tournament in San Diego, California.
What does golf mean to you?
To me, golf means opportunity. Golf has given me the chance to do so many things. I have gotten the opportunity to get a free education, travel the world and to make an impact on the lives of others just through my presence as an African-American woman on the LPGA Tour. I have gotten the opportunity to create a better life for myself, and my family.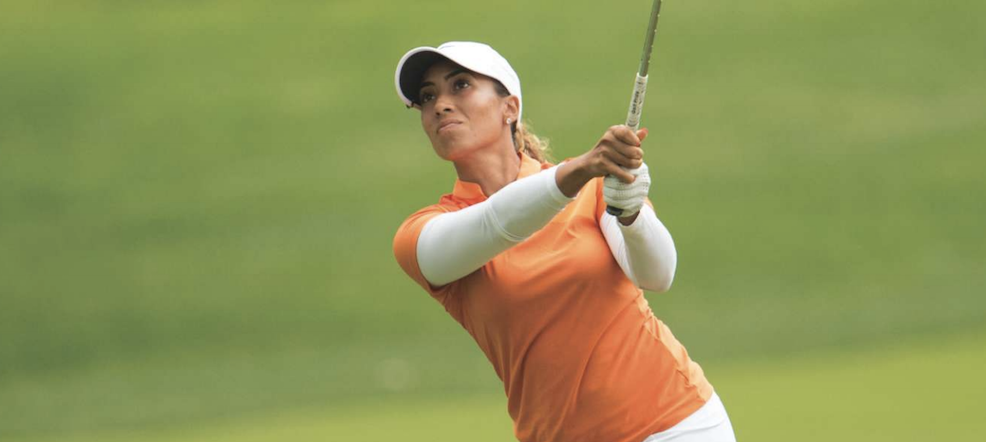 Do you spend more time practicing on the course or on the range? Why?
I definitely spend more time practicing on the course. I have been playing golf since I was two, so I've spent a lot of time practicing. I try to find ways to keep practice time fun and engaging. Playing helps me to do that. It's a lot more fun to be on the course than it is to be standing in one place on the range or practice green focusing on one thing. I prefer to simulate the competitive environment by forcing myself to get up and down from a variety of places and unfortunate circumstances. Recreating the flow of actual play is just more fun for me.
If you're coming off a tough round mid tournament, what do you do to get yourself back on track in that short time in between rounds?
Immediately after the round, before I leave the course, I try to assess what happened by asking myself a few questions like: 'why it was a tough day?' or 'what I can improve upon for tomorrow?' I may also spend some time working on those things before I head out for the day. But once I leave the course, I try to completely let go of everything golfrelated and just relax. I go to dinner with some of my friends or workout or maybe watch Netflix. Anything to distract my mind from whatever went on that day.
What's in your golf bag right now?
Right now, I'm playing with Callaway Apex irons, Rogue fairway woods and Epic driver. On the greens I'm using an Odyssey 2-ball putter and I'm playing with the Bridgestone BXS golf ball. I'm also a woman, so I naturally have a ton of other less important but highly essential items in my bag. For example, always have at least one or two EOS chapsticks; purple, black and silver Sharpies; Bose wireless headphones; RXBARs and Pure Organic protein bars; and a whole bunch of other random snacks that I munch on while I'm on the course.
If you weren't a professional golfer what would you do?
That's a tough question because I've been thinking about that a lot lately. I was a communications major in college and so I would probably be involved in reporting or the media in some way. I could definitely see myself as a millennial Dottie Pepper…LPGA Professional turned golf course commentator/reporter. However, because I am a professional athlete with both social and economic influence, I could also see myself as a successful entrepreneur. I am extremely blessed that golf has given me a voice and a platform to create something really amazing that I can call my own. A few years ago, I started my business, CNW International, to build a solid foundation for the global brand I hope to build in the next couple of years. I can see myself doing a clothing line, golf accessories, blogging, media and television hosting. I really think that I can do it all and I plan to.
As a successful professional athlete and brand what's your greatest fear in life?
My greatest fear in life is the same as probably many other successful women: Not setting aside enough time for my personal goals and dreams. Cheyenne the athlete has achieved almost every goal she has set. Earn a full golf scholarship to a top university: Check. Graduate from college as a decorated student and athlete: Check. Earn an LPGA Tour card: Check. Win a professional golf tournament: Check. Create a life and career for myself as a professional athlete: Check. I have checked off a ton of my professional goals, but not as many of my personal goals. As a woman, whether you're a businesswoman or an athlete, it's hard to find the balance between having a personal life and a professional life. I wish I had more time to go on fabulous adventures and exotic vacations with my girlfriends. I also hope to get married and have a family one day, but sometimes that seems impossible to accomplish with the millions of other things I have to get done in a day. I am ultimately terrified that one day I will look back on my life and realize that I didn't get to do all the things personally that I wanted to do. I essentially have a serious case of personal life FOMO.
What is your best piece of advice for future golfers?
The best piece of advice I have for future golfers is to find the fun in what you do. I was very lucky to find joy in what I do very early. That joy has kept me involved and passionate about my work. Golf, just like life, is a fickle game. Some days I hit every shot perfectly and every putt seems to fall effortlessly. Other days feel like, despite my best effort, nothing will go my way. But whether I'm having a good or bad day, I get to spend every day doing what I love. That makes it all worth it.