A study of one player's practice journey, and how it translated to performance
BY: BRENDAN RYAN
As a teacher and facilitator of golf, you're well aware of how difficult the game can be. To compete at a high level, one must spend hundreds of hours acquiring skills in a diverse group of areas including putting, chipping, pitching, long game, on-course strategy and mental fortitude.
According to PGA Professional Trillium Rose, the 2017 Middle Atlantic PGA Section Teacher of the Year who holds a master's degree in Motor Learning & Control from Columbia University: "There is a reason the average handicap has not come down in 30 years; golf is hard! To learn the skills necessary to deliver the club with accuracy and power is a huge undertaking and requires many hours of repeatedly hitting golf balls."
In this article, we follow the journey of one young man – a 15-year-old from Murfreesboro, Tennessee named Lane Counts – as he works to build the skills necessary to achieve his dream of playing college golf.
His instructor, Virgil Herring, the PGA Director of Instruction at Ensworth Golf Center in Nashville, introduced me to Lane. The three of us met in late November of 2017, and devised a full-length plan to help the young man achieve his goals. We combined literature from the RCGA Development Plan and practical experience, which included fitness, training from his coach and a significantly increased daily ball count (on the practice range). We would track every aspect of Lane's practice regimen over the next three months and measure his progress.
As previously mentioned, the biggest barrier to long-term golf development is the amount of time it takes for a player to acquire the necessary skills to strike the ball with both the accuracy and length required to consistently shoot low scores. The information collected by Lane is meant to demonstrate the amount of time and effort it really takes for a player to progress towards becoming an elite golfer.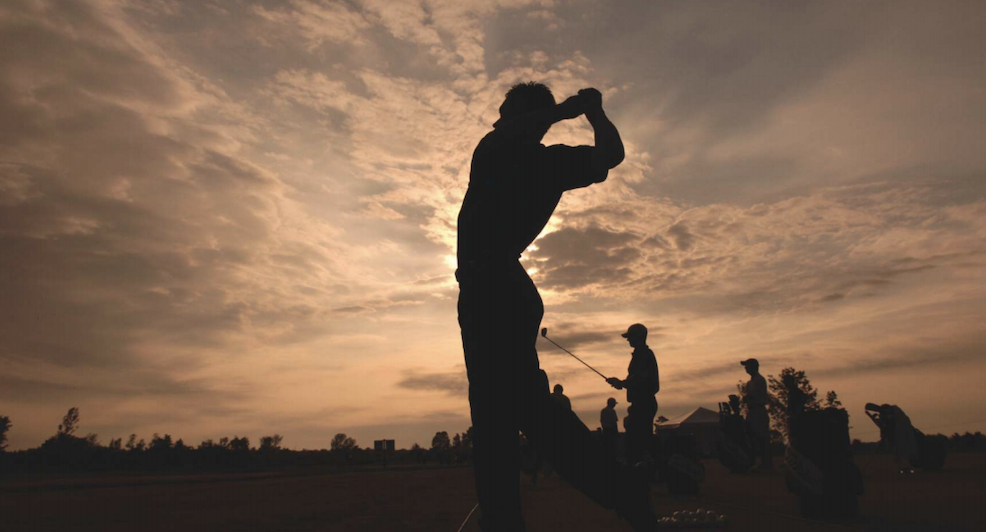 Mission 70
Prior research suggests that for Lane to reach his goal of playing Division I golf, he will need to have a scoring differential on the Junior Golf Scoreboard of approximately .5 or better – which equates to about a 0-1 handicap, he currently sits at a 12.
To help us quantify Lane's progress, we set out with the goal of having a TrackMan Combine score of 70 or better by May 1, 2018. While TrackMan Combine scores do not perfectly equate to scoring, proficiency in ball control allows players to make more precise decisions and increases the odds of making birdies. Without saying, you need birdies to play college golf.
According to Herring, when Lane started the process: "Lane needed to improve each part of his game going into 2018. He had been struggling with over rotation in the backswing and having a path that came too far inside out, which led to the club and his body getting out of sync."
As a benchmark, we gave Lane a TrackMan Combine test early in the process. He produced a score of 45. To reach our goal of 70 by May 1, there was work to be done.
Based on our plan to help Lane achieve his goals, he needed to hit more than 100 balls a day to be on track. "For the last two years, I have really been considering playing college golf, but when it was laid out in front of me I started to understand what it really took," Lane described. "My coaches and parents have helped me become significantly more focused by giving me tangible goals, deadlines and the daily steps I need to take. With this stuff in place, I have already improved my game exponentially."
After setting expectations, Lane set to work using block practice. Weekly feedback from Virgil to change his patterns helped ensure that he was always progressing and working on new things to expand his skillset. On his own, Lane spent an hour each day hitting balls into a net using a FlightScope Mevo – an accurate, portable and easy to use launch monitor — while also keeping an accurate ball count.
Stated Goals for the Three-Month Project:
Improve ball striking consistency through the development of better movement patterns

Improve clubhead speed

Score 70 or better on a TrackMan Combine by May 1, 2018
The Work
He devoted himself to the routine and our project. "The change was massive. I had gone from practicing every now and then, to everyday," Lane said about the experience. "Honestly, at first, practice was a burden and it took some time to find a good balance between school, fitness and golf practice."
However, Lane stayed diligent, building mental and physical stamina along the way.
Between December 6, 2017 and March 10, 2018 (94 days), he practiced 85 days. He worked on his fitness 56 days during the same span and hit approximately 9,500 shots!
On March 12, 2018 Lane did another TrackMan Combine test, this time scoring 58 (pictured, page 39)– an improvement of 13 points. However, his score was little misleading. At several of the distances (140 yards, 160 yards and with the driver), Lane scored above 70, which is an excellent outcome. With these shots he showed significantly better body and club control. His overall score was impacted by poor performances in short distances like 60, 90 and 100 yards. Moving forward Lane needed to trust and commit to his newly developed swing when he needed it most – on scoring shots. According to his coach, Herring, it became easy to focus on the scoring game once it became evident that it is the main source of struggle.
The Take Away
Lane's improvement was substantial and quantifiable. We could measure it with his on-course scores as well as the TrackMan Combine. What isn't measurable, what can't be put into numbers, is Lane's determination.
Dr. Angela Duckworth, a psychology professor at the University of Pennsylvania, spent much of her academic career examining the importance of "grit." According to Duckworth, grit is the power of passion and perseverance. Grit turned out to be a huge part of Lane's experience.
"I'm not going to lie, that was really tough. A lot of the days I felt burnt out, but I just push through knowing that it is all going to pay off in the long run by helping me better connect the ideas and concepts," he said. "I set out to accomplish something, and I was going to do it."
The work of Sir David Brailsford is another space where academics and athletics combined. In 2010, Brailsford was put in charge of British Cycling. Using a system of Marginal Gains – or trying to get slightly better each day – Brailsford led British Cycling to the 2012, 2013, 2015, 2016 and 2017 Tour de France.
"As I went on this journey, I noticed that, by hitting golf shot after golf shot, I started to develop a whole new feel for the game – one shot at a time," Lane said. "Before the process, I never really had a great awareness of the face. Over the repetition, I began to develop that feel and heading into the summer I am excited about watching my practice produce better quality shots."
Throughout the process, Lane was supported by his coach and relied heavily on the data of his FlightScope Mevo. His coach and the technology are true forms of feedback. "Since I started working with Coach Herring a year ago, I have seen a complete transformation in my game. His guidance has helped me better understand what I am trying to do," said Lane. "The launch monitor provides the feedback to let me know if I am doing it right by telling me important data like club speed, ball speed, spin rate and smash factor."
What's Next?
Lane's story demonstrates the key role grit, marginal gains and feedback play in the development of the fundamental skills needed for playing golf at a high level. In the end, Lane accomplished two of his three goals. Both his ball striking consistency and club speed improved over the course of his regimented three months of practice. Although Lane did not yet scored 70 on his TrackMan Combine test, he has shown measurable improvements and is on course to meet that goal, as well.
Beyond that, he's shown the immeasurable: A willingness and determination to work. If there's a main takeaway from our three-month study, it's that while it's important for coaches to develop a detailed plan and strategy to help students' accomplish their goals, it's equally important that the students' bring a committed work ethic to the table. When the two combine, players are far more likely to achieve their competitive goals. Watch out for Lane Counts in 2021.