Off-course participants and range-goers now included in official definition of "golfer"
BY: ERIC N. HART
"What is a golfer?"
Dictionary.com states: "Someone with wooden or metal clubs that hits a small white ball into a number of holes, usually nine or 18 in succession, situated at various distances over a course having natural or artificial obstacles, the object being to get the ball in the hole in as few strokes as possible." Right?
Well, yes. But, in a landmark move, the National Golf Foundation (NGF) decided in 2017 to kick down some of the restrictive walls around the term, to allow for new and popular "off course" variations of the game to be included in "golfing."
"Green grass golf participation remains an essential measure of golf's vitality," says NGF President Joe Beditz. "But it was time to add off-course participation to track the dynamic growth there."
Hitting balls on a practice range is now "golfing" – perhaps it always should have been. Currently, however, off-course participation may be at an all time high. While NGF figures show the number of people who golfed on a real course in 2016 stayed relatively flat compared to the previous year (a drop of 1.2 percent to 23.8 million, in actuality), the number of off-course participants increased by 11 percent to more than 20 million. While a big part of that is Topgolf, increased success and usage of practice ranges, as well as simulators, also played a key role.
What does this mean? The practice range is not only becoming a more viable source of revenue for facility operators/owners, but also a sought after destination for golf consumers.
Why? Time and technology are equally responsible for the welcomed advances in the game's social status. People want to play golf faster, diversely and at any/all hours of the day. They want six-hole routings like the Davis Love III Origins at the Watercolor Inn in Florida, swings under the lights of the Vegas Strip like Topgolf, par-3 collections like the nine-hole Top of the Rock in Missouri, 13-hole loops like Bandon Preserve in Oregon, or the brand new 17-hole Sandbox at Sand Valley in Wisconsin.
"There is less time spent alone on a short course and more time spent as a group, in conversation," says Sand Valley developer Michael Keiser Jr. "Conversations aren't interrupted as you spread out over a large golf hole. So while the length of the round is far shorter, the time spent with your buddies or families is actually greater. That's just one benefit of alternative golf experiences."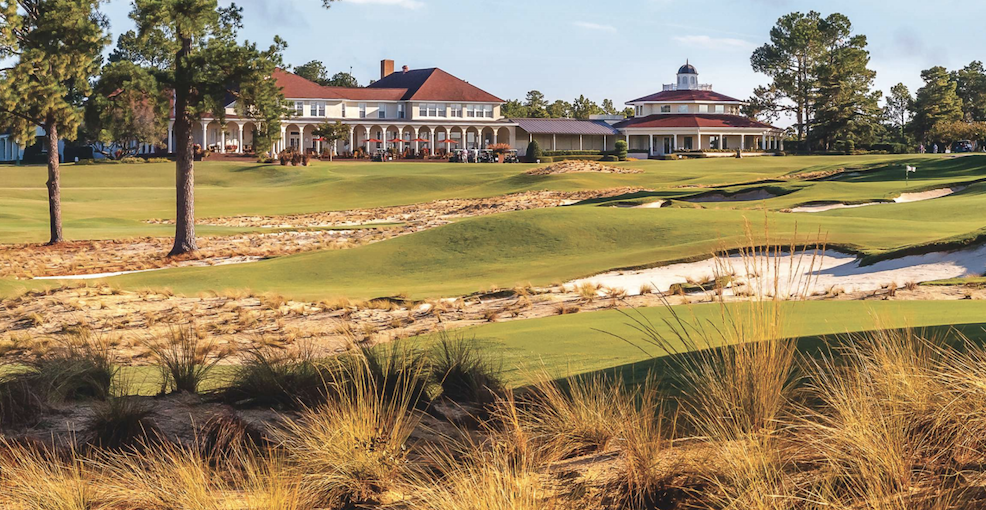 Even the most classic and traditional of resorts Above: Range-goers and Topgolf patrons are now officially "golfers." Right: Short courses like the Sand Valley's "Sandbox" and other alternative options are popping up across golf's landscape. are getting on board, with places like Pinehurst in North Carolina introducing The Cradle short course and Thistle Dhu putting course. Yes, diverse golf experiences are spreading and being welcomed across the world.
"We remain relevant today, and are in the conversation about the top golf destinations in the country – not because of what we were, but because of what we are and what we're going to be," adds Alex Podlogar, Media Relations Manager for Pinehurst. "The Cradle and Thistle Dhu continue to define what Pinehurst has always been – a home for golf.
"Consider this," Podlogar adds, "We have more than 60,000 yards of golf among our nine championship courses, but it's the 789 yards of the Cradle that have been garnering the most attention."
The game is getting more efficient and less traditional, that's undeniable. There are state-of-theart facilities like Haggin Oaks in Sacramento, California with championship courses, a 24-hour range, massive practice area, FootGolf and FlingGolf. Then Angel Park in Nevada with a putting course, lighted range, the Cloud Nine Short Course and motorized GolfBoards – which are now available for use at over 250 courses worldwide.

Golf simulator studios are more popular than ever, particularly in places with climate-shortened golf seasons, allowing players to take on the world's best courses with incredible 3-D detail. Some of those ranges and studios even offer TrackMan, Toptracer Range and other tour-level tech tools for instructional purposes (see the February 2018 issue of Golf Range Magazine for more on how technology is changing the range experience). Those ranges and studios have always offered golf. Now they officially "are" golf.
And then there are the generation-next metro arenas of the game – like Topgolf. Topgolf has literally taken America by storm, with 38 current U.S. locations, 13 more opening soon and five international facilities. Topgolf is like Dave & Busters for golfers, combining the words "fun" and "golf range" in an arcade way that makes sense for all ages. It allows for multiple-levels and hundreds of golfers to hit balls at the same targets simultaneously (without having to yell "Fore") while scoring points, taking selfies, and eating pizza, donut holes and "chef prepared" gourmet selections, something most golfers would have considered unimaginable only a decade ago. Topgolf has made golf "cool" to entire families, a merge between full-size golf and mini-golf. Even mini-golf (whether it will ever be considered "real golf" or not) has had its own renaissance, with more and more resorts adding massive putting complexes like Bandon's Punchbowl, and Jack Nicklaus bringing world-class events like the Major Series of Putting to Las Vegas.
Exclusivity is no longer a welcome word in golf. The National Golf Foundation is reflecting this new era by including many facets of the game (which are already being explored by the millions who love to play it) in the definition. Beditz says the NGF has actually been paying attention to "external participation" for quite some time. "This makes our golf numbers reflect overall golf activity and play; and makes our actual measure more comparable to other sports," he says.
Ultimately, people who would have never considered playing 18 holes of golf on a course are now getting out there and trying it. In fact, the NGF reports that 8.2 million people who had an off-course experience have never played on a golf course. Yet still, they're being introduced to, and falling for, the game in a variety of formats. They're improving while having fun and then filling up the tee sheets at local and national courses to test their continued development.
Like it or not, the music-playing, picture-taking, social media savvy generation of golfers is now driving the game to record heights. "The total number of beginning golfers rose to a record-high 2.5 million (in 2016), surpassing the previous record set in 2000 when Tiger Woods was at his prime and drawing newcomers to the game," says Beditz. "That is absolutely a direct reflection of, and testament to, all the off course dimensions of golf participation."
The definition of "golfing" itself did not make the game bigger. It just caught up to the diverse throngs of people that have brought their unique and collective passions to the game and let them know that their way of participating is just as important to the game as any other.