-Press Release, Marlborough, Mass.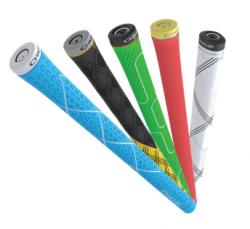 CHAMP/MacNeill Engineering Worldwide – The World Leader in Sport Cleat Technology® and maker of innovative CHAMP spikes, high-performance golf tees and accessories – will unveil five innovative grip models, as well as showcase its popular spikes, tees and accessories at the PGA Fall Expo (booth #617), August 19-21 at The Venetian Resort-Hotel-Casino in Las Vegas, Nevada.
Extensive research and development led to the creation of four "full swing" grip options – C2, C4, C6 and C8 – and the C1 putter grip. Each is designed with a strong emphasis on technical innovation and game-improving performance, while incorporating attractive designs and colors. The numerical ascension helps consumers and retailers quickly identify and differentiate models, from the entry level C2 through the premium C8. Highlight features of each model include:
• C8 ($15.99) – Most advanced technology and highest grade materials, including a new optimum feel Japanese Thermoplastic Olefin (TPO) compound infused with Kevlar® for unmatched torque control and incredible wear resistance. Unique to C8, a 13-piece performance set is customized for different aspects of the game – power (woods/hybrids), control (low to mid irons) and feel (scoring clubs).
• C6 ($9.99) – Two-tone rubber grip available in non-cord, half-cord and full-cord options, designed with extra support to dampen vibration and provide repeatable performance in all weather conditions.
• C4 ($5.99) – All rubber grip with unique texture and hand position guidelines for repeatable performance. Available in black, white, blue and green.
• C2 ($3.99) – Excellent replacement grip at a value price, featuring diamond design pattern for great comfort and control. Offered in black, white, blue and red.
• C1- Available in small ($12.99), medium ($17.99) and large ($19.99) sizes, to assist in stabilizing the putting stroke and minimized wrist breakdown. Made from supersoft, polyurethane in a popular pistol grip shape, with diamond and line grip pattern for extra control.
"We worked relentlessly to create distinctive grip technology that would help golfers of all skill levels reach their full potential, and we achieved it by combining premium materials with innovative designs," says Harris MacNeill, President and CEO of CHAMP/MacNeill Engineering Worldwide. "Similar to our category leadership position in spikes, we anticipate retailers and golfers will rapidly adopt the performance enhancements found in each of our new grips. We have something for every player and budget."
PGA Expo attendees will also see the new FLYteePRO, which features a soft, shock absorbing tip constructed with extremely resilient material to dramatically increase durability and last multiple rounds. Facilities will see measurable improvement in course operations, appearance and profitability by reducing tee consumption, decreasing tee litter and lowering purchasing expenses. Like all FLYtee models, it features a six-pronged head and shallow cup, which reduces friction for improved distance and accuracy.
As the official tee of Demo Night, Zarma FLYTee will be used in all club testing areas on Monday, August 19 from 6-9 pm at the Las Vegas Golf Center.
Widely known for its acclaimed spikes that are the #1 Brand on Tour®, CHAMP offers a variety of choices, including the ScorpionSTINGER™ and Zarma® spikes with patented cushion technology. Both are designed to ensure maximum traction, stability and comfort in all weather conditions. The company's cleats have been worn by 32 of the last 44 major winners.
With more than 100 active distributors, CHAMP is the world's largest manufacturer of replaceable spikes. The company produces more than 140 million spikes annually and is the dominant global brand in football, soccer, golf, baseball, cricket, rugby and other sports.
For more information: www.champspikes.com, 1-800-OK-CHAMP.
About CHAMP/MacNeill Engineering Worldwide
Celebrating 80 years of unparalleled engineering innovations, CHAMP/MacNeill Engineering Worldwide has been a pioneer in spike technology since it introduced the world's first locking spike, SURE-LOK. The world's largest manufacturer of replacement spikes specific to various sports, the company has produced several industry-changing systems under the CHAMP brand and has become the #1 choice of Tour golfers. Along with its signature Zarma® and ScorpionSTINGER™ spikes, the high-performance Zarma FLYtee™ was introduced in early 2011. With distribution in more than 100 countries, CHAMP/MacNeill is headquartered in Marlborough, MA, with offices in Europe and Asia.