-Press Release, Marlborough, Mass.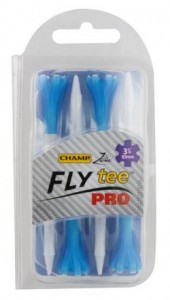 CHAMP/MacNeill Engineering Worldwide – The World Leader in Sport Cleat Technology® and maker of innovative CHAMP spikes, high-performance golf tees and accessories – announces launch of the Zarma FLYteePRO, featuring an extremely durable, shock absorbing tip and Tour-proven design that enhances distance and accuracy.
The latest generation of the acclaimed Zarma FLYTee line preferred by top professionals worldwide, the new PRO model is infused with a specially-engineered polymer that makes it nearly indestructible. Like its predecessors, the PRO showcases a six-pronged head and shallow cup to reduce friction at impact, promoting longer and straighter drives. The distinctive head is covered with a soft colored layer to protect the low friction tips and club face. It is available in a 2-¾" option with a green tip and 3-¼" version with a blue tip.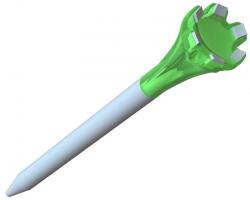 "Players and facilities are rapidly adopting CHAMP tees thanks to superior performance and durability combined with cost savings," says Harris MacNeill, President and CEO of CHAMP/MacNeill Engineering Worldwide. "Our new FLYteePRO is already the sought after tee on the PGA Tour. Professionals and amateurs can reap the benefits of the best tee on the market."
Available in a convenient four-pack ($5.99) that easily fits inside golf bag pockets, The FLYtee PRO will also be available in bulk quantities. The PRO model joins the MyHite FLYtee – featuring a unique height control system to promote optimum contact – and the original Zarma FLYtee at retailers worldwide.
Beyond performance advantages, the FLYtee family is designed to help facilities dramatically improve course operations, appearance and profitability by reducing tee consumption, decreasing tee litter and lowering purchasing expenses.
For more information: www.champspikes.com, 1-800-OK-CHAMP.
About CHAMP/MacNeill Engineering Worldwide
Celebrating more than 80 years of unparalleled engineering innovations, CHAMP/MacNeill Engineering Worldwide has been a pioneer in spike technology since it introduced the world's first locking spike, SURE-LOK. The world's largest manufacturer of replacement spikes specific to various sports, the company has produced several industry-changing systems under the CHAMP brand and has become the #1 choice of Tour golfers. Along with its signature Zarma® and ScorpionSTINGER™ spikes, the high-performance Zarma FLYtee™ was introduced in early 2011. With distribution in more than 100 countries, CHAMP/MacNeill is headquartered in Marlborough, MA, with offices in Europe and Asia.