(MARLBOROUGH, MA) – CHAMP/MacNeill Engineering Worldwide – The World Leader in Sport Cleat Technology® and maker of innovative CHAMP spikes and accessories – announces the expansion of its popular grip collection with the introduction of the new C2X model, designed with premium rubber that provides a soft feel and excellent durability.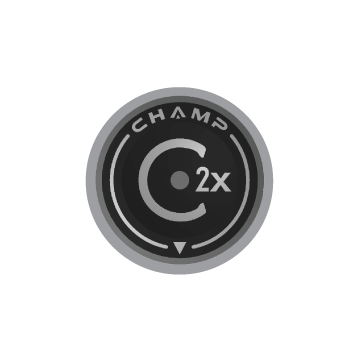 The C2X's clean, traditional look is complemented by a debossed repeating surface pattern that helps to increase hand traction in all-weather conditions. Introduced on the PGA Tour at the Wells Fargo Championship in May, the C2X ($3.99) has been quickly adopted by a number of elite players, who cite the soft and tacky feel as the reason why they made the switch. Additional information on the C2X and all other models in the company's catalogue are available at champgrips.com.
"Our goal with the C2X was to create the best performing grip possible in a classic style and price point accessible for all golfers," says Harris MacNeill, President and CEO of CHAMP/MacNeill Engineering Worldwide. "We have enjoyed steady global growth in recent years, thanks to our fantastic engineering team who consistently design innovative products that are geared toward helping players of all skill levels improve performance."
Beyond its growing range of grips, CHAMP's technically-advanced spikes are the #1 Brand on Tour® and have been used by 38 of the past 52 major champions. The company's signature products also include the Zarma FLYtee™ series, which has quickly become one of the most popular performance golf tees on the market, thanks to durability far superior to traditional wooden tees and a proven ability to increase distance and accuracy for the user.
For more information: champgolf.com, 1-800-OK-CHAMP.
About CHAMP/MacNeill Engineering Worldwide
Celebrating more than 85 years of unparalleled engineering innovations, CHAMP/MacNeill Engineering Worldwide has been a pioneer in spike technology since it introduced the world's first locking spike, SURE-LOK. The company is the world's largest manufacturer of replacement spikes specific to various sports, and the dominant global brand in football, soccer, golf, baseball, cricket and rugby.
The company has produced several industry-changing systems under the CHAMP brand and has become the #1 Brand on Tour®. Beyond its wide range of technologically-advanced spikes and the Zarma FLYtee™, the company's signature C Grips lines have gained a loyal following among players who recognize their superior feel, durability and performance characteristics. With distribution in more than 100 countries, CHAMP/MacNeill is headquartered in Marlborough, MA, with offices in Europe and Asia.
Contact:
Bill Feidler
703.615.4034
Buffalo Brand Invigoration Group
bfeidler@buffalobig.com
BuffaloBIG.com