Carol Rhoades, recipient of the 2008 Illinois PGA Section President's Plaque, is a PGA golf instructor at Cog Hill Golf & Country Club in Lemont, Ill.
Carol Rhoades on the importance of adding value to your lesson packages:
We've run "No Embarrassment" golf schools at Cog Hill for more than 20 years now. We decided to change things up a little bit by adding one free private lesson to the six sessions that normally come when they sign up for the school. This private lesson takes place on the driving range, but we do take our students out on the course depending on the topic that day. We provide clubs and other equipment to the students, and we pretty much cover everything for the beginning golfer. We feel that adding the extra private lesson adds value to the student's experience. After their six sessions are finished, they get one more chance to ask questions about their swing, or even about the game of golf in general. We also provide a free nine-hole round when the golf school is complete. The golf schools are for a maximum of six people, so it's an intimate environment that encourages discussion and learning. To this date, our "No Embarrassment" golf schools are considered the biggest success story in Cog Hill's existence. We are trying to grow the game and we understand that it all starts with the right exercises on the driving range to provoke interest from new players.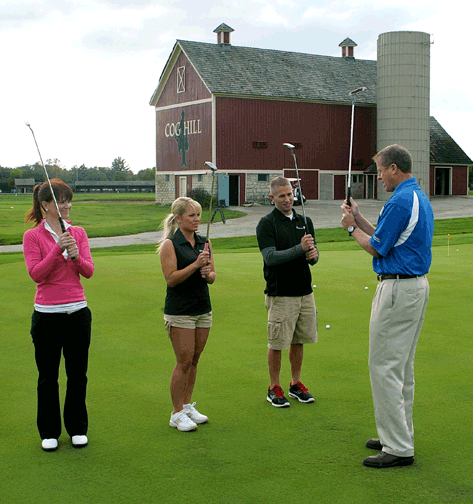 Carol Rhoades on the business impact of adding value to your lesson packages:
Adding the extra private lesson has definitely increased participation. We had more than 50 students that signed up in 2012, which is a sizeable increase from our 2011 numbers. The students pay $149, and this covers everything. This works out to be a bargain, as we offer more than just the six sessions of instruction. The students have the ability to take the next step because we offer second-level schools for the same price as the first level. It's really a win-win situation for everyone involved. If the golfer understands the value in your service, you will see steady business.