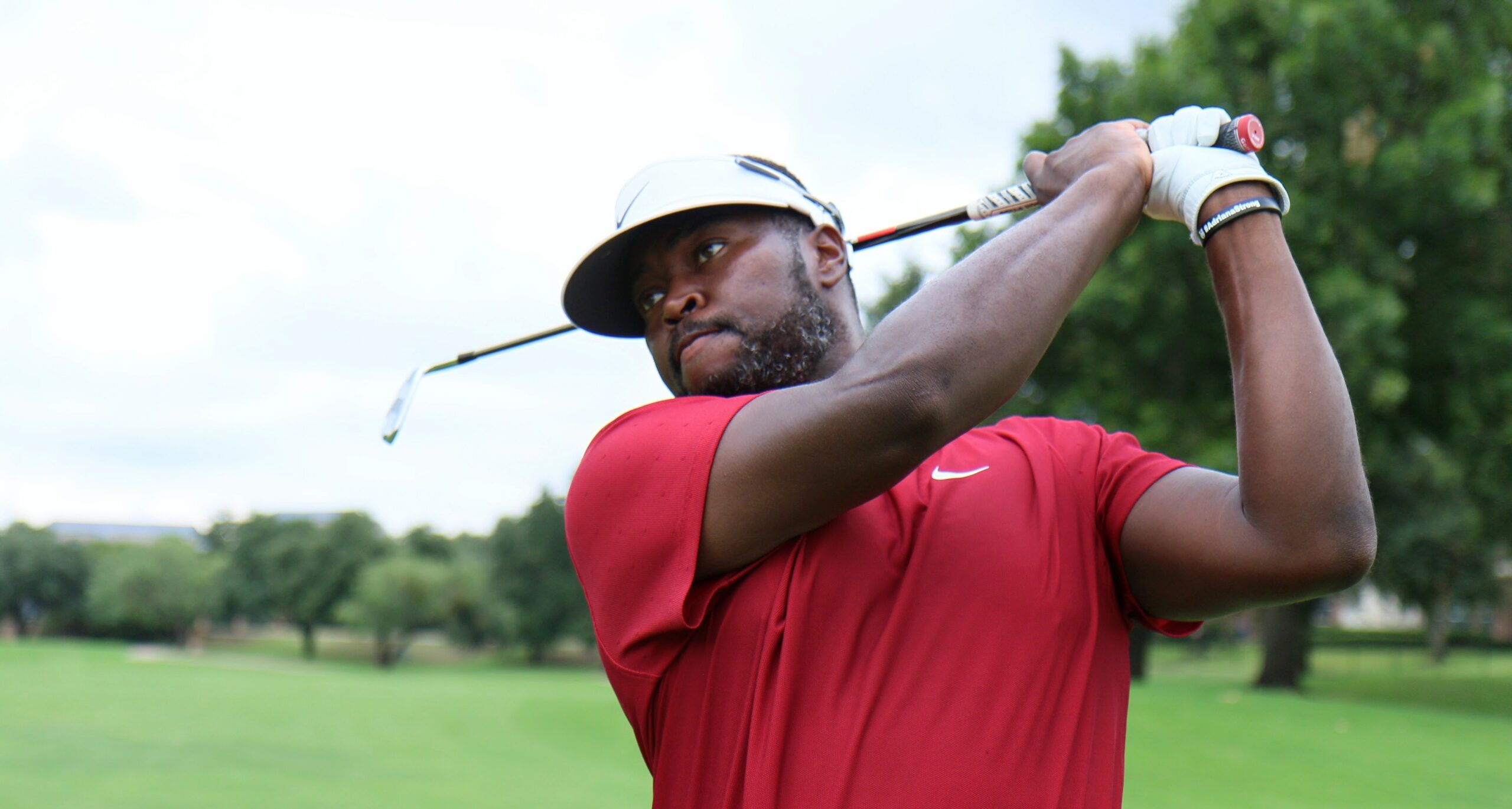 By Vinnie Manginelli, PGA
Carlos Brown has been teaching the game of golf for almost two decades. Whether as an Assistant Professional at a driving range in Richardson, a Director of Instruction at a private club in Irving or an instructor and coach at a golf and fitness performance center in Frisco, this Texas native has long been an inspiration and mentor to the thousands of golfers he's served over the years.
Brown, a 2020 GRAA Growth of the Game Teaching Professional, grew up in Dallas and wanted to be a golf professional since he was a teenager. As he was pursing his professional certification, he had several unfortunate experiences with racial discrimination in the business that altered his outlook for the future and changed his path forward. Brown would turn those negative incidents into a positive plan for his career, and would spend his first nine years in golf, starting in 2003, introducing the game to kids of all ages, rearing them in the right direction in terms of school and family, while teaching them the technical skills that motivate young athletes to pursue the highest levels of the sport.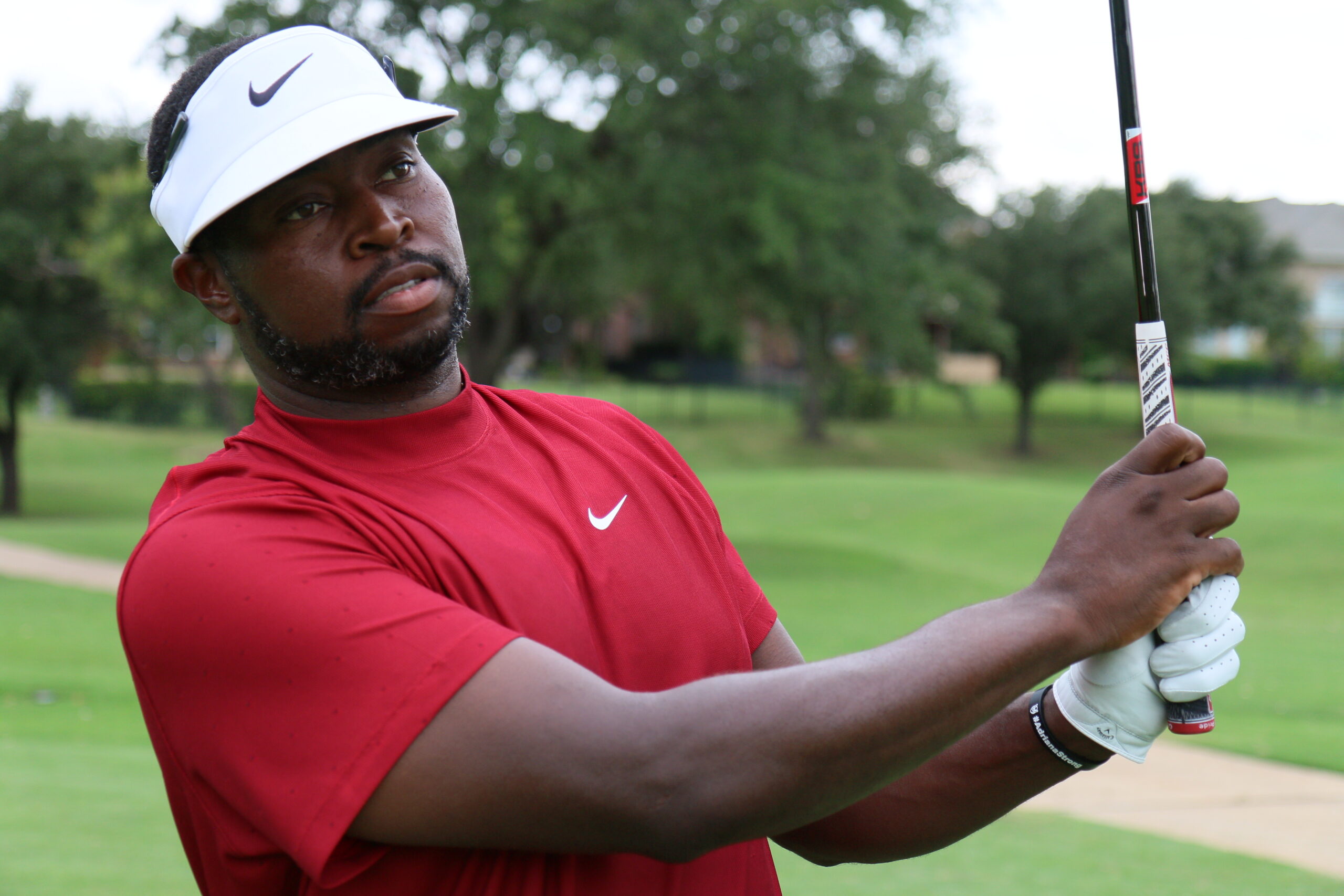 In fact, the awards and accolades he's earned throughout his career have come from working with elite juniors, collegiate players and professionals through the "Carlos Brown Golf" brand that started through his own golf academy in 2012. With academy locations in Texas and California, Brown battled depression and combatted it the only way he knew how, by working. "I was back and forth between Texas and California and didn't take a day off. The only time I wasn't teaching was due to the weather or if I was sick," he commented.
Life changed again in 2016 when Brown sprained his ankle in a sprinkler hole during a playing lesson he was conducting. The swelling and blisters that manifested were aggravated when infection set in and developed into gangrene. Ultimately, Brown's foot and lower leg had to be amputated and he would be fit for a prosthesis. "My amputation actually saved my life," Brown stated. "God used this to slow me down so I can deal with things."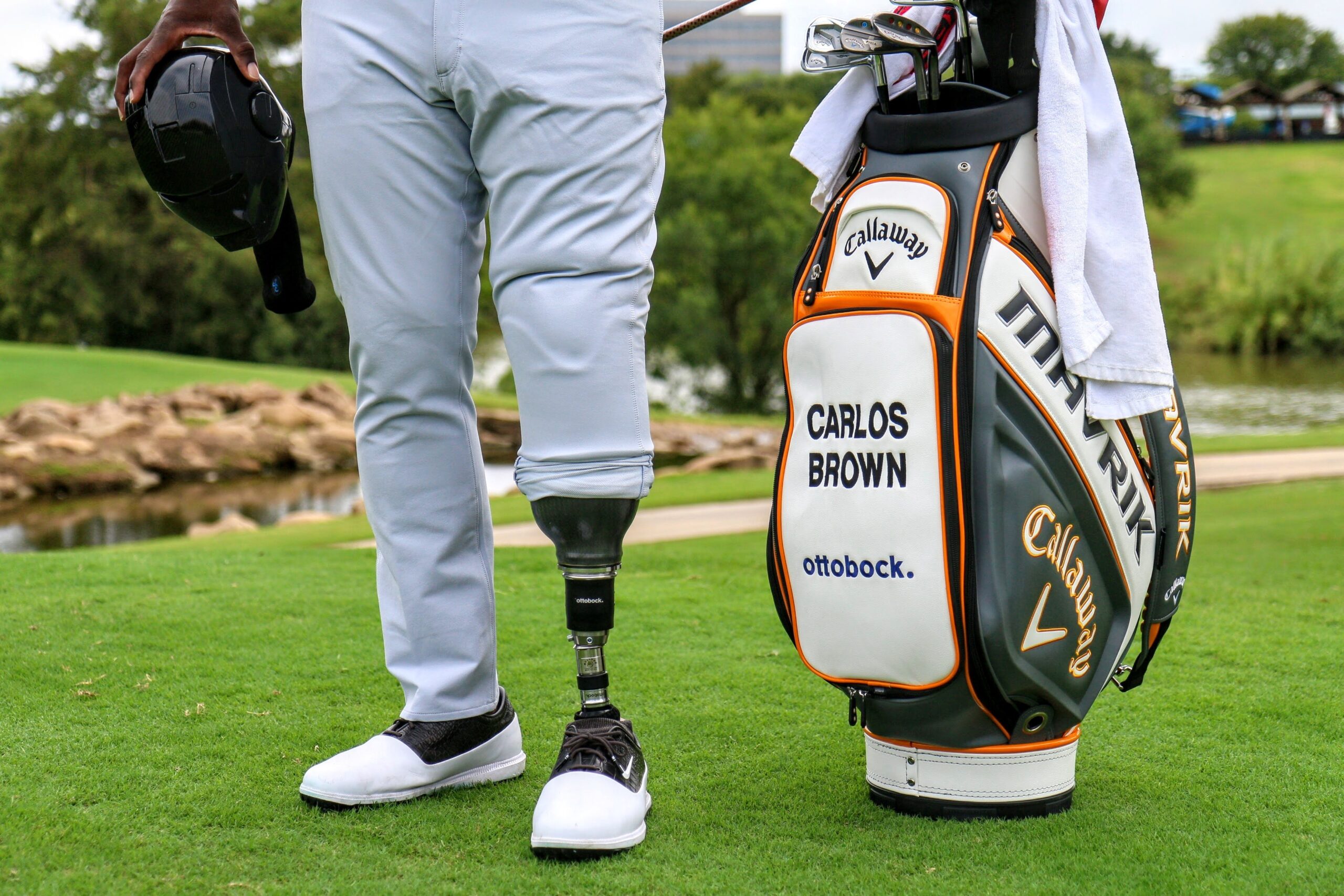 Committed to persevere in the game he loved, Brown served as Director of Instruction at a country club in Las Colinas, Texas for three years until he left earlier this year to teach at Integrity Golf Performance, a Frisco, Texas golf academy that "aims to provide an experience that's fun and empowering."
Today, Brown is in "a better place", as he puts it. He realizes the impact he has on the students he touches. "I represent two groups now – not just the African American community, but the amputee community." The mentor status that he earned early in his career is more prominent than ever. "I want to see young kids grow in the game." Brown told me of his work online with a young man named Douglas in upstate New York. "He just graduated from high school and wants to play college golf. He's an amputee and a good player – shoots in the low 70's. I mentor him and help him. After all, I want kids like Douglas to say, 'I can be a PGA Member or a golf professional.' I want him to realize his potential in golf, even as an amputee."

As a Nike Golf Elite Staffer, Brown has enjoyed the support of the iconic sporting goods and apparel brand. In fact, on the Nike website is an inspiring video that tells Brown's story. The video is part of a series called "Moving Mountains" that highlights the perseverance of athletes and the added meaning they attain from their trials and tribulations.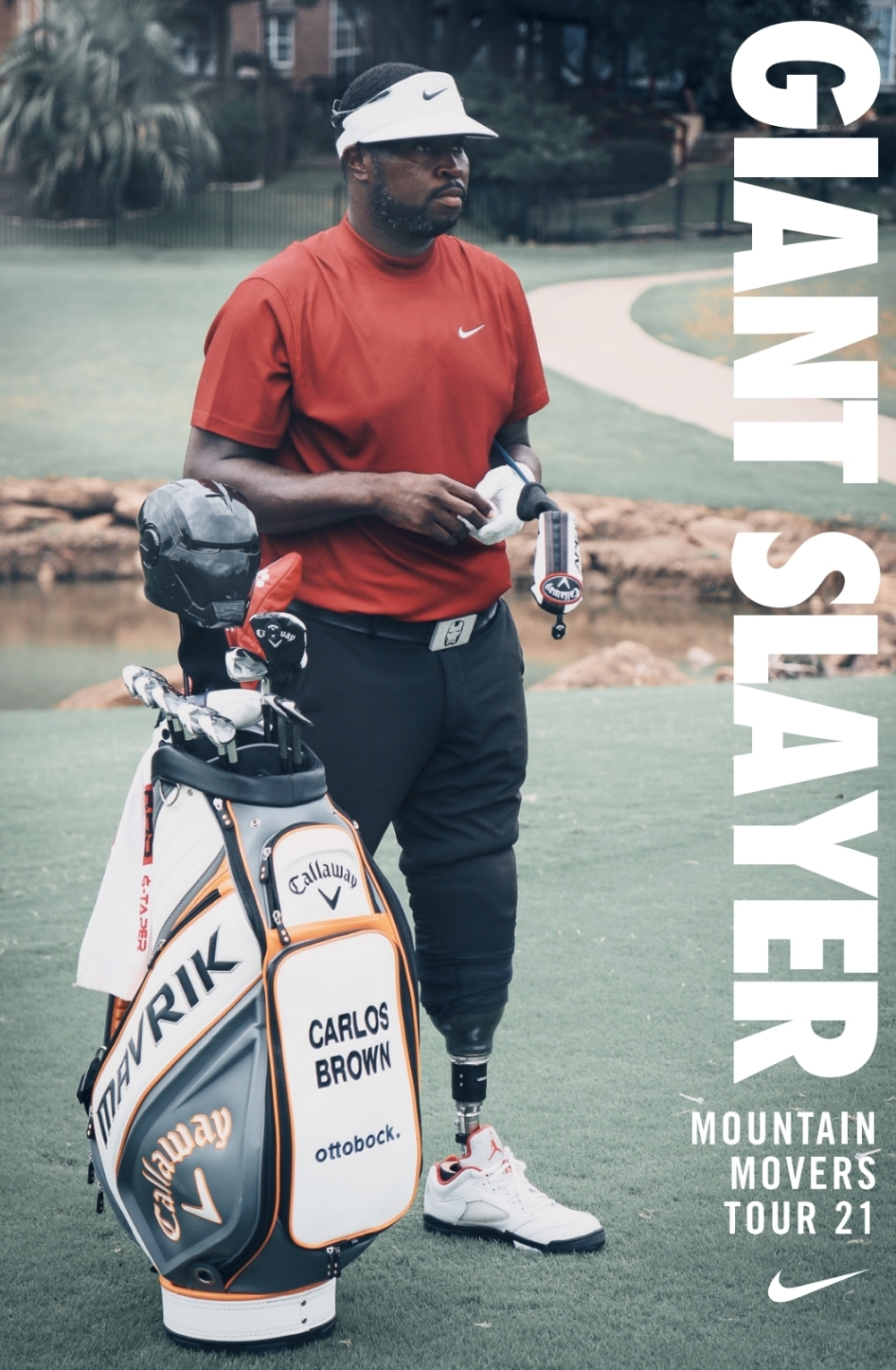 Piggybacking off the name of the series, Brown has begun a guest speaking series that he calls the Mountain Movers Tour. When we spoke in late August, he had just returned from an engagement in Atlanta. Today, Brown is preparing to head to Southern Illinois University this month to speak to and inspire several dozen of their student athletes.
"I went to Nike and suggested we do something beyond just discussing issues like mental health and overcoming adversity," Brown said. "There are people out there dealing with mental issues every day, and we can really touch their lives. It's important to make it known, but now we have to ask 'What are we going to do about it?'"
Brown goes to companies and schools – he was at a golf expo in Atlanta – and he tells his story. He shares the Moving Mountains video and welcomes questions from his audience. The Q&A is not always golf-related, as people want to know how he deals with the hurdles of depression, racism and of course, his amputation. Brown's impact on young athletes, whether they're working through similar issues or not, goes beyond the boundaries of the playing field, court or golf course. What Brown talks about is real life, and how everyone is thrown a curve ball on occasion (admittedly some curve more than others) and what matters is how you pick yourself up and continue to inspire, motivate and excel.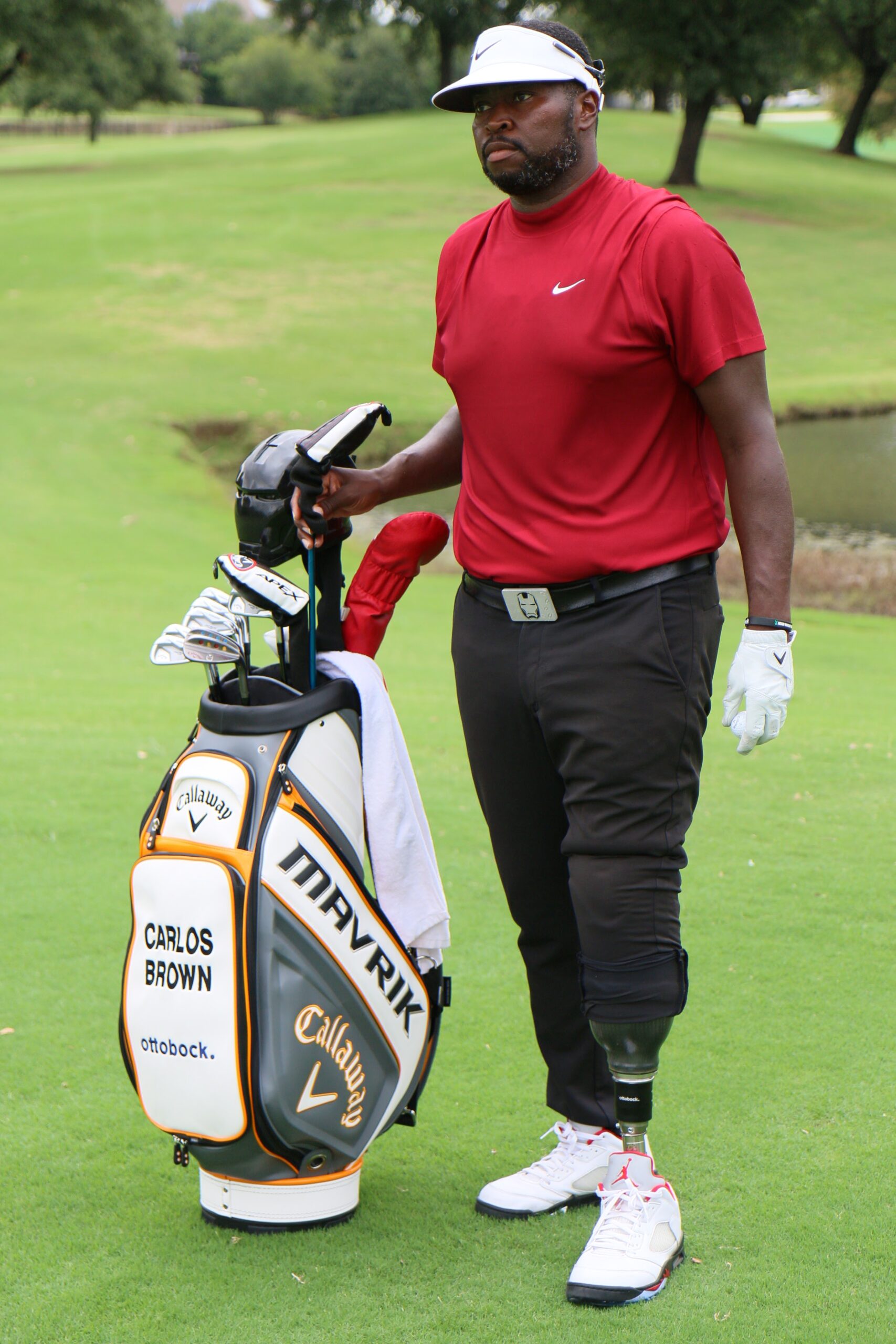 Brown is working with Ottobock, a German company that created his prosthetic leg. The company's North American headquarters are in nearby Austin, Texas. He's also speaking at Scottish Rites Hospital in Dallas, an institution that offers free services for kids who need orthotics or have had amputations. "They are an amazing hospital here in Dallas," Brown lauded.
Brown remains a Callaway Golf Master Staffer, Callaway National Junior Board Member and a Callaway Adaptive Team Member, a team that he helped create a few years ago.
Brown's Mountain Movers Tour has several tentative dates slated for this winter and 2022, and he looks forward to inspiring young athletes, kids and adults at engagements across the country. Hardships and adversity are often easier to cope with when one has others in his or her life who have been there before.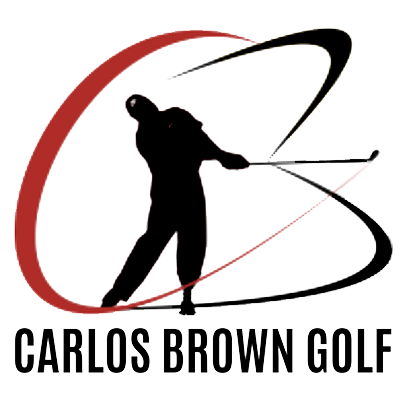 Brown opined, "My whole goal is to bring awareness and go beyond the fads that often pop up, pull at society's heartstrings and are abruptly pushed to the side in favor of the next big thing that attracts their attention. Mental health issues have always been around and will continue to afflict people of all demographics. What are we doing as a country, a city, a person – how are we taking this and changing it? What are we doing once we have people's attention?"
Brown says that his situation is greater than a hashtag, and he's definitely not alone. Carlos wrote an article called "Faith and Emotional Sobriety" during the pandemic quarantine last year. It's worth your time to check it out here.
For more information on Carlos Brown Golf, log on to https://carlosbrowngolf.com/.
If you would like to email Carlos directly, email CarlosBrownGolf@gmail.com.