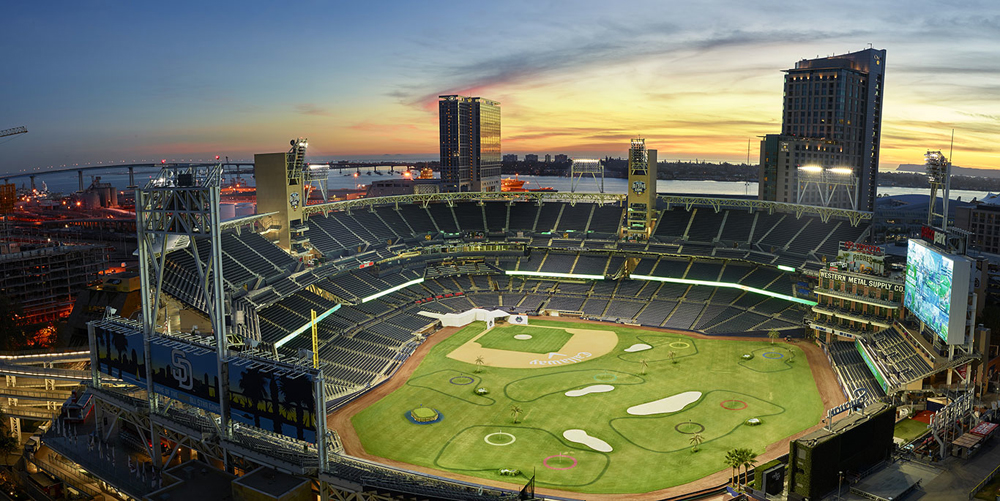 SAN DIEGO – The San Diego Padres and Callaway Golf today announced that The Links at Petco Park, the original nine-hole ballpark golf experience, will return for the third year in a row from Thursday, October 5 to Tuesday, October 10. As part of the experience, golfers will have the unique opportunity to take shots onto the playing field from various tees along an unrivaled, redesigned course within the ballpark.
"Petco Park was the first MLB ballpark to host a nine-hole golf course and we are excited to once again offer this unique and fun experience," said Padres Chief Operating Officer Erik Greupner. "The event has grown and improved every year and working together with Callaway, we've made this year's course the best layout to date."
"The Links at Petco Park is the original and the best in-stadium golf experience," said Harry Arnett, SVP, Marketing, Callaway Golf. "In partnership with the Padres, our mission since we started years ago has been to provide a one-of-a-kind experience on every hole in Petco Park, and that will definitely be elevated this year."
The fully immersive nine-hole course will feature signature holes from years past at home plate and the roof of the Western Metal Supply Co. building. As part of the newly configured course layout, participants will be able to tee off from underneath the National League's largest video board screen in left field. Holes throughout the course will also feature unique themes and the opportunity to win prizes. Golfers will be escorted by their own dedicated caddy for the entirety of the course. Mulligans will also be available for purchase with proceeds benefitting Pro Kids, an organization aimed at serving underserved youth by promoting character development, life skills and values through education and the game of golf.
"Pro Kids/The First Tee of San Diego is excited and honored to be a part of The Links at Petco Park again this year," said Pro Kids CEO, Andrew Holets. "In part thanks to Callaway Golf and the Padres, our kids will be able to continue carrying the values golf instills in all of us; humility, bravery, and kindness."
Upon completion of the course, golfers will finish their day in the Omni Premier Club, which will be transformed into a Callaway clubhouse. There, they will have the opportunity to relax with additional food and beverages available for purchase, watch other golfers along the course, putt on a putting green and shop for commemorative items.
The course will be reserved for media and corporate use on Wednesday, October 4, and will be open to the public for purchase Thursday, October 5 to Tuesday, October 10. Tee times go on sale to Padres Members at 10:00 a.m. PT today at www.padres.com/thelinks. Past buyers and those who registered on the wait list will have access to a presale on Wednesday, September 6. Tee times to the general public will go on sale Wednesday, September 6 at 2:00 p.m. Entry may be purchased for twosomes or foursomes, reserving tee times throughout the day beginning at 7:00 a.m. Callaway clubs and balls will be provided for golfers to use for this experience.
Pricing starts at $150 for twosomes ($75 per player) and $300 for foursomes. The cost includes a limited edition "The Links at Petco Park" hat, a nine-hole round for each golfer, scorecard, access to the clubhouse and a dedicated caddy for each foursome. Golfers will have the option of upgrading any package with additional items such as a hot meal, drink ticket and pre-purchased parking passes. Upgraded premium twosome and foursome packages will also be available for $550 and $1,100 and include a custom Padres-themed pitching wedge and one parking pass per twosome. Spectator tickets will also be available for $5.
For more information or to reserve your tee time, visit www.padres.com/thelinks.
About Callaway Golf
             Through an unwavering commitment to innovation, Callaway Golf Company (NSYE: ELY) creates products designed to make every golfer a better golfer. Callaway Golf Company manufactures and sells golf clubs and golf balls, and sells bags, accessories and apparel in the golf and lifestyle categories, under the Callaway Golf®, Odyssey®, OGIO® and TravisMathew® brands worldwide. For more information please visit www.callawaygolf.com,www.odysseygolf.com, www.ogio.com and www.travismatthew.com.