Big Bertha Irons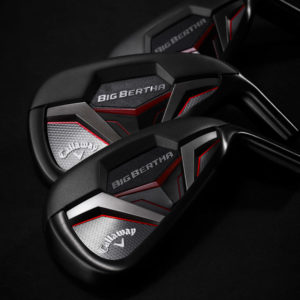 Pricing: $1,200 – Steel; $1,300 – Graphite
Stock Set: 4- AW
Product At Retail Date: 1/18/19
Our Easiest to Hit Distance Iron
Big Bertha is one of the most iconic names in golf equipment, designed to push the boundaries of innovation so far that it transforms an entire category. This franchise started with our Big Bertha Irons in 2014 led by our 360 Face Cup™ technology, and continued in 2016 with Big Bertha OS Irons led by our EXO-Cage™. And we've done it once again with the new Big Bertha Irons, led by our groundbreaking Suspended Energy Core.
The Suspended Energy Core is a construction that's never been achieved before in a golf club, featuring a revolutionary core design that delivers: 1) incredible sound and feel; 2) long, consistent distance; and 3) easy launch. How is all of this possible?
It starts with a Metal Injection Molded (MIM'd) Tungsten Floating Weight suspended within our proprietary urethane microsphere material. Suspending the floating weight allows us to position the Center of Gravity deeper using a 3-piece iron construction. Now we can create higher launch while allowing a thinner, faster Face Cup construction. That combination promotes distance-enhancing launch conditions we've never been able to achieve before in an iron that's also extremely easy to hit.
All of this advanced technology is packaged with a stunning look, and new premium Recoil and KBS shafts.
Features & Benefits
Easy Launch, Distance, and Incredible Sound and Feel From the Suspended Energy Core
The Suspended Energy Core is the engine of the new Big Bertha irons. This revolutionary new construction suspends the MIM'd Tungsten weight using our proprietary urethane microspheres. It's designed to deliver easy launch; long consistent distance; and incredible sound and feel.
Long, Consistent Distance From Our 360 Face Cup
Our innovative 360 Face Cup employs a flexible rim around the face that flexes and releases at impact to increase ball speed. And by using the high launch angles generated by the Suspended Energy Core, we're able to make our thinnest face cup for increased speeds that promote longer distance*.
Premium Design
Big Bertha has an unforgettable look with its clean Smoked PVD Finish. Available with new Recoil ESX, Recoil ZT9, and KBS Max 90 shafts.
*Versus BBOS irons
Big Bertha Hybrids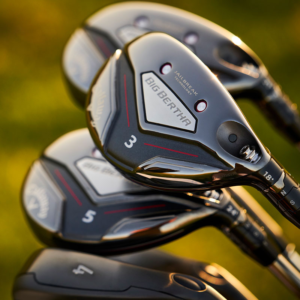 Pricing: $269.99 each
Available Options: 3H, 4H, 5H, 6H, 7H, 8H
Product at Retail: 1/18/19
Product one-liner: The First Hybrid To Combine Jailbreak Technology and Adjustability
Product Intro:
Callaway is the #1 Hybrid Brand in Golf because we've given golfers high ball speeds that lead to long distance. It started with the introduction of our Hyper Speed Face Cup that completely redefined the category, and advanced with our innovative Jailbreak Technology. And now with our Big Bertha Hybrids we're giving golfers a groundbreaking combination: Jailbreak ball speeds and adjustability for easy launch.
The synergy of Jailbreak and Hyper Speed Face Cup promotes a level of power never thought possible in a hybrid. And to make it super-easy to launch, we've introduced an entirely new OptiFit Hosel System that's shorter and lighter, allowing us to fully optimize the Center of Gravity. A new progressive shape makes it easy to hit, and new premium Recoil shafts add to an appealing design that's worthy of being called Big Bertha.
Features & Benefits
Long Distance and Fast Ball Speeds From Jailbreak Technology
Our revolutionary Jailbreak Technology incorporates two internal bars that stiffen the body, placing more impact load on the face to promote fast ball speed and long distance.
Fast Ball Speeds From an Ultra-Thin Face and Hyper Speed Face Cup
The ultra-thin, Carpenter 455 steel face is extremely fast. That, combined with our Hyper Speed Face Cup, promotes fast speed across the face to promote long distance on center hits and off-center hits.
Easy Launch From a New OptiFit Hosel
To combine Jailbreak and adjustability for the first time in a hybrid we developed an entirely new hosel system that's shorter and lighter. It allows us to save weight that's repositioned to optimize the Center of Gravity for easy launch and high, long-carrying flight.
Easy to Hit From New Progressive Shaping
Big Bertha features a progressive head shape that's both forgiving and appealing, and packed with high MOI technology.
Feel and Control From New Premium Shafts
Available in premium Recoil ESX and ZT9 Shafts to provide excellent feel and control.