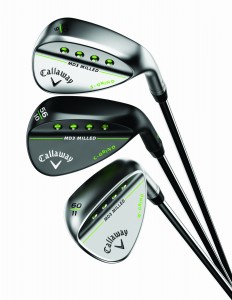 Today Callaway Golf Company (NYSE:ELY) officially announced the new MD3 Milled Wedges, which leverage a 3 groove package and 3 unique grinds to give golfers the versatility and selection for every shot, every course condition and every swing.
The MD3 Milled line will be offered in an S-Grind, C-Grind, and a new W-Grind, and will have new Progressive Groove Optimization that optimizes spin for each loft.
This is the most complete wedge line that the Company has ever created, and legendary Callaway wedge maker Roger Cleveland used extensive feedback from Tour players on the design to help golfers get up and down from everywhere.
Below you will find media information and assets for these wedges. But a great place to start is our MD3 Milled Product Video: https://www.youtube.com/watch?v=8bA1womlntQ&feature=youtu.be
And here is the link to our MD3 Milled product press center page, with hi-res images, a product summary sheet, detailed graphics, and pricing and loft info: http://www.callawaypresscenter.com/portfolio-item/md3-milled-wedges/
We've also provided this new Callaway Talks video with Roger Cleveland: https://www.youtube.com/watch?v=XhqGxv6_5Rw&feature=youtu.be
And coming this afternoon, Callaway is launching a new product webpage: 
http://cmp.callawaygolf.com/md3/
The MD3 Milled Wedges will debut on Tour this week, and they will be available nationwide and on 
callawaygolf.com
 on September 4, 2015 for $129.99 each.

About Callaway Golf
Callaway Golf Company (NYSE: ELY) creates products designed to make every golfer a better golfer. Callaway Golf Company manufactures and sells golf clubs and golf balls, and sells golf accessories, under the Callaway Golf® and Odyssey® brands worldwide. For more, please visit 
http://www.CallawayGolf.com
Contact 
Jeff Newton