There are many ways to achieve more distance off the tee – one of them is speed. Today Callaway Golf Company (NYSE: ELY) announced the Big Bertha V Series Driver, the company's fastest Bertha yet. The new driver, which will be available at retail on August 22, is built for speed and distance from lightweight materials, better aerodynamics and refined components, with a high MOI and OptiFit adjustability. A complementary Big Bertha V Series Fairway Wood, also available on August 22, was announced as well.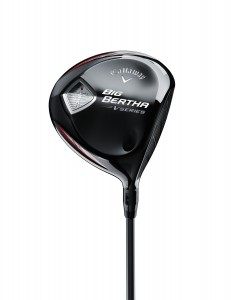 A full range of original content was released by Callaway to support the announcement.
a.) The Big Bertha V Series' features are highlighted in this animated infographic: http://youtu.be/uyGqYFOvbjI
b.) On the Company's popular "Callaway Talks" video series, Harry Arnett, SVP, Marketing, conducts an in-depth interview with Dr. Alan Hocknell, SVP, Research & Development, about the Big Bertha V Series driver and fairway wood: http://youtu.be/PNTYFcQ1pPY
c.) The more complex technical elements of club design, and specifically for the Big Bertha V Series Driver, are simplified by Dr. Alan Hocknell in this edition of "Explain this to Me." http://youtu.be/0Nj63PVF78k
d.) A new original Callaway series called "Who's It For" outlines the players that will benefit most from the Big Bertha V Series' speed enhanced technology. http://youtu.be/uQ3k35s-LfQ
For more, please visit http://www.CallawayGolf.com
Callaway Golf Company (NYSE: ELY) creates products designed to make every golfer a better golfer. Callaway Golf Company manufactures and sells golf clubs and golf balls, and sells golf accessories, under the Callaway Golf® and Odyssey® brands worldwide.
8 Questions On The Big Bertha V Series
OK, so now that you've heard about Big Bertha V Series, what do your readers NEED to know about the new driver, fairway woods and Heavenwood? We've got answers to 8 of the most important questions right here.
1. This new Big Bertha V Series Driver looks great. What's the story behind it?
It's a super lightweight driver that's going to help maximize distance for players who want (or need) more speed. The aerodynamic design, lightweight materials, hyper speed face, refined components, lower drag – all this technology is in Big Bertha V Series to enhance your speed. We're talking faster swing speed and ball speed so that you hit the ball a long, long way.
2. You said "speed" four times and "lightweight" twice in the last answer. A theme?
You bet, you can even think of it as Speed Optimized Technology. The Big Bertha V Series weighs as low as 290 grams for more clubhead speed. On top of that, the aerodynamic shaping lowers drag through the entire swing to give you…wait for it, more clubhead speed. A Hyper Speed Face produces higher ball speeds all across the face and the lighter Forged Composite material in the crown leads to higher swing speed and ball speed.
That's where the distance comes from, and this driver is very forgiving too. You can hit it all over the face and it's still going to be long and accurate off the tee. And of course this driver offers OptiFit Technology with a combination of 8 different loft (-1, S, +1, +2) and lie angles (Draw or Neutral) to choose from. You get speed (lots of it), forgiveness and adjustability from V Series.
3. Callaway's been a force in the driver category this year with woods sales growing 8% in the first half of 2014. There was success with the Big Bertha and Big Bertha Alpha — why come out with a new driver now?
Because in our minds, there's more than one way to create maximum distance for golfers. No two players are the same, so while an extreme low spin driver like Big Bertha Alpha might maximize distance for one golfer, another golfer might need more speed to hit their longest drives.
On an individual level, Big Bertha V Series is likely THE choice for players with low swing speeds who want to create more speed to hit the ball farther. And from a "big picture" level, we now have a lineup of drivers that bring different qualities to the table, but all of them are built to maximize distance. No matter what type of player you are, one of them is probably the perfect driver for you.
4. Okay, so only players with slow swing speeds should use this driver?
Not at all, in fact when we introduced the driver on Tour at the WGC Bridgestone Invitational, Patrick Reed, Harris English and Matt Every all immediately put it into play. It's particularly built for lower swing speed players since they typically need more speed for more distance, but even Tour players can use more swing speed. And the 9-degree head is configured in a way that will optimize this for better players. This goes back to having a driver for every player, whether it's extreme low spin, low spin with forgiveness, or speed, we've got options to help you maximize your distance.
5. Let's go over the specs. What can we expect?
Big Bertha V Series is available in 9°, 10.5° and 13.5° HT options. Each one is 45.5" with a 460cc head, the 9° has a Speeder 565 Shaft and the 10.5° and 13.5° HT have 42 gram Mitsubishi Bassara shaft. These drivers are available at retail August 22 for $399.
6. Very cool. There are V Series Fairway Woods too?
Absolutely. The V Series Fairway Woods are our friendliest Bertha Fairway Woods. They have Speed Optimized Technology through an advanced, lightweight aerodynamic clubhead design to deliver maximum clubhead speed, ball speed and distance.
The Hyper Speed Face increases ball speeds across the face, a Modern Warbird Sole makes them more versatile from everywhere and the high launch design increases launch angle to get the ball up in the air, especially when impact is low on the face. It's the high launch design that makes this our most forgiving, most friendly Bertha Fairway Wood.
7. Awesome. What do we need to know about the new Heavenwood?!
The Heavenwood is a great addition to any player's bag. The unique configuration (20.5° loft, 43" shaft) can provide more consistent distance and tighter dispersion than you might get from a standard 4-wood and 7-wood setup. It's a club that will give you confidence and plenty of options.
The V Series Fairway Woods (3, 5, 7 and 9) and Heavenwood are also available at retail August 22, and are $249 each.
8. We're excited for the V Series lineup. One last thing, if you could sum up the V Series Driver in one sentence, what would you say?
The Big Bertha V Series Driver is speed enhanced with forgiveness to maximize distance.  
Can I add one sentence? Go get fit for a driver and give it a try!
CONTACT:
Scott Goryl
Callaway Golf Company
Scott.Goryl@CallawayGolf.com