Callaway Golf Company today announced the Bertha Mini 1.5, a new weapon for the long part of a player's game. This new club could make golfers rethink what's in their bag; it's longer than a traditional 3-wood, with higher MOI, and a 235cc head that's 35% larger than the XR Fairway Wood to give you confidence over the ball.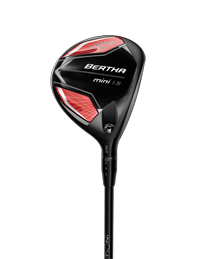 Off the tee, it's a perfect alternative for players who struggle hitting their driver, and a great addition to the bag for golfers who want a reliable option when they need less than driver. It's also long off the fairway for better players who want to get home in two on long Par-5s.
We also have more technology details in this new Callaway Talks episode with our SVP, R&D, Dr. Alan Hocknell:
The Bertha Mini 1.5 will be at retail stores on Friday, May 29 and golfers can pre-order starting today (May 15) on Callawaygolf.com. The club will be available in 12* and 14* lofts, at a price of $299.99 each.
Media Contacts: