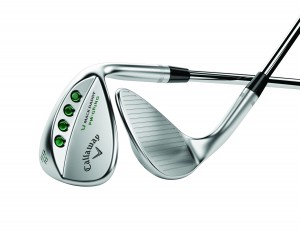 Callaway Golf Company this week officially announced the new Mack Daddy PM-Grind Wedge. Phil Mickelson gave his direct input on the design of this wedge, which has the versatility to perform out of deep rough, bunkers, on flop shots, and any of the most difficult shots around the green.
The Mack Daddy PM-Grind has a unique shape with larger surface area, 39% more groove area that goes across the face, and a high toe that moves the weight higher so it's easier to hit out of deep rough. Mickelson recently played 3 Mack Daddy PM-Grind Wedges at Augusta and after the tournament he said, "They were critical for my success this week."
Below you'll find media information and resources for these new wedges. But a great place to start is our new Mack Daddy PM-Grind Video: http://cmp.callawaygolf.com/2015/04/13/pm-grind-wedge-designed-by-phil-mickelson/?mcid1=equipment
And here is the Callaway Press Center Page with info (facts sheets) and images: http://www.callawaypresscenter.com/portfolio-item/mack-daddy-pm-grind-wedge/
The Mack Daddy PM-Grind Wedge will be at retail stores on May 15, and golfers can pre-order online starting May 1 on CallawayGolf.com.
The wedge will be available in 56*, 58*, 60* and 64* lofts, at a price of $129.99 each.
Don't hesitate to contact us with any questions. And as always, thank you for your support.
Jeff Newton
Global Communications
Callaway Golf Company