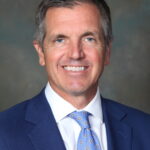 Bud Taylor is the PGA Director of Golf at the Atlanta Athletic Club in Johns Creek, Georgia.
Bud Taylor on the importance of making one end of your range for practicing, one for warming up:
We're fortunate to have a double-sided range, and as a facility that dispenses 40,000 balls per day in-season, flow is crucial for us. Right before the pandemic we renovated our range, enhancing its capabilities on both ends. And we made a decision at that time: the North End, closer to the clubhouse, starters and 1st holes, would be for warming up (and teaching) only, while the South End would be purely for practicing. This included having a service road/secondary cart path to efficiently get someone from the clubhouse to the South End. There are 25 stations on each End each day, along with astroturf stations for the North tee during the winter when people want to go out or practice on a cold winter's day.

Bud Taylor on the business impact of making one end of your range for practicing, the other for warming up:
The primary impact is convenience – getting people closer to where they need to be – and while many members were using this format at that time, the post-renovation re-opening cemented it. Secondly, the installation of the astroturf stations – along with everyone moving onto it during the winter helped heal turf. One thing to note that's important: You can park your automobile close to the South End for long-term practice. So that also helps encourage everyone to get to the right place. Each area has multiple short game areas, and at our teaching location on the North End, our instructors literally have everything they would want — technology wise, space wise and convenience wise. If you want to do an on-course lesson, it's right there for you. Down at the south end, people can spread out more and people feel like they have some space to themselves. So, if you have a two-sided range, consider defining what they are. It will lead to better efficiency and a better golf course.

If you would like to email the author of this Best Practice directly, please email BudT@aac1.org.