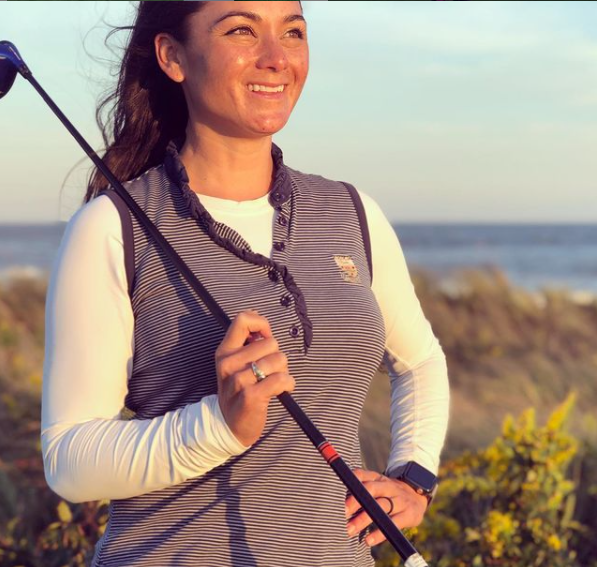 By Vinnie Manginelli, PGA
Megan Padua Buzza is a PGA and LPGA teaching professional. She is one of those instructors who can teach elite players just as effectively as she can mentor a brand-new golfer. In fact, Buzza, a GRAA Growth of the Game Teaching Professional – Elite Member Status, Top 50 LPGA Teacher, one of Golf Digest's Best Young Teachers in America and a U.S. Kids Golf Master Kids Teacher, considers juniors, women and those new to the game to be a niche in her efforts to continually grow the game.
"I feel like that's such an important area that needs attention, and many coaches move on from teaching beginners and leave them to our younger, less-experienced teachers," Buzza says. "Some established pros prefer to focus on more highly-skilled golfers, where I actually prefer teaching kids and beginners and have made it a big part of my business."

Buzza splits her year between two facilities – The Maidstone Club in East Hampton, New York and Bonita Bay Club in Bonita Springs, Florida. Buzza says her lesson tee has been busier than ever. "I couldn't have possibly taught more golf lessons than I have these past two years," she confirms. She is booked solid with a waitlist like so many PGA and LPGA teaching professionals amid the pandemic. She is excited about the influx of new golfers coming out during this time. With an award-winning teacher such as Buzza demonstrating a sincere desire to introduce the game to so many new golfers, she feels her beginner students feel more welcome and wanted in the game.
Megan takes a holistic approach to coaching – working on all areas of the game including full swing, mental game, short game, course management and golf fitness. She'll often collaborate with experts in various parts of the game to guarantee the most effective and well-rounded educational experience for her students. Buzza is, however, part of an exclusive group of Aimpoint green-reading certified instructors and is a Level 3 SAM PuttLab-certified fitter and a certified Edel putting fitter.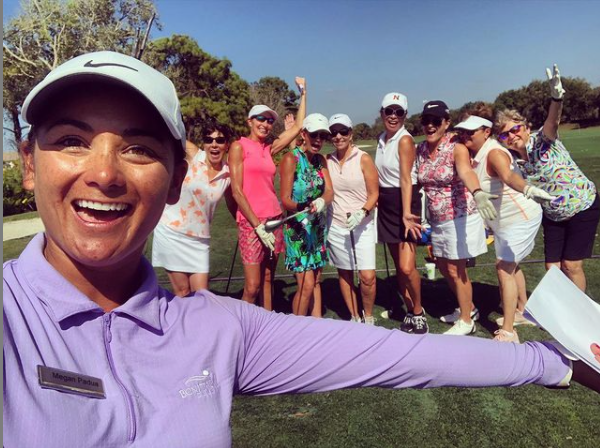 Promoting the learning and social aspects of the game, Buzza hosts ladies' half-day golf schools where she'll work with six women and cover all the fundamentals to set the framework for future player development programming.
The golf schools include three hours of instruction in the morning, followed by a lunch that brings the group together to discuss their lesson in a pressure-free, social atmosphere. Some participants choose to add to the experience with time on the course afterward – some are content with the half-day experience.
Geared towards women members of Bonita Bay, the sessions are open to guests of participants, as well. Offered weekly in the past and twice weekly starting this winter, it's a great way to highlight the club and all it has to offer. Buzza says they all sell out.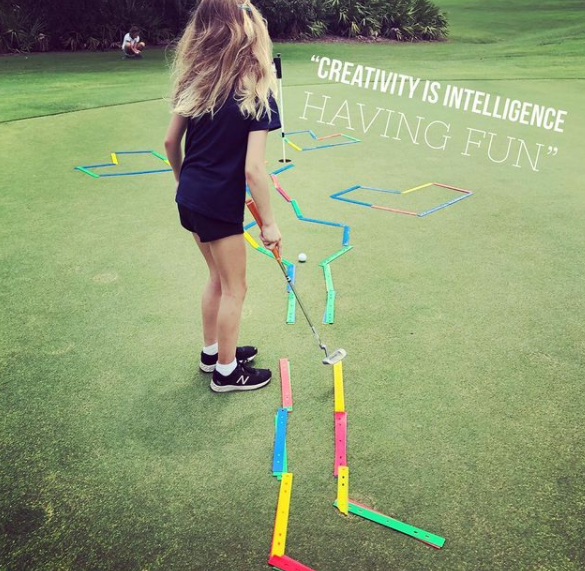 When it comes to juniors, Buzza thrives on engaging our youngest golfers. Spending her summers in New York, she teaches at one of America's Top 100 courses, where she runs one of the most elite junior golf programs in the country. Her ability to connect with kids of all ages and get them hooked on the game of golf has earned her recognition as one of the best junior golf coaches in the world.
Her efforts at Maidstone during the summer include camps, clinics and private lessons, as well as an interclub golf team that allows her students to put their skills to the test in competition among other golfers their age.
"We'll do a lot of special events like glow-in-the-dark golf, Bunkers and Bonfires and others that involve the parents, making it a true family affair," Buzza added. "Bunkers and Bonfires, by the way, is a 90-minute event that takes place on the beach! With our exceptional location on the South Shore of Long Island, we set up various activities that include but are not limited to golf. Sure, we'll hit some "bunker" shots on the beach, but there are definitely smores involved and fun that goes beyond the wonderful game of golf."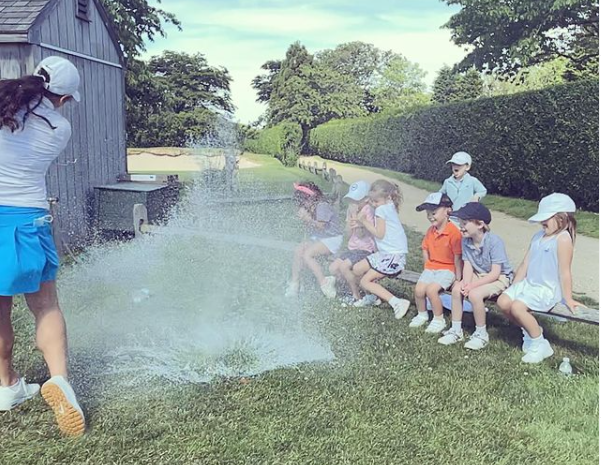 Buzza says they'll draw as many as 60 juniors at these events. Parents can drop their kids off or enjoy the company of other parents as the club opens the bar to entertain mom and dad. Buzza understands the unique opportunities that Maidstone's location presents and says that this engagement carries over to camaraderie felt in her golf-specific player development programs.
At Bonita Springs, her junior program consists of the grandchildren of most of her members. When they come to town, they'll go see Coach Megan for a lesson or group clinic – either way, they know they're in for a good time.

Buzza's goal when it comes to junior instruction is to "make it an experience like they've never had." She strives to teach them the fundamentals, and often does so with a song. "It helps them remember all the different components of the golf swing," Buzza says. You'll see Buzza's youngest students hitting water balloons and exploding golf balls (explosion courtesy of baby powder applied by Coach Megan). These and other fun tasks develop hand-eye coordination and help teach the game in an exciting way, engaging kids so they fall in love with the game and want to come back. Many pros implement games, contests and competitions into their junior instruction to keep kids engaged, but Buzza takes that engagement to another level. And her results and reputation prove it.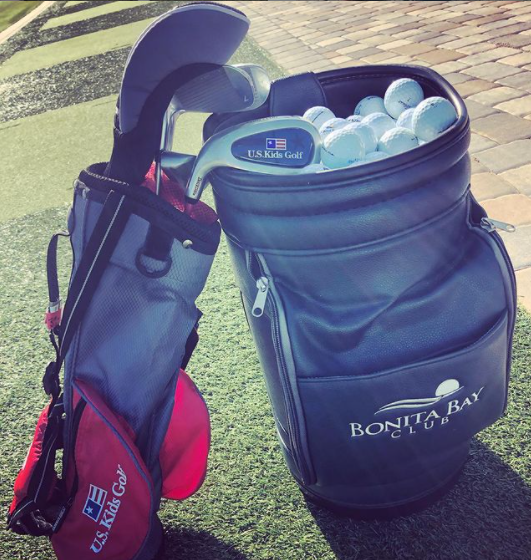 In a 2015 appearance on the Golf Channel's Morning Drive, Megan said that she analyzes her kids every year to ensure they are using properly-fit equipment. She says it's a big problem when parents cut down adult clubs or allow their young golfers to "grow into" a set, lengthening the period of time between purchases. Buzza would prefer parents equip their kids with clubs their juniors can "grow out of" over time.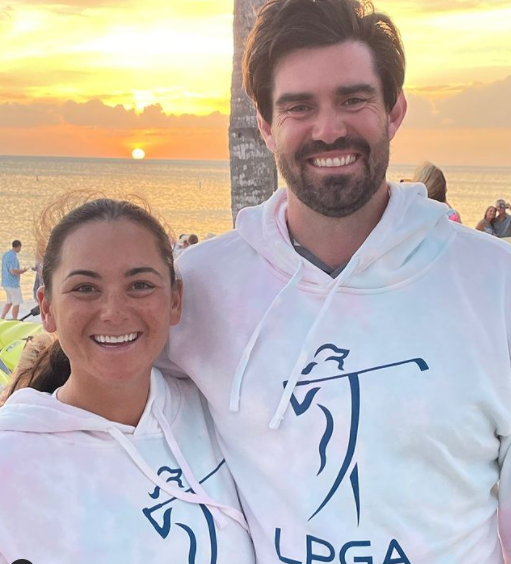 Buzza enjoys setting up shop at two locations throughout the year, especially with the different settings each club presents. "I love the seasonal aspect of what I do. My summer job is only 2½ months and then I'm in Florida the rest of the year," Buzza says. Megan says she's made an entire business out of teaching kids, and still finds it very rewarding every time she hits the lesson tee with her young students.
As we spoke, she did reveal that the first junior golfer of her very own is on his way, due right around publication of this article in November. With an internationally-recognized golf professional as a husband – Steve Buzza – who also teaches at Bonita Bay, there'll be a small set of clubs waiting to hit the links as soon as Baby Buzza is ready, and if Coach Megan has anything to say about it, they won't be cut down.