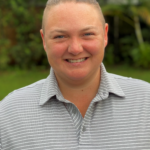 Bridget Ackley, the 2021 South Florida PGA Section and Southeast Chapter Youth Player Development Award winner and a 2020 GRAA Top 100 Growth of the Game Teaching Professsional, is a PGA Teaching Professional at the Don Law Golf Academy in Boca Raton, Florida.
Bridget Ackley on the importance of offering after-school programming:
After engaging junior golfers all summer at facilities across the country, it is important to maintain some level of engagement and education with them once they head back to school, fall arrives and other sports and activities become available. At the Don Law Golf Academy, we offer an extensive after-school junior golf program that welcomes kids from ages 4 to 16. This nine-month program kicks off just after Labor Day and runs Monday through Saturday, offering an array of topics that we cover on our range and short-game and putting areas, as well as some play on the course here at Osprey Point Golf Course, a beautiful 27-hole facility. We have a High-Performance Golf Academy that focuses on the more-skilled junior golfers who have their sights set on high school and collegiate golf. But, we also have plenty of younger, beginner-level junior golfers to groom to someday fill that more elite group of juniors. Participants of our after-school program pay for four sessions per month (usually one session per week) and register for their class in advance. With a 6:1 student-teacher ratio, I pre-plan my agenda to ensure a focused curriculum that covers some important points and topics. I have a formal warm-up to get the kids stretched and ready to go, and follow that up with two other topics – putting, chipping, irons, driver, etc. The program runs from September to May with little breaks for holidays and spring break, during which time we offer other junior camps to engage kids while they're off from school. I ensure an exciting curriculum that incorporates fun and games into the educational part of the sessions. I'll use training aids and tools that reinforce the points that I'm making verbally. I make it as fun as possible, because if I'm not having fun, I know the kids aren't.

Bridget Ackley on the business impact of offering after-school programming:
Providing flexibility in our after-school programming allows busy families to keep golf at the forefront of their kids' lives. With other sports and activities, as well as school and holidays on the calendar, it can be a challenge to carve out some time for everything that a kid is interested in. Ensuring one after-school golf session per week is a great way to keep golf fresh in the minds of our young golfers and serve as a feeder system to our special school break camps and summer camps, of course. I have seen kids grow in our program, to the point where the more advanced players take a leadership role in rearing the newer kids. It is inspiring to see that growth in their skill level and maturity, and it's rewarding for them and builds their confidence.

If you would like to email the author of this Best Practice directly, please email bridget.ackley@gmail.com.