Bridgestone Golf, the #1 Ball-Fitter in Golf, announced today a new, limited edition version of its popular e6 golf ball to celebrate that all of Bridgestone's premium golf ball lines are now manufactured in the United States.  This latest release of the e6 offers the same side-spin reducing technology players have come to love in a cool, commemorative package.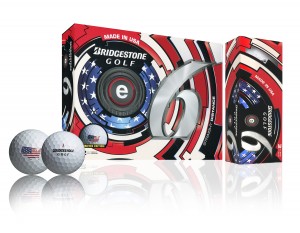 While it has manufactured certain ball models in the U.S. for years, beginning February 1st, Bridgestone Golf transitioned manufacturing of all of its premium balls* from Japan to its North America headquarters in Covington, Georgia.  To celebrate the move, Bridgestone's Limited Edition USA e6 features an outline of the United States map filled with an American Flag like pattern emblazoned on each ball.  In addition, the balls receive an extra dose of national pride with eye-catching red, white and blue hued packaging.
"Bridgestone is excited that all of our premium balls are now manufactured right here in the United States, particularly at a time when many traditionally-American golf brands have chosen to move their operations off-shore," said Dan Murphy, Executive Vice President of Sales and Marketing, Bridgestone Golf, Inc.  "Like so many golf consumers, we truly value U.S. manufacturing and domestic job creation, and each of these e6s that are put into play will have been proudly produced right here in America."
The e6, one of Bridgestone's flagship models, is the softest multilayer golf ball on the market. Designed to help players eliminate slices and hooks, it reduces side-spin for straighter distance. Currently the top-selling e Series model worldwide, the e6 ball is also available in white, yellow and orange.
Bridgestone's Limited Edition USA e6 golf ball will be available May 15th nationwide at retail outlets where Bridgestone products are sold.  Bridgestone's Limited Edition USA e6 balls feature a street price of $26.99 per dozen.
Visit www.bridgestonegolf.com to learn more about Bridgestone Golf's entire 2014 line of Made in the USA golf balls.
# # #
Editor's Note:  High-Res images of all new Bridgestone equipment are available upon request.
Bridgestone Golf, Inc., based in Covington, GA, manufactures and markets premium golf balls, clubs and accessories under the Bridgestone and Precept brand names. Bridgestone is represented on a world stage by a number of internationally famed golfers including Fred Couples, Matt Kuchar, Davis Love III, Nick Price, Brandt Snedeker and Lee Trevino.  Bridgestone Golf, Inc. is a wholly owned subsidiary of Bridgestone Sports Co. Ltd., whose headquarters are in Tokyo.  For more information visit http://www.bridgestonegolf.com.
Bridgestone Golf, Inc. is proud to be the #1 Ball-Fitter in Golf as the industry leader in live launch monitor fittings. Bridgestone provides three ways for golfers to find the ball that best fits their game:live fittings through the Bridgestone Ball Fitting Challenge, live online chats with ball fitting experts through its B-FIT service, and an easily accessible Online Ball Selection Guide. For more information on ball fitting including a complete schedule of Ball Fitting Challenge events visit http://www.bridgestonegolf.com.
—
Jared Kelowitz
Senior Account Manager
Jeff Dezen Public Relations
13 East Coffee Street
Greenville, S.C. 29601
(864) 233-3776 ext. 24
jaredk@jdpr.com