By Vinnie Manginelli, PGA
Brian Jacobs has been a teacher for a long time – it's in his nature to give back to society, to educate, to be someone whom others look to for advice and guidance. He spent thirty years teaching high school in Rochester, New York, and is just a few years removed from the classroom. He continues to be a mentor to others as the owner and Director of Coaching at the golf academy that bears his name, located at Mill Creek Golf Club, in nearby Churchville, New York. Today he spends 25-30 hours per week on the lesson tee, introducing the game to new golfers, honing the skills of his better players, and so much more.
As the recent spring months turned one into the next, practice facilities in New York State were closed. However, Jacobs was able to engage his students in 9-hole walking lessons where it counts the most, as courses in New York remained open for all but about a week during the peak of the pandemic.
Not long into the series of playing lessons, Jacobs noticed the absence of one of his regular students, a gentleman who has been learning under Jacobs for almost five years. When he reached out to his student, the man reluctantly revealed that his wife had lost her job amid the COVID-19 health crisis, and he didn't think he could afford lessons at the moment. "Don't worry about it – come in," was Jacobs' immediate response. He continued the man's lessons free of charge.

When the student tried to pay him, Jacobs refused, telling him to take the check and sign his kids up for family golf, getting the junior golfers involved, while promoting a family-friendly activity in a time when there wasn't much to do as a unit. "I just think it's really important at this point, to give," Jacobs added.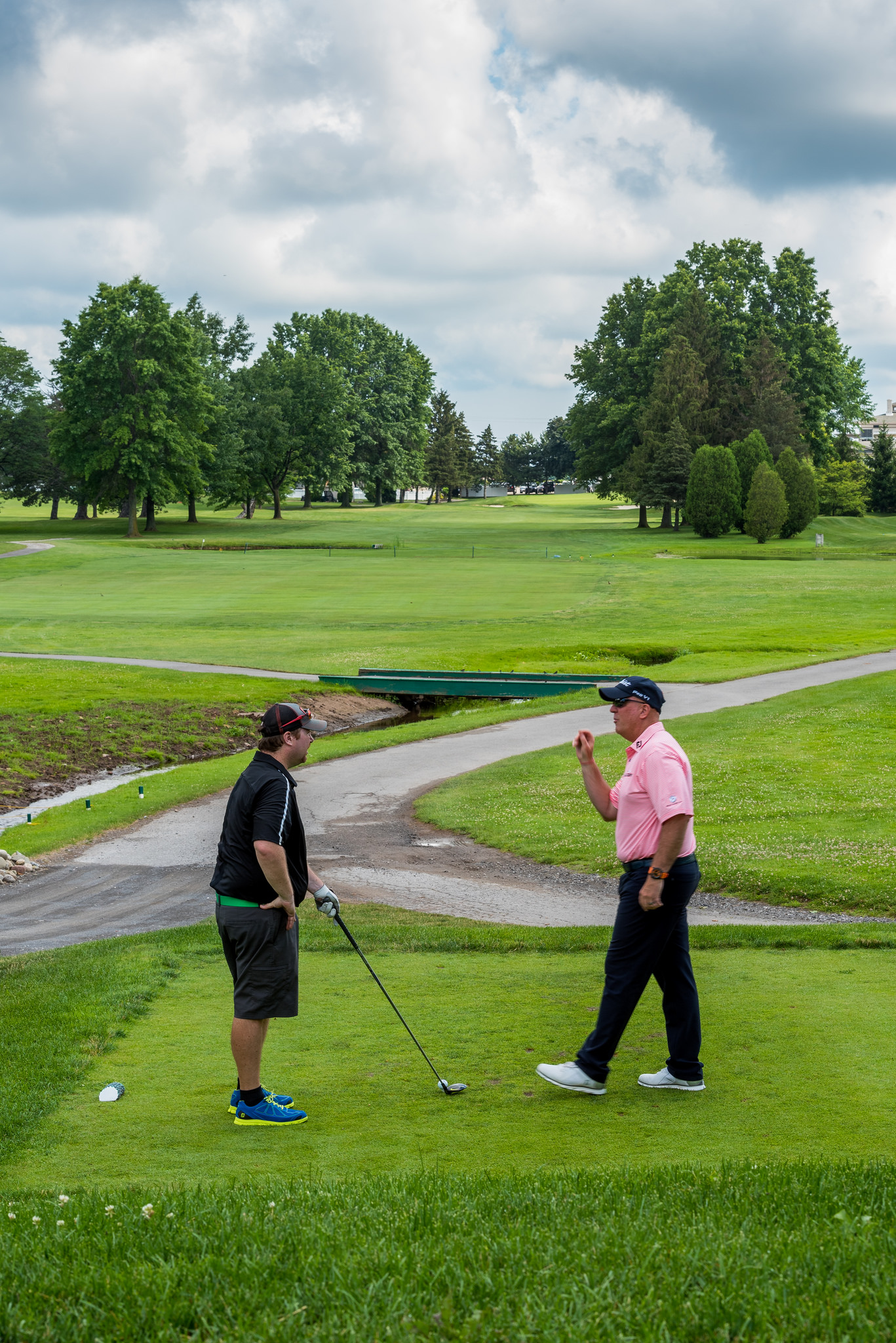 The PGA Professional took his philanthropic efforts a step further by assembling a care package for the student, estimating that they were roughly the same size in golf shirts. "I went over and met him at a golf course that he plays at and we played nine holes together, and I just gave him a box of shirts," Jacobs told me. He had accumulated the garments over time and figured the man could use them more than he could. Jacobs said his student was "literally balling", appreciative of the level of generosity that Jacobs displayed, one that you don't always see in society today, especially in business.
Brian Jacobs' words speak for themselves, "We have a strong opportunity as golf professionals. One of the most important things that we [have] is engagement and communication with our people. So, as a teacher [for] my whole career, I gave. I bought pencils and paper and bought kids dinner and helped them with Christmas gifts. Those are the things we call "lifting". You're lifting somebody. Maybe it softens their heart a little bit and they start to look around and say I can either be positive or I can be negative."
He told me about another scenario, a retired military veteran who travels over an hour from Buffalo to better his game through Jacobs' academy. The man was being fit for clubs, and when the topic of payment arose, Jacobs said, "Dude, don't worry about it, we'll take care of it. We'll do payments on the clubs." Jacobs continued by lessening the man's anxiety during an admittedly tough time, "Listen, I want you to come in," he told him. "Don't worry about the lesson fees." When the man objected, Jacobs persisted, "When you get a chance to pay it forward, just pay it forward." The student, a man who served his country, expressed embarrassment at his current situation, prompting Jacobs to assure him that there was nothing to be embarrassed about, putting the man in a better place with a few generous words and a kind gesture. These are but a few scenarios where Jacobs recently shined as a human being even more so than a golf professional.

He continued doing good for others. This year was slated to be Jacobs' first with a PGA Jr. League program. Understanding that families want to stay together and participate as a unit, he modified the program, creating a family golf opportunity. Wanting to provide a well-rounded curriculum and fun learning environment, he conducts 90-minute family lessons each week for eight weeks. Every other week, he follows the practice/lesson with nine holes of golf on the course. "We're getting families out on the golf course at the same time, which I think is incredibly important" he highlighted.
Those families that have the means to pay, do so. Those suffering financial hardship due to the crisis, either being laid off, furloughed, or out of work altogether, were told to pay "whatever they could afford". "The big thing to me is that I don't want the kids to miss out," Jacobs stated. He implemented a similar program for military families that is funded by PGA HOPE. The $30 received for each family goes to the golf facility – Jacobs donates his time.

Jacobs genuinely wants people to feel good, good about themselves, about golf, about life in general. He says he uses humor a lot in his golf instruction. When asked about the lessons he teaches his own kids, he spewed several terms that sum up his philosophy – honestly, integrity, lift other people up, try to respond to adversity with a plan instead of reactions, we listen to learn, we try to enlarge others. "You think you're hurting, but there's always somebody who's way worse off than you," he says.
Putting his business in perspective, Jacobs stated, "I have some people for fifteen years. Think about that. If they're paying $300 or $350 a month for fifteen years and that guy says 'well, I'm struggling (financially)' – [you can't just say] you're done." He continued, "I'm not saying that money isn't important, but it's about tenth on my list of importance."
"To me, I don't necessarily want to be recognized for it, but I want people to understand that the perception of a person's business is the perception that you portray." Jacobs understands that hardships arise and he says he doesn't want to be viewed as always taking, shooing someone away as soon as he or she can't pay. Serving them during their toughest time will impact them in ways that go beyond proper grip and a good swing plane.
At a time when everyone was worried about everything, hoarding toilet paper and canned goods, Jacobs did whatever he could to ease that anxiety and promoted the "pay it forward" concept – "Just give to give," he concluded, "Just give to give."