Is this the model of future golf shops?
By: Scott Kramer
According to published industry data, equipment sales continue to drop year over year. With new gear made to be powerful and forgiving, hitting long and straight shots has relatively never been easier. Plus, many woods are adjustable – letting golfers tune their clubs to various course and weather conditions, or to their changing swing. Bottom line: People don't need to replace their current set as often.
Still, custom-fitted clubs can instantly help many golfers improve their scores. Thus, insiders believe the future of on-course golf shops may involve an evolution into clubfitting boutiques. The change will perhaps take place soon, as independent clubfitters like Club Champion continue growing on an aggressive basis.
The Chicago-based chain has 20 studios across America, and it's quickly expanding. Just this past month, new locations opened in Denver and Charlotte. And PGA Professionals at the green-grass level are taking notice. Mike Carbray, PGA instructor at Butterfield Country Club in Oak Brook, Illinois, just outside Chicago, says he feels somewhat threatened by the chain that charges $350 to find the guaranteed optimal clubs for anyone's game during a three-and-a-half-hour session – and then sells the clubs to the golfer at competitive pricing. "In a way, they compete with the green-grass pro," says Carbray. "I know they try to partner with club pros and offer a percentage of their sale. But when a member leaves you to go to them, you lose that customer and their sale.
"As a pro, I don't want my members going elsewhere, especially when I have the clubfitting technology here and the insight on that player's specific game. For them to go to a random brick-and-mortar doesn't sit well. I respect what Club Champion does and I know it adds value, but I want my customers, members and students sticking with me. That said, any good golf pro who wants to improve his business should look at all possible areas to help become better at club sales. If Club Champion offers more knowledge or insight than I do, then I would look to them if I feel I can learn something," says Carbray.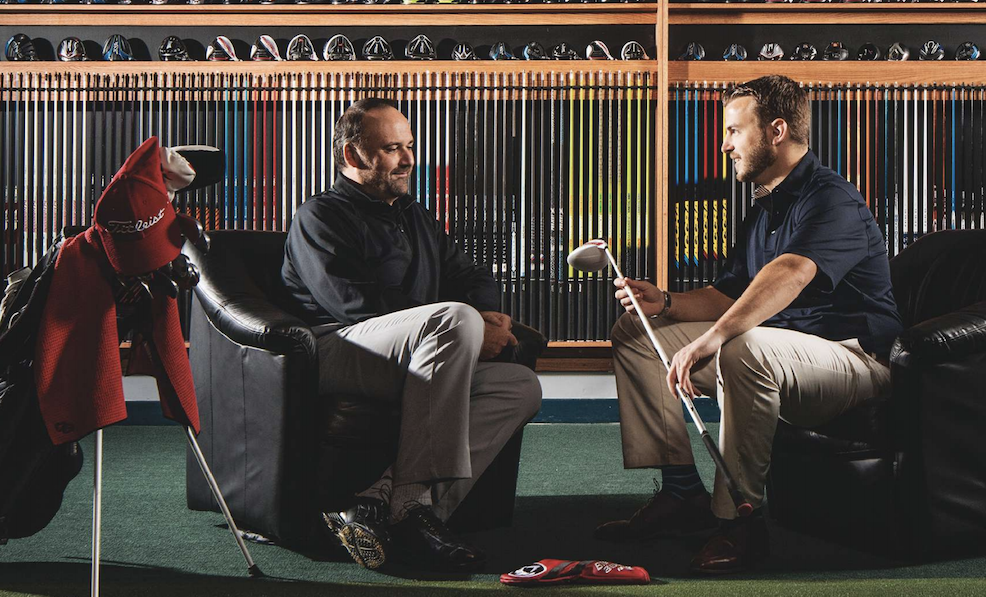 From the manufacturer's perspective, OEMs seem eager to expand sales through Club Champion. "Clubfitting is an important part of the business, and Club Champion understands how to maximize the benefit for both consumers and manufacturers," says Mike Powell, president of sales and marketing for Srixon/Cleveland Golf/XXIO in North America. "They are intimately involved in the process and authentic in establishing a level of expertise that's so pivotal when purchasing golf equipment. We are pleased with all of the success we've had with them and are excited to continue partnering with them as they further expand."
If manufacturers continue to embrace this model, the club professional may be forced to begin placing greater emphasis on clubfitting in order to maintain strong partnerships with equipment makers.
A Day at Club Champion Headquarters
In January, I visited Club Champion's unassuming Willowbrook, Illinois location. Unlike getting fit at a club manufacturer or by an on-course professional, there were not a limited number of brands. Club Champion has current club, shaft and grip models from most brands in-house. "We don't push any one brand," said my fitter Nick Sherburne – also the company's co-founder. "We're just honest and unbiased."
While the company asks golfers to bring their own clubs as a baseline reference, I forgot. But Nick made do. We sat down on the plush couch to discuss my golf shortcomings and goals. We moved to the fitting bay area that's lined with a wall holding hundreds of shaft models and shelves of the latest wood and iron clubheads. Nick assembled a 6-iron he suspected was similar to mine, based on information I've provided. It's pretty close – based on feel and performance. Data from every ball I hit was captured by a TrackMan launch monitor and displayed on his computer. I watched the simulated ball flight on the screen in front of me as Nick studied my pertinent swing stats. However, he didn't want to skew me with specific numbers. He just asked me to take typical swings, and identify any really bad strokes.
For the next hour, Nick's swapping shafts to hone in on the proper one for me. Once he had it, we kept swapping clubheads to find the best combination. "There's a genuine possibility we ultimately suggest you don't change your irons at all," said Nick.
But he eventually zeroed in on two iron models. After comparing lie angles to fine-tune ball flight, we decide on one bent slightly upright. I could feel the improvement over my current irons, and see the proof in the simulated ball flight and in the swing data.
For wedges, Nick was most concerned with optimizing turf interaction – focusing on proper sole width, bounce and grind shape. Next we moved to drivers, using a process very similar to that of irons, and then fairway woods.
By the end, I was exhausted – the average customer takes 150 swings during a single fitting session. We adjourned to the lobby's putting green, to analyze my stroke on the SAM PuttLab. It quickly revealed I aim left of my target and then overcompensate in my stroke by leaving balls out to the right. He adjusted my stance, bent the putter more upright, and suggested I use a larger grip. He didn't change my stroke, he just maximized what I have.
Finally, we reviewed his club and shaft recommendations. He suggested I pay extra for "pured" shafts to ensure performance consistency, reminding me that Club Champion has a fit guarantee, that it weight-sorts all shafts in my set for the most consistency, and that its prices on clubs are competitive. Clubs can be delivered in 7-10 days.