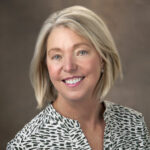 Bonnie Hamilton, a past Merchandiser of the Year winner, is the Director of Retail at Washington Golf and Country Club in Arlington, Virginia.
Bonnie Hamilton on the importance of stocking items you can't wear on the golf course:
Before entering the golf apparel world, I worked on Seventh Avenue in New York City for Perry Ellis. I wanted to free golf shops from carrying only "dress-code approved" apparel and give our members a wider selection. It began with sun dresses for the ladies and sports coats, dress shirts and ties for the men – traditional apparel that could be worn in the clubhouse. Then the pandemic hit and shopping behaviors changed. Washington Golf and Country Club's shop became a one-stop-shop offering everything from athleisure to streetwear. Golf styles were also changing to a more relaxed look as people worked from home. While our private club dress code didn't change, we began selling yoga pants and hoodies. Joggers, which are not allowed on the golf course, are a hot seller for us. Some of golf's top brands offer joggers and cashmere hoodies in their lines with our microsite promoting them to the members. Lesson learned: do not to be afraid to offer things that can't be worn right outside the shop doors.

Bonnie Hamilton on the business impact of stocking items you can't wear on the golf course:
Even though you can't tee-off wearing them, joggers are an example of a non-approved style that appeals to an underserved demographic – the hip younger member. They fit today's business casual trends, adding a whole new level of comfort. Most importantly, joggers and hoodies sell, accounting for five percent of our overall sales. People are buying joggers not just for running and hiking, but also for wearing in airports on travel days. Other off-course items sold include: Swimsuits, tee-shirts, candles, designer handbags, even fire pits. My advice: know your membership, what's trending, and you might just have your next bestseller.

If you would like to email the author of this Best Practice directly, please email bhamilton@washingtongolfcc.org.