Bobby Jones, celebrating the iconic brand's 25th anniversary in 2014, unveiled its new Rouge Series clubs for women. The Rouge Series, named for its beautiful burgundy rouge finish, consists of a driver and five fairway woods all featuring a patented head shape designed specifically to reduce sliced and pushed shots for players with slower swing speeds. In addition, the Rouge Series clubs contain a slightly offset hosel that is found throughout the set, which positions the hands ahead of the ball for more solid ball-striking at impact.
The Bobby Jones Rouge collection features a driver, 3-5-7-9 and 11 woods that have 14-18-23-28-33 and 38 degrees of loft, respectively.  The 14-degree Rouge driver is constructed of titanium and features a 400cc head.  The driver utilizes a high toe, low heel design that squares the face at impact for players with more moderate swingspeeds.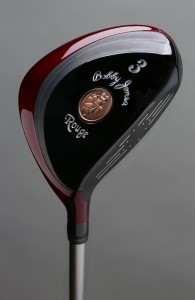 The Rouge Fairways are constructed of thin, super hot maraging steel faces for greater ball velocity and reduced spin.  The Rouge Fairways also feature a shallow face with low profile to ensure assistance with getting the ball up in the air.
"I believe that an innovative fairway design delivers superior performance over a hybrid design for women, because of the lower and deeper positioning of thecenter of gravity," said Jesse Ortiz, Vice President of Bobby Jones golf equipment.  "Typical hybrid designs position the CG high and too close to the face of the club making it a much less forgiving option versus the unique Rouge fairway design, which features a drag reducing soleplate for better contact from difficult lies.
Ortiz continued, "the two main challenges many female golfers have is getting the ball to launch higher and squaring the clubface at impact, and with the Rouge line we've been able to use innovative technologies to alleviate both.  In addition to making the game easier, the new Rouge clubs are visually striking.  The beautiful burgundy rouge finish will please even the most style conscious of women golfers."
The Rouge series clubs are available now online at www.bobbyjones.com. The street price of the driver is $250 and the Fairway woods are $180 each.
# # # #
About Bobby Jones
Headquartered in Bordentown, New Jersey, Jones Global Sports, an affiliate of the Waitt Company, manufactures, markets and distributes elegantly styled men's and women's sportswear, accessories and performance golf equipment.  Like its namesake, Bobby Jones products are the definition of class, using only premium quality materials to create classic, timeless designs that exude confidence on and off the course.  The Bobby Jones brand has been a mainstay in the golf industry since the 1990's and celebrates its 25thAnniversary in 2014.  Bobby Jones is sold in the finest private clubs, resorts and golf courses worldwide.  For more information visit www.bobbyjones.com.
Jared Kelowitz
Senior Account Manager
Jeff Dezen Public Relations
13 East Coffee Street
Greenville, S.C. 29601
(864) 233-3776 ext. 24
jaredk@jdpr.com