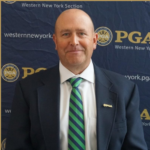 Bob King, a five-time Western New York PGA Section Merchandiser of the Year, is the PGA Head Professional at Lakeside Country Club in Penn Yan, New York.
Bob King on the importance of obtaining a range ball sponsor:
In our efforts to reduce costs and expenses when possible, I obtained a great idea from a sales rep that I'm putting in place for the 2021 season. The idea is to get a member, and his or her business, to sponsor the purchase of your new range balls. They pick up the expense and get their logo on every practice range ball. We all have members, customers or community connections who have insurance companies, car dealerships, restaurants and a variety of other small businesses that are the heart and soul of our local communities. As an added perk to the obvious brand exposure for the sponsor, the arrangement could also include range memberships or passes that he or she can enjoy or share with his or her own clientele. Whether the range is part of a private club, a public facility or a stand-alone driving range, engaging individuals in your local business community is a great way to reduce expenses, while giving neighboring businesses an opportunity to be part of your facility. Many golf courses do this with hole sponsorships, adorning business logos to permanent tee signs. Once you have interested parties, you can structure an agreement that meets your needs.

Bob King on the business impact of obtaining a range ball sponsor:
If your deal is structured to generate dollars in excess of your range ball costs, you now have some leeway to provide those range passes and/or memberships, as mentioned. This drives range usage among people in that individual's circle who may not have been to your facility in the past, or may not have even played golf before. With these factors in mind, I have partnered with a local real estate agency for my next range ball purchase. This relationship will be beneficial to both of us, as she gets her logo in front of the vast number of golfers we welcome, and I have just reduced my range expenses for the new year. These connections can truly open new doors in driving business, while giving the sponsor opportunities to engage his or her own customers. And you or the club, whoever owns the range, can cross this annual expense off your list.

If you would like to email the author of this Best Practice directly, please email rkinger13@gmail.com.