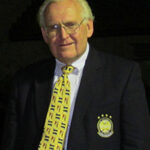 Bob Burns, a PGA Master Professional and 2007 Wisconsin PGA Section Teacher of the Year, is the PGA Owner/Operator at Bob Burns Golf Learning Center in Appleton, Wisconsin.
Bob Burns on the importance of transforming your range into a par-3 course:
Our driving range welcomes golfers of all ages and skill levels, including special groups like Wounded Warriors, YMCA, adaptive golfers, juniors with Autism and an array of other junior golf camps. With six real grass target greens, golfers have several options available to hone their skills and dial in their distances with each club. In the spring of 2020, driving ranges in our area were not permitted to operate amid the coronavirus pandemic – but golf courses were. So, we created a nine-hole par-3 course using the six target greens on the range, two adjacent practice putting greens, and a ninth green cut from a corner area of our practice range teeing area. By doing so, we opened our facility without charging for play, happy to welcome golfers as an outlet during a period of quarantine and mass closures. The course was an opportunity for kids and families to come out and experience what it's like to really play golf, albeit on a smaller scale. We have created short courses on our range in the past and did so just this past fall for some of the great groups that come to us to learn the game. Incorporating on-course play into our special programming adds a unique feature that many of the juniors we teach, veterans we nurture and beginner golfers we welcome will look back upon as their first experience on a course. I mentioned earlier the two practice putting greens that we incorporated into our par-3 course – these greens are interesting because they are on the opposite side of our golf shop and forced golfers to hit over water. Whenever we transform our range into a par-3 course, it is a fun and interesting experience for all.

Bob Burns on the business impact of transforming your range into a par-3 course:
The immediate impact to our facility last spring was that we were able to open when we otherwise would have been prohibited from doing so. It has always been our mission to welcome new golfers, enhance the experience of seasoned players and ultimately grow the game of golf. We do this through instruction, practice and club fitting. Transforming our driving range into a par-3 layout demonstrates our commitment to offering the complete golf experience for all of our customers. I feel that clubs and courses across the country can create unique and special experiences for their members and customers. It is the goal of virtually every golfer to get on the course expeditiously and with confidence – these efforts are a means of accomplishing this goal.

If you would like to email the author of this Best Practice directly, please email bobburnsgolf@gmail.com.