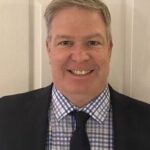 Bill Shea, the 2019 Pacific Northwest PGA Section Golf Professional of the Year, is the Secretary of the Pacific Northwest PGA Section and the PGA Head Professional at Suncadia Resort (Rope Rider Course) in Roslyn, Washington.
Bill Shea on the importance of realizing the benefits of a short course:
With 6,000 acres, we have an expansive resort with many wonderful activities for guests to enjoy, including three championship golf courses – two resort courses and one private member layout. The resort's practice range is located a mile from our facility, with Rope Rider being built a few years after the initial course opened. With limited space for a range at Rope Rider, a three-hole par 3 course was built instead, providing guests with a unique opportunity that they may not find at many resorts. Each hole is between 75 and 110 yards and each of the three greens has two tee boxes to give golfers diversity in their play and practice. The Rope Rider Golf Park, as it is called, is a cool layout that guests of all ages and abilities enjoy, to either supplement their round on one of our championship courses, or to simply replace play on a bigger layout if time or opportunity are limited. It gives guests yet another option in deciding what to enjoy at Suncadia Resort. It's a popular area, but usually not super crowded, which gives beginners a non-intimidating venue to play with friends and family or simply work on their game. Of course, with the recent increase in play across all types of facilities, even our little par 3 layout has seen more play than ever over the past year or so. It's first come first served and tee times are not required. It has also become a great destination for golfers to warm up prior to their round, often returning later in the evening to enjoy a few more holes.

Bill Shea on the business impact of realizing the benefits of a short course:
Resort guests, homeowners in our community and members play Rope Rider Golf Park at no charge, which is a wonderful added amenity. We sometimes rent out this unique space for private gatherings and bachelor parties, and even hold skills challenges and engage golfers in an array of special ways. Glow golf is popular, and additional packages that include food and beverage are also available. With the added opportunities for juniors to play, we recently started a PGA Jr. League program and have had 37 participants in our first season. We're planning to start a 17U division next year. After all, the short course is a great tool for teaching these kids. As I look back, there was a need for a short game area at our facility and this par 3 layout solved that problem, in addition to creating a fun venue for kids, women, beginners and families to play in a laid-back atmosphere. When I consider the many benefits to our service, amenities and programming that have been derived from the short course, I'd recommend any facility that has some available space to implement their own. Your customers will love it!

If you would like to email the author of this Best Practice directly, please email billy2shea@gmail.com.