Former TaylorMade Golf CEO to lead Toptracer Range as company president
Interviewed by Tony L. Starks
Ben Sharp, President of Toptracer Range, is a proven golf industry veteran. Prior to joining Topgolf in May 2018, he spent nine years at TaylorMade Golf, starting as the Vice President of the EMEA/Pacific region. In 2012, he became Global President of adidas Golf, delivering a record year in terms of sales and profit. He became TaylorMade CEO in 2014 and started the turnaround strategy, bringing in a new executive team before returning home to the UK in 2015. He also previously served as CEO of Lyle & Scott, repositioning the business from a knitwear manufacturer to one of the leading fashion labels in the UK and Scandinavia.
We recently caught up with Sharpe and asked him about his vision for Toptracer and the growing importance of practice ranges.
Looking back on your past golf industry experience at the executive level, what has prepared you the most for this new role with Toptracer?
The golf industry is a great place to be. As leaders, it's important that we understand the nuances that separate golf from other industries. At Toptracer, and throughout the entire Topgolf Entertainment Group, we are merging golf with other industries: Technology, entertainment, hospitality and food & beverage. During my time at TaylorMade, there was one question that kept coming up throughout the industry: How do we grow this game and how do we attract more people to the sport? People have tried many ways to tackle that challenge, but it still remains a question. When you look at what we are embarking on here at Toptracer, we firmly believe that this is going to bring a new audience to the game. It will also engage people who have perhaps gone away from the sport and get people who do play to play more often – even if it's not on the golf course. That's the exciting thing to talk about. It's a story of growth. Not just how do we grow our business at Toptracer, but also how we can help grow the sport.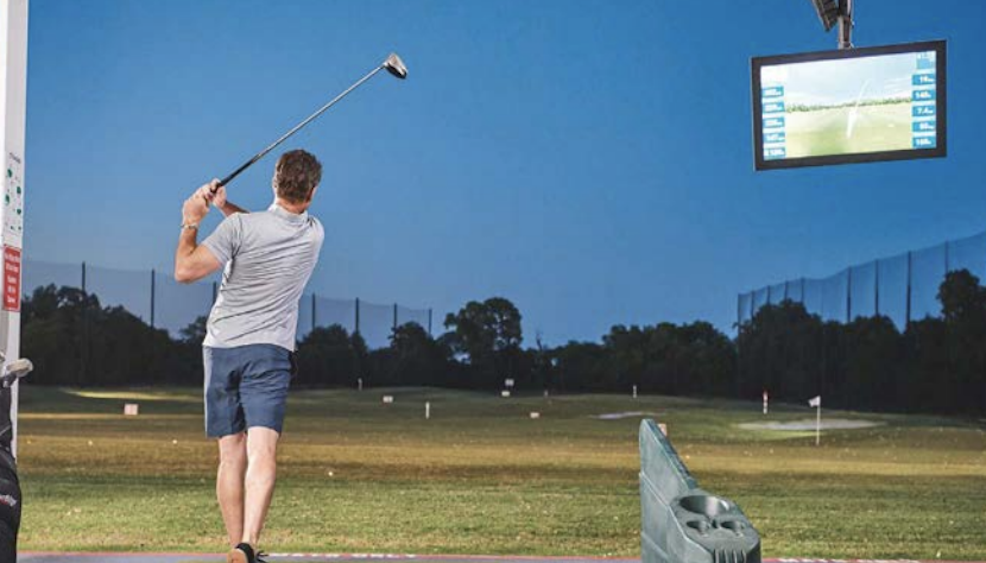 How does Toptracer Range mesh with the Topgolf venues golfers are used to?
You've seen the exponential growth at our Topgolf venues. We now attract 16 million people on an annual basis, many of who have never played before. Toptracer Range is more ingrained with the traditional sport of golf, but we're widening the funnel of people coming into the sport.
At facilities where it's installed, operators are seeing significant increases in footfall. That helps with their overall business. They experience increase in F&B, merchandising and on-course play. We have the opportunity to build something that's very exciting for the industry.
Talk a little bit about the technology itself, and, as you alluded to, what early successes have you seen at facilities where it's installed?
By the end of this year Toptracer Range will be at more 100 facilities around the world. At facilities that already have it, we're seeing significant growth in footfall – increases as high as 40 percent in some cases.
There are places like Arlington Golf Center outside of Dallas, which doubled its business in the first year that they had it. We installed it at Mearns Castle in Scotland, and there was a 75 percent increase in ball consumption in the first two months. These numbers, which are sometimes difficult to believe, are very real. It's attributable to the fact that we are gamifying this sport while bringing a new enjoyment and engagement factor to how people experience golf.
How are you planning to leverage the PGA Tour exposure of Toptracer technology and drive people back to the facilities that host Toptracer Range?
Our job is to let people know that the two brands are the same. The first step is making sure that people know that the line they see while watching the PGA Tour on TV is Toptracer. Then we have to join what people see on TV with what they experience on the ranges.
We have a lot of ideas about how to do that through our various partnerships. Toptracer Range has a virtual golf feature, which allows users to play simulations of famous golf courses while hitting on the range. We've partnered with Pebble Beach, so when the U.S. Open goes to Pebble in 2019, people will be able to play the course they see on TV using our system. We will continue to evolve new courses, new games and draw a line between the TV experience in the range experience.
Is there one facility type you feel fits best with this, whether that's private, public or standalone?
I think it's universal. In Dallas there are two very different facilities that are equally successful. One is Arlington Golf Center: A standalone practice range where the owner has taken it upon himself to use the system to drive his business. Then there's Brookhaven: A private club operated by Clubcorp, which built a covered area with comfortable seating that's very close to the food and beverage operations.
It lends itself to all types of practice facilities and golf courses. It comes down to the facility to determine how they want to drive traffic and how they're going to best utilize the technology for their business.
Can you describe some of the logistics? What does a facility operator who's interested in Toptracer need to know and what can they expect?
We have a solutions architect come out to survey the range and work with the facility to develop a design that best fits their infrastructure. The only thing the facility really needs to do is ensure there is a power outlet on the range, and we do the rest.
We have an installation team to put in the cameras, the screens, the server and test everything. There's a 24-hour support team and we also created a platform that allows facility are operators to share best practices and communicate on a local level.
Facilities actually pay nothing upfront; it's all done on lease. After everything is installed the operators make monthly payments throughout the life of the lease. There's no additional cost for software or product upgrades.
We're trying to take away as many barriers as we can. We know many of operators are independent and cash is very important to them, but we also know that increasing their foot traffic is important. With the model we have at the moment, our goal is to invest in their business up front and partner with them so that they have the opportunity to increase their footfall without a large bill up front.
At Golf Range Magazine, we believe the range is becoming a more integral part of the entire golf operation. We see facilities utilizing it in a variety of unique ways, such as an event site, and investing in renovations to make it a more engaging atmosphere. We see this trend continuing. Can you describe for me what Toptracer's golf range of the future looks like and what role does your company play in bringing that life?
Ultimately, I think the range should become the focal point of the facility – it's where far more people should be hitting golf balls. You can have faster throughput, you can have golfers of all levels and playing abilities matched up. It can be a shared space for enthusiastic golfers to practice their game, but equally inviting to people who may be too nervous to play on an actual course.
In terms of the future of the range, I see it as the epicenter of the economic ecosystem at a golf facility. If we can drive more people in, then that facility has more people they can potentially sell to in the golf shop or the restaurant or convert into members of the club. There is no better example of that than a facility in the U.K. called Silvermere. It's probably the best independent golf retailer in its area, but since installing Toptracer Range they've seen an increase of 37-percent in their footfall and a sudden impact on the golf course, their shop and the restaurant.
In the past the range may have been the least invested-in area of a facility, but I think with our help it could be something that really drives business forward.
You touched on something in your last response. You talked about the range as place for golfers of all abilities. Another big topic of conversation when it comes to growing golf is reaching new demographics and increasing diversity in the game. Is that something that you guys discuss internally, as well?
One hundred percent, that's key to our success. This is a general statement: But at the moment the range as a place golfers of all abilities can go. If we can make that into an inclusive environment where people can bring their kids, or families can go together to enjoy games, interact friends and enjoy golf as one large group, then we don't just improve ranges, but we also create a new leisure pursuit that people can experience time and time again. Topgolf has done incredibly well with that level of inclusivity at its venues, and it's magic we want to bring to ranges.